This post may contains affiliate links for your convenience. If you make a purchase after clicking a link we may earn a small commission but it won't cost you a penny more! Read our full disclosure policy here.
Do you have a sensitive stomach? The older I get, the greater the effect some Disney attractions have on my belly! Approaching some rides with caution and staying completely away from others, I seek to avoid any possibilities of queasiness on my vacation.
At Magic Kingdom, the queasy rides include Astro Orbiter and the Mad Tea Party. Having been on both of these once, I am now determined to steer clear of them. For those guests brave enough to make the attempt, yet concerned about getting a stomach ache, try these tips. When Astro Orbiter takes off, fly as high as possible. It appears that the higher the rocket ship, the less nauseous one is likely to feel. Before the Mad Hatter's tea cups begin, grab the bar and hold on tightly, using all of your strength to keep the cup from spinning once the ride starts. Personally, I prefer photographing the group while they ride or using this opportunity to people-watch from a firmly grounded bench!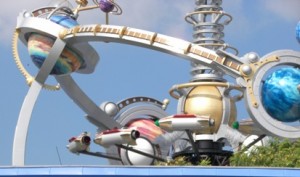 Mission Space in EPCOT may also cause sickness. I first rode this attraction several years ago when only one option – centrifugal force spinning – was available for its passengers. Because the ride is inside, I had no idea the degree to which it spun and brushed off all warnings to those with motion sickness. Had I seen the provided barf bags, I would have undoubtedly grabbed one during my trip to the moon. Upon returning to earth, I exited the attraction feeling horrible.
Soon after my experience, Disney World decided to offer a non-spinning option designated the green mission. (Orange denotes the full experience with centrifugal force.) On our next trip, I attempted this tamer option, but continued to feel a bit nauseous afterwards. Apparently I am sensitive not only to spinning, but also to simulators, which brings me to the next ride I approach with caution:  Soarin'.
Soarin', also located in EPCOT, is a ride that simulates hang gliding over California. Incredible and exhilarating, Soarin' is one attraction that is worth risking a temporary belly ache to see. Other troublesome attractions at EPCOT that can leave guests feeling slightly woozy include the circle vision documentaries at select countries in the World Showcase. While I do not avoid these films altogether, I do approach them with caution and a certain degree of preparation; having a small, healthy snack such as a granola bar or some trail mix often settles my stomach and enables me to attempt these unique shows.
Another simulated attraction I approach carefully is Star Tours, located in Hollywood Studios. I want to be with my family on this ride, and therefore enter prepared. The motion does not bother me, only the film does. Therefore, I can ride along with my family and close my eyes if my belly starts to feel bad.
My stomach is not negatively affected by most roller coasters, but Expedition Everest in Animal Kingdom is an exception. I continue to ride it on every visit, yet regret my decision each time. Although uniquely themed and full of amazing climbs and falls, my sensitive belly cannot handle the backwards journey this train takes for a portion of its trip. On my most recent attempt, I rode with my eyes shut tightly, my abdomen clinched, my head down, and my jaws smacking hard on a piece of spearmint gum. Why bother? Next time, I vow to sit and watch.
Disney makes so many incredible attractions, including the few that can leave guests like me with a queasy feeling after riding. A little bit of preparation, such as a snack beforehand, closing your eyes, or avoiding some all together, will allow you to leave Disney World with wonderful memories… and a happy belly!
Incoming search terms:
https://www themouseforless com/blog_world/guarding-your-sensitive-stomach-on-disney-world-attractions/
how to make your stomach good for rides at disney