This post may contains affiliate links for your convenience. If you make a purchase after clicking a link we may earn a small commission but it won't cost you a penny more! Read our full disclosure policy here.
By Erica Colmenares
As a nuclear family, we came relatively late to the Disney vacation game. Our son, Max, was seven before he first set foot on Disney property. But since then, he's made up for lost time, and has grown up with Disney. He's experienced the birth of attractions, and experienced offerings that are no longer. And now he's ready to usher a new family member into the Disney fold. Let's look at his journey in photos.
2004 In 2004, we were far from home. My husband was a medical officer with theU.S. Navy, and he was stationed in Sigonella, Sicily (just off theboot tip of Italy). As our time overseas came to an end, the children of Disney-mad Navy family talked Max's ear off about how much fun they had on their Disney vacations. They shared stories of their favorite rides, and gave him advice about what he should do, if his silly family ever got their act in gear and took him to Disney World. We were convinced; Max needed "in" on this magical experience.
We set it the visit up as a surprise for Max. While we talked about going to Disney

World, it was always in a "later, with your cousins" way. In actuality, however, I was to take Max to Disney right after he and I returned stateside. In this photo, Max is getting the early morning call at our hotel from his Papa (still overseas), letting him know that he's a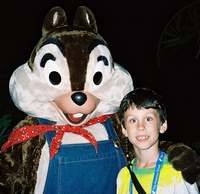 bout to board a plane to Disney!
Later the same day, here's Max at the Garden Grill, at the no-longer-offered Ice Cream Social. Max still looks a little shell-shocked to find himself all of a sudden at Disney World!
2005 The previously-Disney-deprived Max got to go to Orlando twice in 2005. At the beginning of the year, we took Max's Uncle Ben, a true Disney fan. We stayed at the newly opened Pop Century resort, and enjoyed the Donald's Breakfastosaurus character meal (which has since moved to Tusker House and is called Donald's Safari Breakfast.)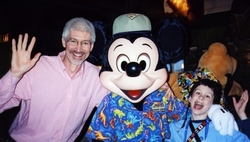 At the end of the year, we journeyed to Florida for MouseFest 2005, and attended the MouseForLessFest Tony's Town Square Grand Gathering Breakfast. In this photo, Max is center stage, wearing his red hat with a white strip. (Photo 4 Grand Gathering MouseFest breakfast). We miss MouseFest.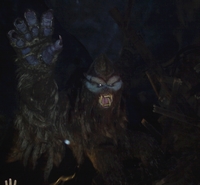 2006 Orlando called our names twice in 2006, once for the opening of Expedition Everest in January, and again for a surprise Free Dining visit in August. At the Expedition Everest preview, Max wasn't sure if he'd go on the ride (at that point, he still hadn't ridden Space Mountain or Mission: Space). We wanted at least to go through the queue, and when we got to the front, Max decided to brave it. Expedition Everest ended up being his very favorite ride, and is still on the top of the list. We were lucky enough to see the Yeti when he moved (remember that, when he used to move?). Scary!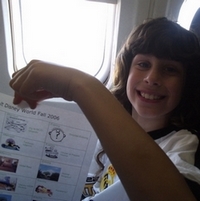 In August, the week before school started, we pulled another surprise trip on Max. The TV show "Amazing Race" was very popular in our home, so we gave him an Amazing Race-esque envelope on the way to the airport, and his trip itinerary when we were actually on our connecting flight. We ate super-well this trip. This was back when Free Dining meant you got an appetizer, entrée, and dessert (and it included gratuities). Those sure were the days.
2007 Max had the opportunity to do Mickey's Magical Milestone tour at the Magic Kingdom in 2007. We showed up to find we were the only participants—score! Here's Max with Claire, our private Cast Member guide. (Photo 7 with ears) We're sure glad we did this, since the last of these tours runs on November 20 (this coming Saturday)!
A 2007 dinner at 1900 Park Fare, after they changed the character line-up to include Lady Tremaine, Anastasia and Drizella, was a true hit!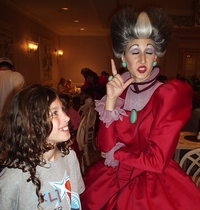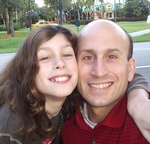 2008 With trepidation, I dropped Max and my husband off at the airport for their first solo Disney trip in 2008. How could they have a magical trip without me? Well, they did, and this photo is evidence of how good it was for their relationship to have that male-bonding time.
The other big Disney trip in 2008 was our very first Disney cruise, a seven-night Western Caribbean on the Disney Magic. As seen in this photo, Max also bonded with our servers.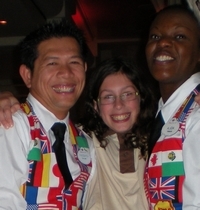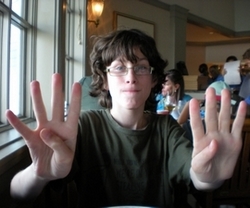 2009 The big news of 2009 (besides a haircut for Max) was that Max wrote his first article for Magically Speaking. In The Disney Chocolate Cake Eat-Off, Max reviewed as many Disney chocolate cakes as he could get his hands on. Here he is at Narcoosees, grading the Warm Valrhona Chocolate Cake.
We also had a memorable day at the Magic Kingdom and the Contemporary Resort with Senior Editor Carol Garcia and her kids in 2008. This photo here of Carol's son Alex with Max (and Tigger!) is from the planned meal at Crystal Palace. To find out about the un-planned purchase, read Carol's article, here.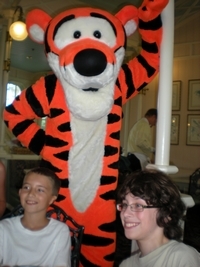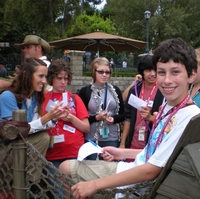 2010 This year is all about firsts for Max. In September, he had his first Disneyland Resort visit, seeing where The Magic Was Born. He also participated in his first Youth Education Series (Y.E.S.) class, one on leadership that was fabulous (Cast Member Jolie did Walt proud). This photo is of Max (far right) and his team on the raft to Tom Sawyer Island.
The other first is that in December, Max will pass on the Magic to the "next generation," his youngest cousin. Just as my husband and I have done our best to make each visit to Orlando magical for Max, he'll do the same for little Edward. We'll visit the World, where Max will impart his Disney wisdom to this family member, proving that he's truly grown up. Disney style!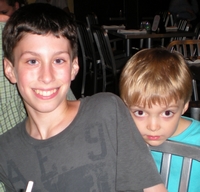 We're grateful that our family found Disney, even if we came to it late. I've watched Max grow and change, while Disney World has done the same. It's been a grand adventure—I'm glad we can pass it along!