This post may contains affiliate links for your convenience. If you make a purchase after clicking a link we may earn a small commission but it won't cost you a penny more! Read our full disclosure policy here.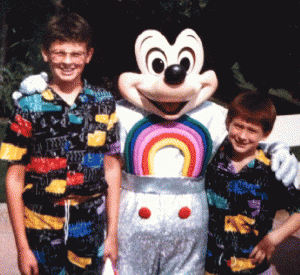 Before I had kids, I went to Disney. To me, it was and will always be a place of magic and great memories. My parents took me there. My grandparents took me there. I recently asked my dad why they decided to take my brother and me to Disney World. His answer was, "I thought you kids would like it." Not a very detailed explanation, but in the early 1980's, Disney World was fairly new. The Lion King and The Little Mermaid weren't made yet. There wasn't a Disney Channel (until 1983), Radio Disney or an app for that. Parents were basically taking a chance by vacationing in a former swamp in Florida.
My first memory of Disney was the Pirates of the Caribbean. I remember that first drop in that ride being HUGE. My first Disney souvenir was a wooden gun from the Pirates' gift shop. My first Disney punishment was from hitting my brother in the head with the Pirates of the Caribbean wooden gun. Where was timeout? The Hall of Presidents. I remember the fear of The Haunted Mansion and the hitchhiking ghosts. I also remember my grandmother buying the Country Bear Jamboree album (yes, album) because my brother and I were performing the songs in our hotel room after our first day in the Magic Kingdom.
I was eight years old when EPCOT first opened. I remember that I didn't like EPCOT the first time we went because it seemed like I was doing too much learning on vacation. I remember eventually liking EPCOT thanks to Figment and eventually Test Track. I remember when Captain EO was the most technologically advanced show I had ever seen. Though, at the time, I didn't know what technologically advanced meant. It was just really cool.
As I got older, my favorite park became MGM Studios (now Hollywood Studios). I would spend hours going back and forth between The Tower of Terror and Aerosmith's Rock 'n' Roller Coaster (thank goodness they're right next to each other). Hollywood Studios eventually hosted Star Wars Weekends. Could this park get any better?
I remember standing in line for Splash Mountain when it first opened for over two hours and thinking it was worth the wait. I remember not liking Animal Kingdom when it first opened. Then, they added Expedition Everest.
I am three years younger than Walt Disney World. I've seen it evolve into what it is today and am excited to see what it becomes. My parents were wrong. I didn't like it, I loved growing up Disney.