This post may contains affiliate links for your convenience. If you make a purchase after clicking a link we may earn a small commission but it won't cost you a penny more! Read our full disclosure policy here.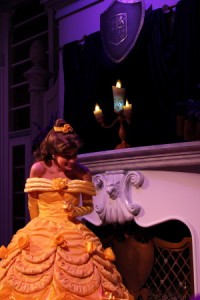 When I was younger (my college years), I remember thinking that you would have to be crazy to bring young kids to an amusement park. But, once I had children, it was only a matter of time before we went to Disney World. My parents took me to Disney World when I was a kid, now it was my turn. My first trip as a parent was with my daughter and niece who were both four years old. I was a single dad taking two little girls to meet Mickey and the princesses. I knew there wouldn't be any thrill rides on this trip. Were they going to like it? Was I?
We barely left the Magic Kingdom. In fact, we barely left Fantasyland. We rode Dumbo, The Tea Cups, and the Magic Carpets over and over and over again. They cried at the entrance of The Pirates of the Caribbean, The Haunted Mansion, even Buzz Lightyear's Space Spin. In fact, if they couldn't actually see the ride, they cried. I remember saying things like, "the drop on Splash Mountain just looks big" and "it's called the Haunted Mansion, but Mickey won't let scary ghosts in his park." Imagine my surprise when these lines worked … and they wanted to get back in line to ride again.
I remember meeting Cinderella for the first time ever (me and them). My daughter and her cousin dressed up like Cinderella and anxiously waited to meet her (I did not dress up). They had such a good time, I booked breakfast at Akershaus in EPCOT so that we would be sure to meet all of the princesses in one visit. I don't know what Belle said to them, but after that meeting, they had a new favorite princess.
It was my first trip to Disney World without riding The Tower of Terror, Expedition Everest, Aerosmith's Rock 'n' Roller Coaster or Space Mountain. It was my first trip to Disney where I waited in line longer to see the characters than I did to ride the rides. We rode the monorail more times that week then I've ever ridden it in my life. Except for a couple of spins on the Thunder Mountain Railroad (fast train to the kids), I didn't get to ride one thrill ride that trip, but it was worth it.
On our way home, I asked the girls to make a list of their favorite rides.
1. Tea Cups  2. Dumbo  3. Fast Train  4. Sky Train (monorail)  5. The Puddle Ride
What was the puddle ride? It was a giant puddle near the Disney bus stop that they ran and jumped through during a storm while we were leaving Animal Kingdom. They've run through hundreds of puddles at home, but a big puddle by Mickey's bus stop? That's a magical puddle.
Come to think of it, the puddle ride is still a magical memory for me too. I would definitely put it in my top five memories from that trip. But nothing will beat the two kisses I got in front of Cinderella's castle on the last day of vacation. A fairy tale ending to a truly magical vacation.