This post may contains affiliate links for your convenience. If you make a purchase after clicking a link we may earn a small commission but it won't cost you a penny more! Read our full disclosure policy here.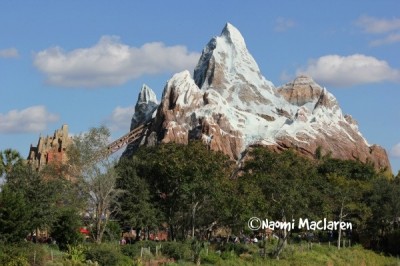 Last summer, my daughter was 9 years old when we went Disney World. She had been to Disney World five or six times by now. I remember wondering if she would still like going. What more could we do that we haven't done already. Turns out, quite a bit …
Her favorite ride in Magic Kingdom used to be the Tea Cups, but now it's Splash Mountain. Endless rides on It's a Small World have been replaced with endless rides on The Haunted Mansion. She now knows that the secret door in the "room with no doors" is under the lady with the umbrella. She no longer fears hitchhiking ghosts. Gone are the days of hiding behind dad when the lights go out and we hear the chilling scream from the body above. In fact, this is the first time that she actually noticed the hanging body above. Mid-afternoon naps have been replaced with more riding and eating. In prior years, we didn't leave Fantasyland. Now, Fantasyland is the land between Space Mountain and Splash Mountain. That will probably change once the Dwarfs Mine Ride opens.
Her favorite park is EPCOT. Her favorite ride is Soarin'. She is talking about buying churros in Mexico while we are standing in line at 9 a.m. to get into the park. She doesn't like the Imagination ride because of "the skunk smell," but rides because I like it. She watched Captain EO for the first time and asked me "was that good when you were little?" She isn't a fan, but in fairness, Captain EO was made twenty years before she was born. At least she didn't take out her iPod during the show.
In Animal Kingdom, we take a backstage tour. It is one of the few backstage tours that a child under ten can take. She has reached a Disney milestone and she loves it. We ride Expedition Everest and instead of being scared of the Yeti, she asks if we can sit in the front car next time. We do. Three more times in a row.
In Disney Studios, the first thing we do is get a FastPass for the Toy Story ride. She runs ahead of me because she knows that they run out quickly. We learn that there is a place in Disney Studios that artists teach guests how to draw various characters. I'm embarrassed and proud that her drawings of Doug the Dog from Up and Sully from Monsters, Inc. are much better than mine. I love that she downplays her artistic ability (or my lack of it) by telling me that my drawings are "good too." She still doesn't ride Aerosmith's Rock 'n' Roller Coaster, but we ride The Tower of Terror three times before Fantasmic. We don't go back to our hotel after Fantasmic ends. We ride The Tower of Terror two more times because according to her "the Tower is better at night." She is disappointed when we go to ride it a third time and the gate is shut.
I sometimes miss the days of pushing the stroller through crowds of people. Standing in lines to meet a princess or three. But every trip with my daughter has given me a different vacation experience. A lot of people ask "don't you get sick of going to Disney every year?" Nope … because it is never the same trip. Her experiences are different and because I get to watch her reaction to those experiences, my vacations are never the same either. And when her baby brother is old enough to make the trip to Disney, we will both get new experiences as he begins growing up with Disney.