This post may contains affiliate links for your convenience. If you make a purchase after clicking a link we may earn a small commission but it won't cost you a penny more! Read our full disclosure policy here.
We all remember the famous lyrics "try the grey stuff, it's delicious, don't believe me?, ask the dishes!" from Beauty and the Beast. You may even have had some grey stuff at Be Our Guest restaurant, but did you ever try to make some at home?
I had the grey stuff in form of what Disney now calls The Master's Cupcake and I loved it. I am not an Oreo cookie fan but inside the grey stuff they are fabulous.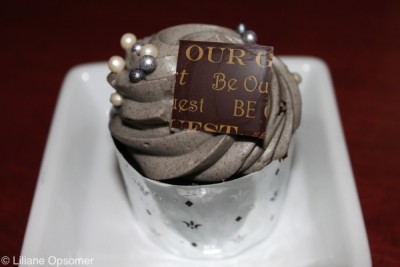 If you never had it try it out during your next visit to Be Our Guest restaurant. The cupcake is priced at $3.19 and can be purchased using a snack credit. The cupcake is made of a regular moist chocolate cake mixture topped with the grey stuff.
Here is what I used for my 12 Master's Cupcakes with grey stuff:
1 Package of Baker's Corner Devil's Food – Extra Moist
1 Package (3 oz) of vanilla pudding mix (I used regular mix, not instant)
1 Package of regular Oreo cookies (contains 15 pieces)
8 Fl oz of fresh heavy whipping cream
1 Tablespoon of confectionary sugar
Edible sugar pearls (silver and pearl colors)
Prepare & bake the chocolate cupcake mix according to package instructions. Let them cool. While they bake prepare the pudding according to package instructions. When ready put pudding pan in a bowl filled with ice water. Keep whisking pudding till it is completely cold to avoid any skin to form.
Next crush the Oreo cookies in a food processor and blend them till they turn into fine crumbs. You can also put them in a gallon-size plastic bag, close the bag and smash them with a rolling pin. I tried both ways and preferred the results I got from crushing the cookies in the plastic bag. It is really important that the cookies are reduced to fine dust.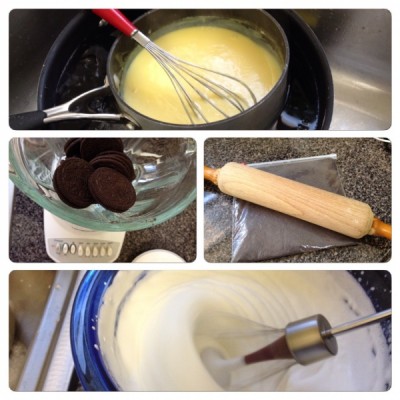 Prepare the whipped cream using a whisk or your electric mixer. Make sure to add 1 tablespoon of confectionary sugar to stabilize the cream. Don't use a tub of whipped topping mix. Homemade whipped cream tastes much better! If you never have done homemade whipped cream there are plenty of online step-by-step tutorials. It is really easy and well worth the effort.
You are now ready to mix it all. Mix the finely crushed Oreo cookies with the cold vanilla pudding. Add the whipped cream to the pudding mix. You now have the grey stuff and if you would like it a little bit darker add a half a teaspoon of instant chocolate to the mixture. I did but would not do it again. I prefer the grey stuff without additional chocolate as it turns it too dark. Cover the mixture and refrigerate for 2 hours.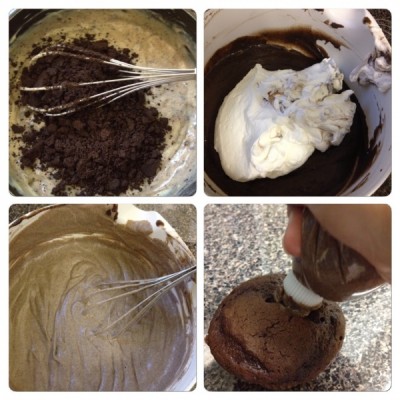 Now it is time to decorate your Master's Cupcake. Put the grey stuff into a pastry bag, and using a flower nozzle, (I used a Wilton 2D nozzle) top the cupcake forming a flower. Sprinkle the cupcakes with edible silver sugar pearls. I could not find different pearl colors so mine are all silver, and as you can see my grey stuff is a little bit too dark. In the picture above you can see the grey stuff before I added the instant chocolate mixture.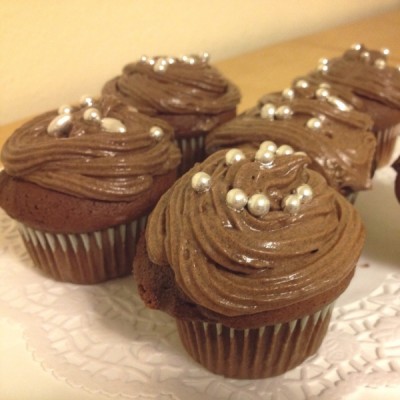 Master's Cupcakes are yummy and are a nice desert addition to a Disney themed party. I have also made and used the grey stuff as a filling and topping for a regular chocolate cake and it was wonderful. This time I did not add any chocolate powder and the filling came out much lighter and more grey.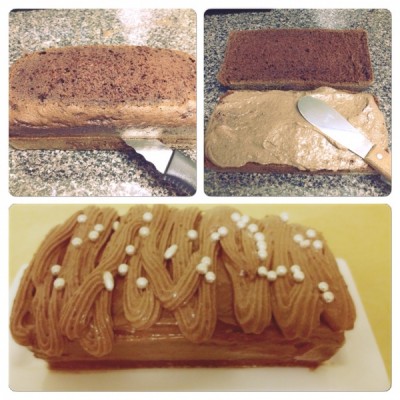 Bon Appetit!
We'd love the hear from you. Do you have a favorite Disney food recipe?