This post may contains affiliate links for your convenience. If you make a purchase after clicking a link we may earn a small commission but it won't cost you a penny more! Read our full disclosure policy here.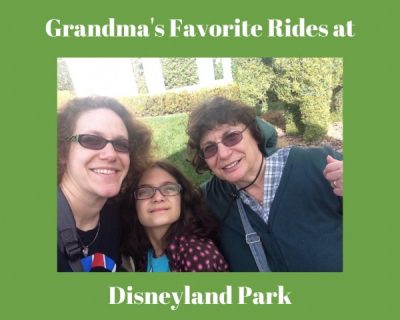 My sister, my daughter, and my mother enjoying Disneyland Park together!
Recently I wrote a blog post about which Disneyland attractions are especially good for toddlers. When my mother read it, she asked why I didn't do a post about the best rides for grandparents! So I interviewed her to get her thoughts. Here are Grandma's favorite rides at Disneyland Park:
MATTERHORN BOBSLEDS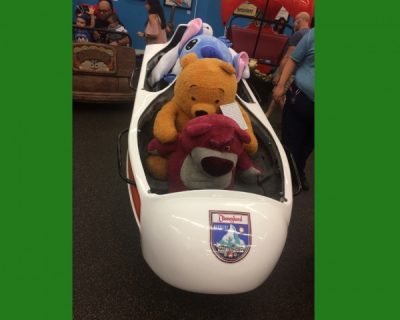 FANTASYLAND
This fun bobsled style roller coaster up and around the 80 foot snowy mountain is one of my mother's favorites. It's fast, fun, and very entertaining, especially the Yeti. The fact that it mostly sways from side to side, rather than going up and down hills, reminds her of the wooden bobsled from Coney Island that she enjoyed when she was young. She does caution that it's not easy for someone her age to get into and out of the 6-person ride vehicles.
BIG THUNDER MOUNTAIN RAILROAD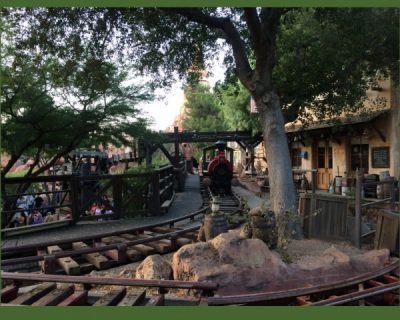 FRONTIERLAND
She loves this one because, again, there are no big hills or drops. It's fast, fun, and has so much to look at. She also has a very fond memory of going on this ride with both her daughters who were in their 40's but were acting like preteens.
BUZZ LIGHTYEAR ASTROBLASTERS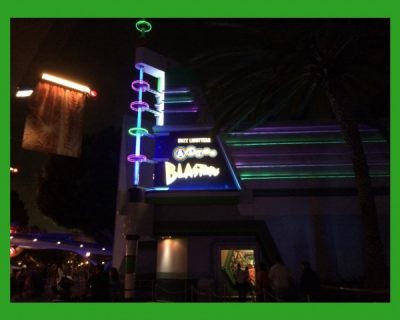 TOMORROWLAND
She never wins, but that doesn't stop her from trying! This is a fun one to ride with her granddaughter. The fact that it's interactive keeps the whole family entertained. This is a really fun ride for families who were born to be mild.
PETER PAN'S FLIGHT
FANTASYLAND
When my parents were young, my Dad famously told my Mom that he was Peter Pan and he'd take her to Neverland where they'd never grow up. Didn't quite work out that way, but they have ridden Peter Pan's Flight quite a few times together!
DISNEYLAND RAILROAD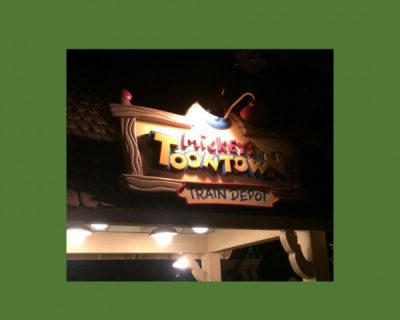 Not only a great way to get from land to land, but a nice way to relax, put your feet up, and enjoy the magic. If you take a complete circuit around the park, you get a lot of ride time for your wait.  You can board at Main Street, U.S.A., Mickey's Toontown, New Orleans Square and Tomorrowland.
Grandma also wants to give you grandparents out there some warnings about the Happiest Place on Earth:
Indiana Jones, while a really fun ride, is quite rough. Not recommended if you have back problems and women who have large chests should definitely wear a good supportive bra if they're going to ride this!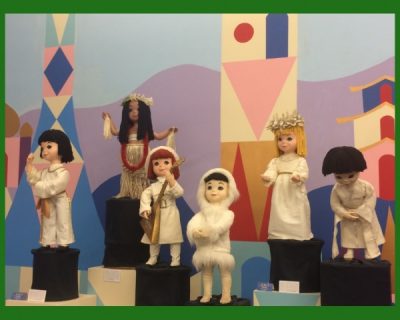 Warning: Getting stuck on this ride might be hazardous to your mental health!
And as for that classic ride from the New York World's Fair, it's a small world, Grandma has this to say: "Pray you never get stuck on it's a small world. It happened to us several times & by the time we got out, it was time for the old folks rest home."
Grandma also has some advice for the Star Wars lovers out there, as well as those who might feel Star Wars fatigued nowadays:
"Now you should know, we are a Star Wars family. Took our girls to the first movie when they were really young (and every other one after that). Bought the LP of the music and even made a Princess Leia costume for my young daughter, back in the day. But today, there is so many Star Wars movies and hype, that I feel overwhelmed by it! The overhype has taken the magic out of it. So at the park, I usually skip Star Tours & the Star Wars Launch Bay. This way, when I visit Galaxy's Edge when it opens, it will once again be magical. ( I do miss the Carousel of Progress.)
Of course, all grandparents, like all human beings, are different, and just because my Mom feels a certain way doesn't mean you will. But I'm thankful that Mom sat down to share with me her perspective on what makes a great day at the Happiest Place on Earth!
What are some of the grandparents who read this blog's favorite attractions at Disneyland? Let us know in the comments, or on Facebook or Twitter!
Did you like this article? Make sure to share it with your friends! Check below for easy ways to share!
Want to visit Disneyland Resort? Contact The Magic for Less Travel for more information and a free, no-obligation quote.

Incoming search terms:
https://www themouseforless com/blog_world/grandmas-favorite-rides-disneyland/