This post may contains affiliate links for your convenience. If you make a purchase after clicking a link we may earn a small commission but it won't cost you a penny more! Read our full disclosure policy here.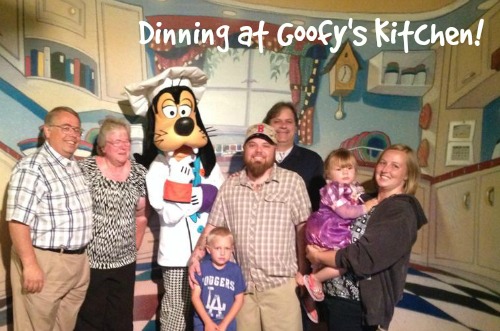 Recently my family has had an opportunity to dine at Goofy's Kitchen at the Disneyland Hotel. It is a buffet style, character dining experience that I will never forget. In fact we enjoyed it so much we went again just a month later when my brother and his wife were in town. It's a great addition to any Disneyland vacation as well as just a fun night out if you happen to be in the area.
The cost:
As with any Disney meal, especially those with characters, the cost is on the higher side (approx. $38 for adults and $17 for children for dinner, breakfast is a bit cheaper). However, you can park in the hotel parking area and with validation get several hours of free parking to walk around Downtown Disney as well.
The food:
The quality of food and the available selections are excellent! I actually prefer Goofy's Kitchen over many of the restaurants in the park. There is a wide selection of foods available for both adults and kids.
Selections do vary a bit but there are a few standards. One that is my kids favorite is the Peanut Butter and Jelly Pizza! My kids are lactose intolerant (can not eat/digest dairy products) and they love that its a pizza that they can actually eat! In addition I made them aware of our families food allergy when we made the reservation and the chef on duty came out and walked down the buffet line with me and answered any questions I had about ingredients and preparation. They even made my daughter a special birthday cupcake without the frosting that she can't eat. My son also got a special dessert free of dairy products and a bit bigger size to make up for it. They were very accommodating!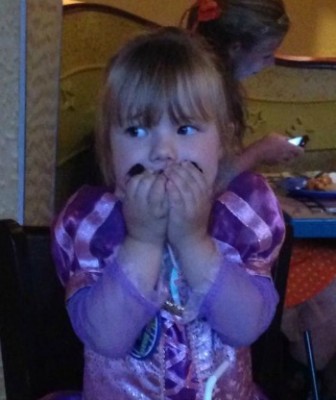 The characters:
The selection of characters guests can see during this meal changes; they do not guarantee any specific ones. The one exception is Goofy, of course, who poses with your entire group while you wait to be seated. Disney photographers are on hand and the picture can be purchased; you are also welcome to take your own and the photographers will assist you with that as well. During your meal additional characters will make their way throughout the restaurant, stopping at each table for pictures, autographs, and conversation.
Here are some of the characters we met during our meals: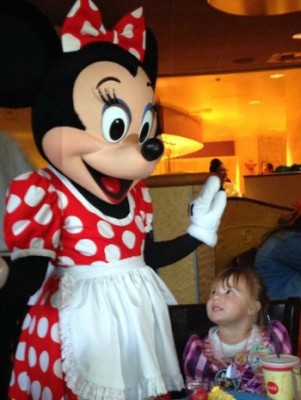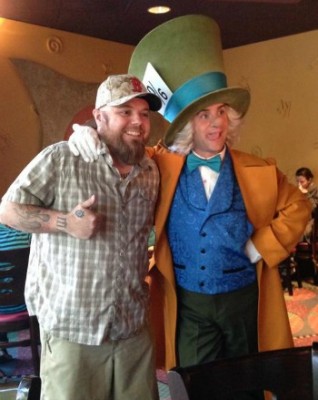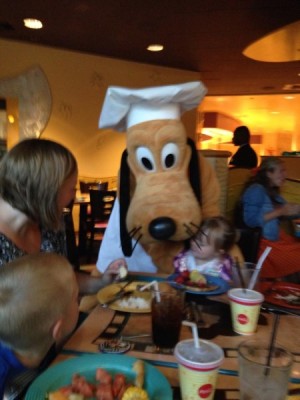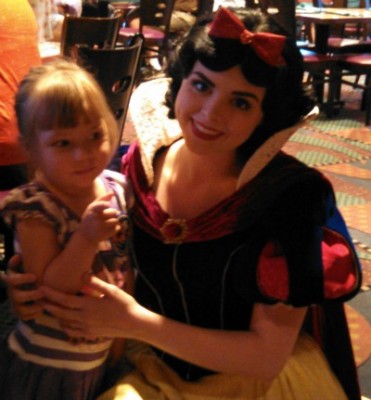 One of my favorite moments was when my son was receiving a considerable amount of attention from Minnie Mouse and became completely embarrassed (he is only 6 and girls are "gross" still). That didn't deter her though and at one point he says with a very serious expression, "I don't think Mickey would like this!" It was the funniest, most adorable moment.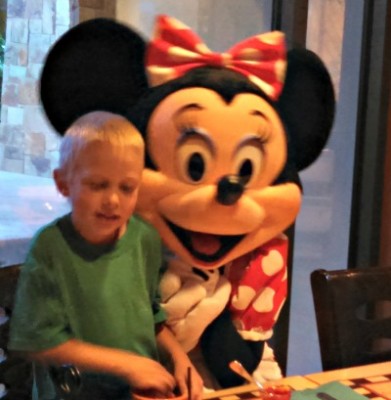 We definitely made some great family memories both times we dined at Goofy's Kitchen. It is something I would definitely do again!
Have you ever been to Goofy's Kitchen? What are your thoughts?
Incoming search terms:
https://www themouseforless com/blog_world/goofys-kitchen-disneyland-hotel/