This post may contains affiliate links for your convenience. If you make a purchase after clicking a link we may earn a small commission but it won't cost you a penny more! Read our full disclosure policy here.
By Teresa Pitman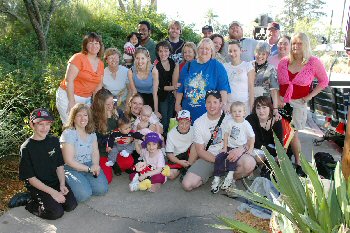 In the beginning, I was feeling pretty depressed about turning 50. It's one of those milestone birthdays that makes you feel, well, old. Then my daughter suggested "Why don't you celebrate your birthday at Walt Disney World – and invite everyone to join you?" And suddenly my 50th birthday was something to look forward to.
We investigated the "Grand Gatherings" options but learned that the main benefit of booking this way is that the group has access to a number of special events. Since the events were beyond the budget of some of the people who wanted to attend, we decided not to sign up. We also had several who decided to stay off-site to save money. Coordinating the whole thing took quite a bit of advance planning, but in the end, we all had a wonderful time. Here's what worked well for us:
1. Hi ho, hi ho, it's off to plan we go. More than a year before my birthday, I mailed out a flyer to friends and family inviting them to join me for this celebration. (I pointed out that Disneyland and I would both be turning 50 in the same year – coincidence? I think not.) In the flyer, I asked them to reply to me by email, and once I had almost everyone's email I did further communications that way. I also sent them the contact information for my Magic for Less travel agent and I think two or three of the other families also booked through her. We also made up a master list of people's cell phone numbers for communicating in the parks.
One plan we'd had that eventually fell by the wayside was for Scavenger Hunts and Hidden Mickey Hunts. I started putting these together but decided that too many of the people on the trip were first-timers, and would probably find these more annoying than fun when everything was new to them.
2. If you can dream it, you can do it. Rather than trying to make plans for everyone else, I decided to share my own schedule and let people decide for themselves how much "togetherness" they wanted. I picked a "park of the day" but didn't expect everyone to travel as a large group (we had more than 50 people in total). Instead, people divided up into smaller (more manageable) groups to tour the parks. Magic Kingdom in particular is hard to do with a crowd. With rides like the Teacups, some people in the group would get on the ride while others would still be in the line-up, and a lot of time is wasted just waiting around for the group. The continuous-loading rides work better when there are quite a few of you. We also found Animal Kingdom one of the best for touring with a large group – you can fill up a whole safari truck, wander the exploration trails together, or fill a couple of rafts on the Kali River (while any who don't want to ride stand on the bridge and take photos).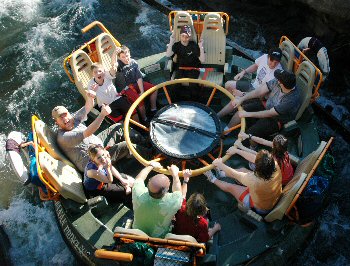 3. A rumbly in my tummy. I also planned my meal schedule early on, sent out an email to ask people if they wanted to eat with me, and then made my ADRs to include those people who said yes. We usually had between 6 to 8 people at a meal – the biggest was a group of 12. Others made similar plans with their groups, or opted to eat at counter service restaurants instead.
4. A birthday at Boma. If you have a large group, and want a meal with everyone together, it may help to book at an off-peak time. Call Group Dining at 407-939-7707 and they will help you make a plan.
For my actual birthday celebration, we decided to bring the whole group together for breakfast at Boma. (Breakfast was more in line with the budgets of some of my friends and family than dinner.) I called the Group Dining number to make the reservation, and was told that if it was for more than 25 people, I'd need to pay a deposit. So I made the reservation for 25 people. (At that point, I wasn't sure how many people would show up, anyway.)
Although I told everyone to be there before our ADR time, as instructed when I made the reservation, people just kept straggling in. Clearly, many of my friends and family are not morning people. But the Boma people were wonderfully gracious about my late arrivals, and moved the tables and chairs around as needed to allow us to sit together. We ended up with 52 – yes, 52 – people.
I hadn't ordered a cake (it was breakfast, after all!) but at the end of the meal a CM appeared with a cake for me, with candles, and led the entire group in singing happy birthday. I loved it!
We faced another challenge at the end when it came to paying. I had asked everyone to bring cash to make that part easier, but of course, we had some people on the dining plan, some who wanted to pay with a credit card or their room keys, and some who had followed instructions and brought cash. I was so appreciative of the CM who patiently worked it all out so everyone could pay the way they wanted to.
5. Looks like it's going to be a smooth ride to Endor. To help make this special, I planned at least one activity with each of my kids and one with my mother. For example, I did the Segway Tour of Epcot with my youngest son, lunch with an Imagineer with my oldest son (and fellow Disney geek), and the Afternoon Tea at the Grand Floridian with my mother. (My mother is British, so that tea was a real highlight for her!) The tours and special activities would also have worked well for larger groups.
Other than our breakfast, we didn't have a time when we were all together, but smaller groups did meet up for rides or meals. One group with small kids spent part of a day at Downtown Disney, mostly playing in the Lego area.
Other ideas for groups that could be fun: consider booking a Wishes cruise together,  a wagon ride at Fort Wilderness, or perhaps a trail ride on horseback. Meet up at one of the larger resorts (Animal Kingdom Lodge or Wilderness Lodge, perhaps) to visit and socialize in the lobby. Ride the boat from Port Orleans to Downtown Disney, or from the Magic Kingdom to Fort Wilderness, where you can roast marshmallows, join in singing campfire songs, and watch a Disney movie under the stars. Get to one of the water parks early, stake out an area for your group, and enjoy a day in the water.
It's also fun to plan to do some rides as a group. When you and your friends fill the entire vehicle in Star Tours or a row in Soarin', it feels like the ride is happening just for you.
6. Hakuna Matata means no worries. I think what helped the most was being flexible. Some people wanted to hit all the Extra Magic Hours so they could do as many rides as possible,  and others never showed up in the parks before noon. Some took a day off from the parks to golf or swim at their resorts, while others opted to shop or take in the night-life. We had people of all ages in our group – from my mother, who is well into her seventies, to six-month-old Nathaniel, my grandchildren's cousin who joined us from Trinidad with his family. And it was my mother who stayed out late one evening dancing at Pleasure Island!
Another nice thing that happened on that trip – two families who had never met (despite both being friends of mine) got together as they were touring the parks and ended up developing a friendship that continues today. And my mother, who had always said she had no interest in going to WDW and couldn't understand why I liked it, called me the day after we got home to ask "when are we going back?"