This post may contains affiliate links for your convenience. If you make a purchase after clicking a link we may earn a small commission but it won't cost you a penny more! Read our full disclosure policy here.
What to expect from a Disney Cruise
Cruises are not cheap and Disney being one of the more upscale contenders for the business on the seven seas is certainly not what you would call a vacation on dimes. However, you do get great value, spacious staterooms, great service, fabulous entertainment, and gourmet meals.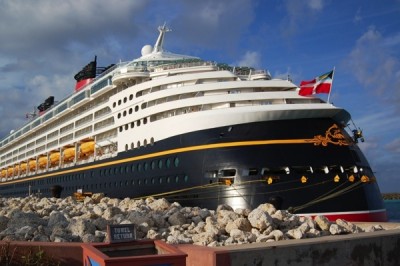 The trick really is to decide how much more you are willing to pay once you're onboard. For this it is important to know what is included in your cruise fare and what is not. I personally am totally capable of going on a Disney cruise and not pay one additional dollar, with the exception for shore excursion and tips.
It makes no sense to travel the world and not see what's out there, so if you want to see Rome and you have never been there, by all means go for it and book your shore excursion with Disney. You will have a great experience, and the added peace of mind that the ship is not going to leave without you.
This being said, I have had a fabulous time going ashore, and not paying for an organized shore excursion on two of my Caribbean Disney cruises. I loved walking around in Nassau, and I simply hopped on the free trolley in San Juan, Puerto Rico.
What else can you do to avoid spending more on a Disney Cruise?
Let's start with the most important subject and that would be food. Don't tell me you do not enjoy indulging in what seems an endless procession of delectable treats, morning, noon and night. I admit I even go for room service in between meals and if I do not like what was served for dinner, there is always the casual dining room with lots of food stations.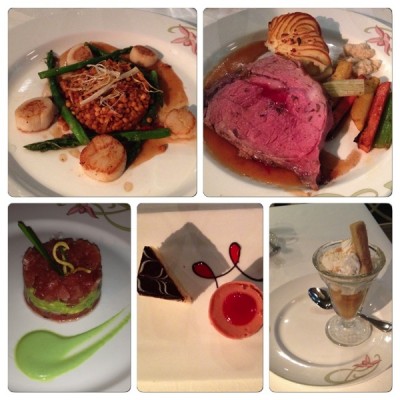 Remember, all meals, including snacks and non-alcoholic drinks are free. Room service is free and includes Mickey Mouse shaped ice cream bars.  Just remember don't ask for bottled water. (Do keep in mind though that room service attendants work hard and should be tipped.) Go and help yourself to all the water and soda you can possible want during meal times – there are so many places to pick from I doubt you'll get thirsty. Stay away from packaged snacks. If you really want candy during the free movie screenings why not bring some along on the cruise, or get your own soda and ice cream right before the show. Bring a drinking cup and fill up on beverages served from free drink dispensers on the ship. There is even self-serve ice cream available throughout the day and quite late into the evening.
We all know that Disney offers exquisite dining at Palo and Remy. Both restaurants are for guests 18 and up only and require a surcharge if you wish to dine there. For Palo it is a $30 surcharge and for Remy it is a whopping $85. Is it worth it? Well, if you enjoy sophisticated dining, I say go for it, it is absolutely great and a bargain, especially for Palo. Do you need it? Nope! Disney has amazing food and I have yet to experience a lousy meal in any of the regular dining rooms.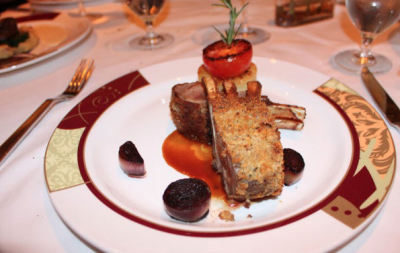 A word about alcohol: Yes, if you wish to have an alcoholic beverage it will cost you extra no matter where you dine, unless you consume the alcohol you're allowed to carry onboard in your stateroom. Passengers 21 years of age and older may bring two bottles of unopened wine or champagne or six beers onboard on embarkation day and in each port of call. However, the alcohol must be hand-carried in your carry-on luggage and cannot be consumed in any of the dining rooms, including Palo or Remy, unless you are willing to pay a $25 corkage fee. Drinking in public places is also not allowed but you certainly can enjoy the beverage in the privacy of your stateroom. And, before you dream of bringing magnum sizes of any alcohol onboard, be aware that each wine bottle cannot be larger than 750 ml and beer bottles or cans cannot exceed 12 ounces each.
Entertainment onboard is amazing, plenty, and free. Very few activities cost money, playing Bingo being one of them. All kids programs are free. If you require childcare service for kids under the age of 3, Flounder's Reef and It's a Small World Nurseries charge $9 per hour for the first child, and $8 per hour for any additional children in your family.

Let's talk wellness while on a Disney Cruise
The use of the fitness center is free but spa and salon services are not. However, you can buy access to the "Rainforest Room" for as little as $16 per day. On most ships the Rainforest Room has a dry sauna, a hot steam room, scented showers, and heated loungers; as well as hot tubs on a private deck overlooking the sea.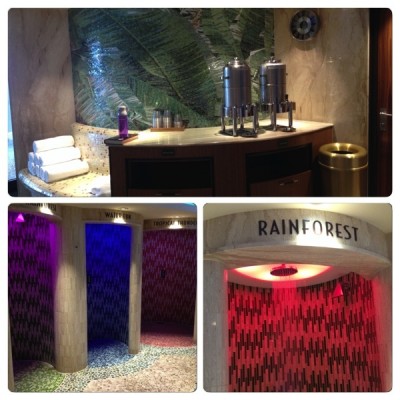 On Castaway Cay food, lounge chairs and umbrellas are free and so is the Castaway Cay 5K race. Signup is at the port adventure desk. Make sure to do so as soon as you arrive onboard. The race comes with race bib and a finisher medal. You can even drop of your kids at Scuttle's Cove, the free children's program while you run the race or enjoy the adult beach. Bike rentals, snorkeling equipment, boats, any kind of shore excursions and private cabanas as well as alcoholic drinks come with a fee.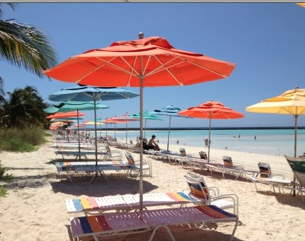 As I mentioned before, food is plenty and good. Unless you really are set to explore a very specific cuisine in one of the ports of calls there is no reason to pay extra. You can have lunch onboard the ship on any day.
Anything else you need to know before embarking one a Disney Cruise?
Gratuities are not included, and you will have to pay for transportation to the ship. If you do drive, you'll have to pay for parking at the port. There are fees for laundry and dry cleaning and photographs are not included in your cruise package either. Last but not least ship-to-shore calls and the use of the Internet are not free. I say forget about the laundry and put that cell phone away. Enjoy your cruise and if you must check your email or post cruise pictures go to a coffee shop when in port that offers free Internet.
Do you end up paying for a lot of extras when on a Disney Cruise? We would love to hear from you. As you are reading this overall assessment of a Disney Cruise I will have just returned from my latest sailing with The Mouse, and I can't wait to tell you all about it in several upcoming articles. Think Halloween at Sea, think refurbished ship, and you will get pretty much the picture.
If you are going on a Disney cruise prior to my next posts I wish you ahoy matey, and remember my most important recommendation: have fun!
To book your Disney Cruise Line vacation, contact The Magic For Less Travel for a free quote.