This post may contains affiliate links for your convenience. If you make a purchase after clicking a link we may earn a small commission but it won't cost you a penny more! Read our full disclosure policy here.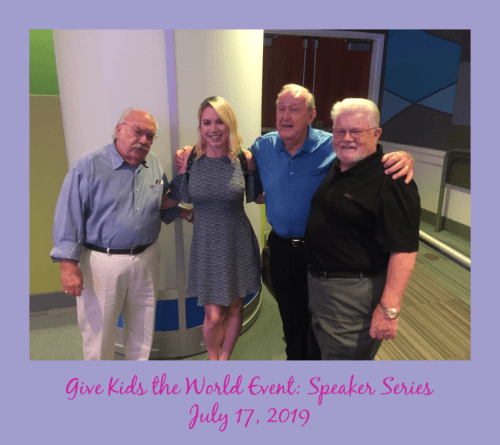 Let me begin by saying that this was one of the most amazing opportunities I have ever had! I recently had the amazing chance of attending an event at Give Kids the World Village in Kissimmee, Florida to listen to a speaker series to help raise money for the Village. The speakers included Disney Legends, Tom Nabbe, Bill Sullivan, and Bill Hoelscher, sharing their stories and perspective of the development of Disneyland and Walt Disney World.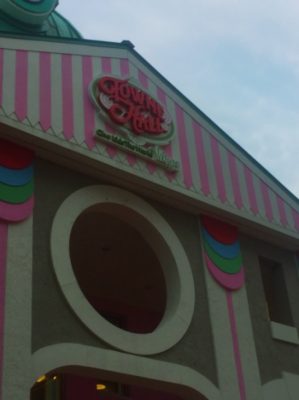 A Spectacular Speaker Series
The event was held at the Town Hall for Give Kids the World Village on the evening of July 17, sixty-four years after the opening of Disneyland in California. Upon walking into the seating area, they had Disney music playing and a book signing for Jeffrey A. Barnes, the author of "The Wisdom of Walt" and "Beyond the Wisdom of Walt." Having read "The Wisdom of Walt," I was ecstatic to find out that I could buy a set of signed books from him.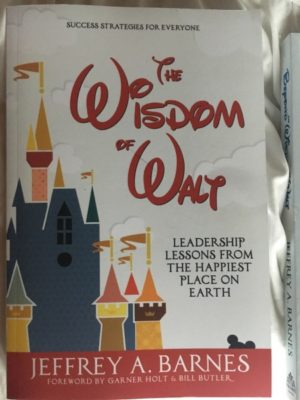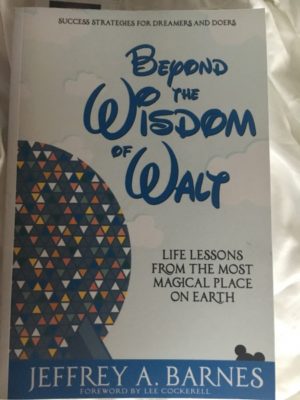 The entire evening made me feel like I was in the midst of how the dreaming of Disneyland and Walt Disney World started. Tom Nabbe, Bill Sullivan or "Sully", and Bill Hoelscher were Disney legends who shared their personal stories and memories of Walt Disney, himself. They each had started working at Disneyland when it first opened,  like selling newspapers, or being a Fantasyland busboy. But then as the years went on, they moved up into the development process of the theme parks.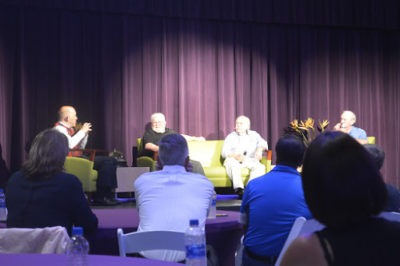 Hearing about the development process of Disneyland and Walt Disney World was amazing, but my favorite part was hearing the stories about Walt himself. Each of these legends personally knew him, explaining that Walt was a very personable person and really cared about his employees and all of the projects. He always wanted to know what you thought about everything.
They told a story that showed how much Walt Disney hated to be called, "Mr. Disney." Apparently, while he was staying in his apartment in Disneyland one weekend, a young lady had brought him breakfast, and out of respect, called him Mr. Disney. He answered with "Young lady, there are only two Mr's in this park: Mr. Lincoln and Mr. Toad." They always knew when Walt was in the park because it was always a "Code W," and his car would be parked behind the firehouse on Main Street U.S.A.
Walt was an amiable person, who cared so much for all his coworkers, and not only cared, but wanted to know their opinions. He cared so much for all of his projects and those people that were involved.
Project X
Another extraordinary part of the evening was listening to the stories surrounding the development of Walt Disney World. What most people probably do not realize is that Walt Disney World was that history really shaped its beginning.  All three of the speakers described the mid-1960's as being a not very peaceful time in the country. Walt had wanted to make a contribution to society somehow, like "a city of the future." EPCOT, or Experimental Prototype Community of Tomorrow was Walt's biggest dream, and he wanted to see it become a reality.
When the land was bought in Florida, it was originally going to be 4,000 acres, but the land was so cheap that 7,000 acres was bought instead. On November 22, 1963, Walt had flown over the land, surveying and looking at it, thinking about his project. This was also the day in history when President Kennedy was assassinated, and this occurrence sealed the idea for EPCOT. EPCOT was originally the first thought on Walt Disney World and was called "Project X," or the "Florida Project," and everything began to grow. No one seemed to have any concept of the size of the the Florida Project. Everyone in Florida was thinking it was going to be like a county fair, but it wasn't. It was going to be around all year long and something completely out of the ordinary.
Unfortunately, in 1966, Walt Disney died of lung cancer. However, many made sure his dreams came true, especially his brother, Roy Disney. Tom, Sully, and Bill all said that it was Walt's dream, but Roy made Walt Disney World happen. He was the money man, and made sure everything was all set and good to go, making sure it was named "Walt Disney World."
It all Started with a Dream
Sitting in the crowd listening to these men tell their stories about Walt Disney was indescribable. I've always read about him, of course, about his journey, his achievements, and his dreams. But I have never personally, heard or talked to anyone who personally knew the man. Jeffrey Barnes at the beginning of the event had said that Walt Disney seems to almost have become a sort of "mythical" being that is in the back of everyone's minds. However, they shouldn't forget that he was the one who started it all.
These men I got to hear speak that night all started with smaller jobs at Disneyland, and loved it so much, that they continued moving up the scale, and helping to develop everything that the Disney theme parks are today. It was absolutely fantastic getting to hear first account stories about the man who started it all and how these legends have lived out their dreams.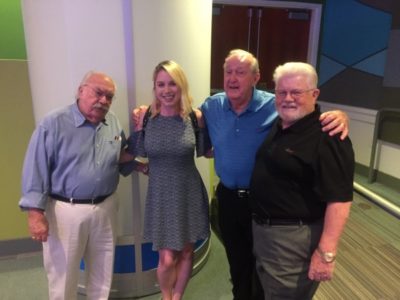 Give Kids the World Village frequently has these amazing speaker series in order to help raise money for the village. Give Kids the World Village has helped kids from all fifty states, seventy-six countries, and over 75,000 families. This particular evening, enough money was raised to fulfill one wish! The entire night was a truly magical experience, that was for an amazing cause, and it will always be close to my heart.
The next event is taking place this weekend, on August 3, and features Paige O'Hara, the voice of Belle from Beauty and the Beast, and Linda Larkin, the voice of Jasmine from Aladdin. They will share stories of the magic behind the scenes of these loved Disney characters. Purchase your tickets here.
Did you like this article? Make sure to share it with your friends! Check below for easy ways to share!
Want to visit the Walt Disney World Resort? Contact The Magic for Less Travel for more information and a free, no-obligation quote.

Incoming search terms:
https://www themouseforless com/blog_world/give-kids-the-world-event-speaker-series/