This post may contains affiliate links for your convenience. If you make a purchase after clicking a link we may earn a small commission but it won't cost you a penny more! Read our full disclosure policy here.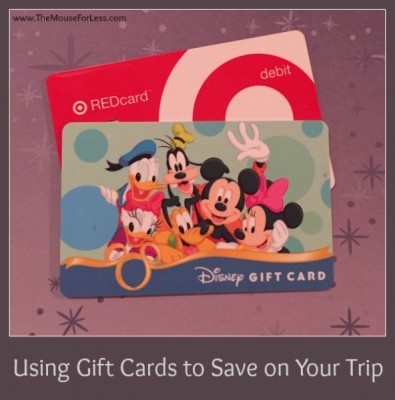 We all know how exciting it is to save money on a Disney vacation, right? Even a small savings can help pay for some Mickey Bars or a t-shirt.
TheMouseForLess has a great new way to help you save on your next trip. By using our link to Raise.com, you can save up to 4.5% on your purchase of Target gift cards (and help support the MFL site in the process).
Your Target gift cards from Raise.com will be electronic cards for online use. Once you have them purchased, go online to Target.com and purchase your Disney gift cards. If you have a Target Red Card associated with your account, you will save an additional 5% off of this purchase.
Then once you get your Disney Gift cards, use them to pay for your trip, or bring them with you on your adventure and use them to pay for food, souvenirs, or any expenses at Disneyland or Walt Disney World during your trip.
This method can allow you to save up to 9.5% off of your next Disney vacation (not to mention there may be other Disney specials that are separate from this savings).
So to do this effectively, remember you will need:
A Target Red Card that is associated with your Target.com account
A little time and patience
While you can also purchase Disney Gift Cards at your local Target store with your Target Red Card and receive a 5% discount, you cannot use the gift cards for payment without putting at least a portion of your purchase on your Red Card.
Also remember that Target offers a Red Card credit and debit version. So you can choose the card type that works for you. Either one provides the 5% discount. Also note that not all gift cards work like this, but since Disney is an entertainment card, it qualifies for the discount.
Occasionally Target's website will sell out of the Disney cards temporarily. They will be back in stock soon. Also, watch for sales as occasionally Target offers additional incentives (such as a $5 gift card for $50 in gift card purchases).
Target generally offers Disney Gift Cards in $50 and $100 denominations. While you can use multiple cards for your trip, if you prefer to combine them, you can use https://www.disneygiftcard.com/ to transfer balances and combine your cards up to $1000.
It is EXTREMELY important to remember to keep your gift cards when using them for a vacation purchase. If for some reason you have to cancel your trip, the refund will go on your original form of payment: in this case your Disney Gift Card. Once you travel you should be able to destroy the cards.
Remember you can do this over time, and purchase the Disney Cards as the budget allows.
Whew! That's a fantastic way to turn a little bit of time into a savings for your trip.
Incoming search terms:
is there a red card discount for disney gift card