This post may contains affiliate links for your convenience. If you make a purchase after clicking a link we may earn a small commission but it won't cost you a penny more! Read our full disclosure policy here.
By Teresa Pitman
Yes, you could have spent the day at Typhoon Lagoon, or lounging around your resort pool. But darn it, you bought these park tickets and you made ADRs, and you need to be in the park today, even if the temperature is 92 degrees (or 33 degrees, as we say in Canada).  You've got your sunscreen, your water bottle, a hat with a brim…
But wait! There's one more thing you might want to think about, especially if you have a child like my grandson Sebastian. During one very hot visit to Downtown Disney, he noticed the water play area near the exit to the buses. Frankly, he couldn't have missed the crowd of exuberant kids laughing and splashing in the fountains of water that spurted up from the sidewalk. He begged to go in.
The problem: we had no extra clothes packed for him. We knew that while it might be fun to be wet right now, in the hot sun, he'd be pretty uncomfortable as soon as we got on the air-conditioned bus — and we had ADRs at Boma. On the other hand, who can say no to a hot four-year-old who just wants to cool off and have fun? We let him go, and bought him a new outfit to wear the rest of the evening.
Of course, that can get a little expensive, so now we make sure to pack a change of clothes for the little ones when we head out to the parks in hot weather, and we feel free to take advantage of the opportunities to get wet. Here are the ones we've found:
Animal Kingdom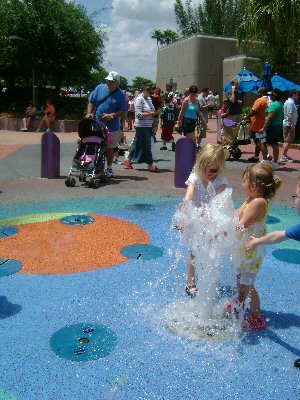 While I've occasionally looked longingly at the elephants' drinking hole or the hippo's pool while on the Kilimanjaro Safari Ride, apparently you're not allowed to hop off the truck and splash around. In fact, while the animals have abundant water sources, this is one of the tougher parks for guests who want to get wet. The best option we've found: Kali River Rapids. Here you are guaranteed to get wet, and probably soaked from head to toe. (There is a container in the middle of each raft to store items you want to keep dry, but it tends to leak. If you need to bring your camera or other must-stay-dry items on board, I recommend using a ziplock bag to protect them.) Not up to riding this mildly adventurous attraction? Stand on the bridge and use the "elephants" to spray people passing by on the rafts — you can get a bit wet yourself in the process.
Hollywood Studios
Another dry park. But there are a couple of options: the giant-sized dog's nose in the Honey I Shrunk the Kids Playground will spray you with a cool mist, and if you find the umbrella attached to a light pole not too far away, and stand under it, you'll get a little shower. (Singin' in the Rain, get it?) Getting really drenched isn't easy at the Studios, but with all the indoors attractions, it's relatively easy to stay cool here.
Epcot
Near the pavilion with Journey Into Your Imagination and Honey I Shrunk the Audience is an area of "jumping water" – where water seems to jump from one planter to another. Little kids love trying to catch or block the moving water and getting wet in the process. You can also stand downwind of the fountains in the central plaza of Future World and enjoy the cool damp spray.
For some real water fun, head over to the area near Test Track and Mission Space, where you'll find an area with cool mist. There's also a mister and water play area on the main walkway between Future World and World Showcase, with fountains of water bubbling up from the sidewalk. On a hot day, this will attract lots of little ones. (And it's a good idea to get all the cool refreshment you can at this point, because it's a long trek around the World Showcase with no wetness opportunities.)
Magic Kingdom
The name gives it away: Splash Mountain is not only one of my favourite rides, but offers an excellent chance of getting wet. I have seen some riders come off relatively dry, but I'm always pretty much soaked by the end — if not from the wave set up when my boat comes down the big drop, then from the wave of the next boat as we round the corner. (If you don't get wet enough on your first try, hurry to the end of the line and try again!)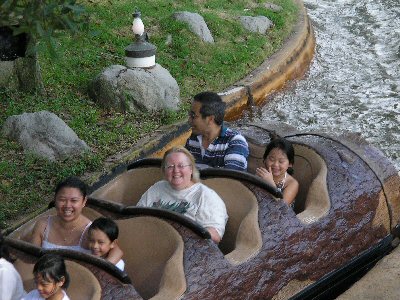 If you need a little more water in your life, try Donald's Boat over in the Toontown Fair. (You can hop on the train at the stop between Splash Mountain and Big Thunder Mountain, then ride it around to the Toontown stop.) This is a play area for children with jets of water shooting up from the ground and down from the top of the boat. While it's intended for kids, I've seen plenty of adults taking advantage of the opportunity to get sprayed with water as they follow their little ones around the attraction.
In Florida's humidity, your clothes may take some time to dry and that can lead to chafing. If you don't have a fresh outfit handy, you can try drying off with the hand-dryers in the restrooms. Animal Kingdom has some especially effective ones in the restrooms near Kali River Rapids.
One last option — the park restaurants will give you, free of charge, a cup of ice water. All you have to do is ask. There's no requirement that you actually drink the water, so if getting wet is what you need, go ahead and dump it over your head, and there you are: a little bit cooler, and definitely drenched.
Incoming search terms:
https://www themouseforless com/blog_world/getting-wet-in-the-disney-parks/
https://www themouseforless com/blog_world/getting-wet-in-the-disney-parks/#:~:text=If you dont have have to do is ask