This post may contains affiliate links for your convenience. If you make a purchase after clicking a link we may earn a small commission but it won't cost you a penny more! Read our full disclosure policy here.
By Kate Abbott
It seems like I was just reminiscing about HalloweenTime at Disneyland, but now it's almost Christmas! All the spooky jack-o'-lanterns are gone (well, except for in the Nightmare Before Christmas–themed Haunted Mansion) to make room for sparkly, shiny, cheerful winter holiday decorations adorning Disneyland and California Adventure. If you can't make it to the West Coast parks this holiday season, here's a photo tour (and maybe it'll inspire you to make a visit). Just think how great that new icicle-covered Sleeping Beauty Castle will look behind your grinning family on next year's Christmas card!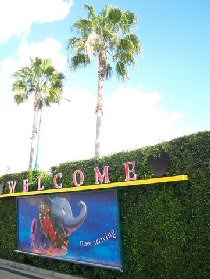 Holiday cheer starts at the parking lot tram boarding area. OK, the palm trees aren't covered in snow, but a wreath-wearing Dumbo is certainly in the spirit. (I wish the flying elephants on the ride were actually wearing wreaths!)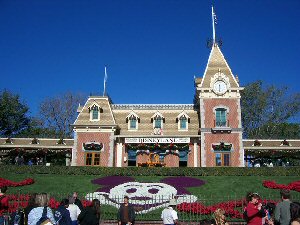 Halloween's decorative gourds are gone, and poinsettias fill in the signature floral arrangement at Disneyland's entrance.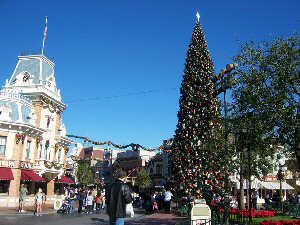 A towering tree draws your eye as soon as you cross under the train station into the park…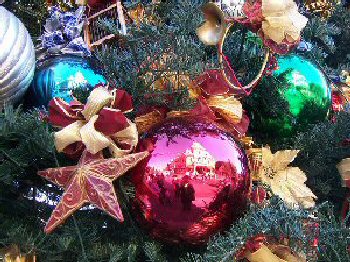 …and holds your attention with its packed-to-the-max branches containing clusters of ornaments! (The decorated Emporium and other Main Street buildings are reflected in the shiny, head-sized ornaments at the bottom of the tree.)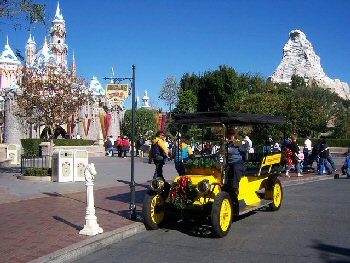 Main Street's vehicles are decked out for the holidays, too.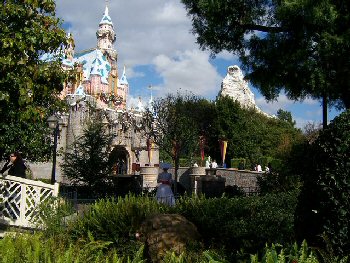 Mary Poppins checks out Sleeping Beauty Castle's daytime holiday look: new snow-covered turrets and icicles, and the familiar wreaths and garlands. She'll be in for a surprise at night!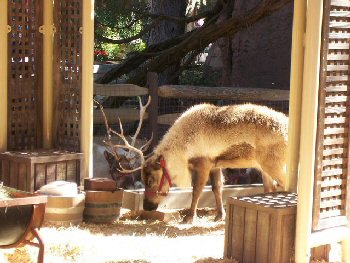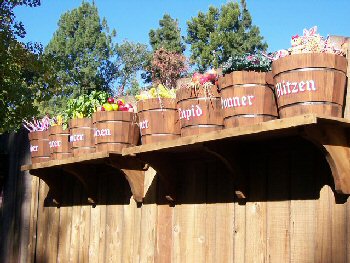 But first, let's visit the reindeer at Santa's Reindeer Round-up at the Big Thunder Ranch. The reindeer have taken over the ranch, which usually houses a petting zoo. Don't try to pet the reindeer! You can take a photo with Santa or Mrs. Claus instead.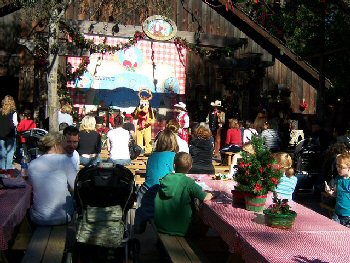 Or you could make some holiday crafts while watching a festive show featuring "reindog" Pluto and Clara Cluck.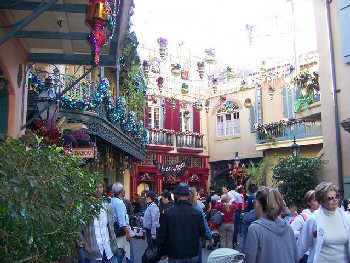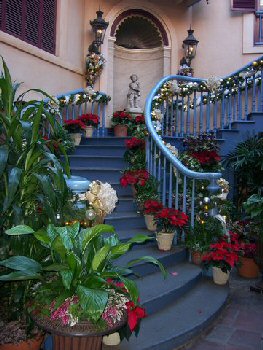 New Orleans Square is busy and beautiful in its holiday splendor, but you can still find the Courtyard of the Angels appealingly empty enough for a great family photo!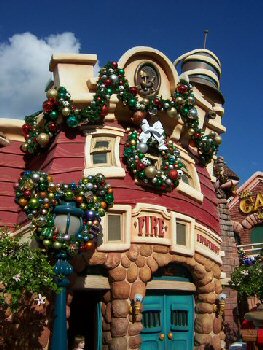 Even the wacky 'toons have decorated their land…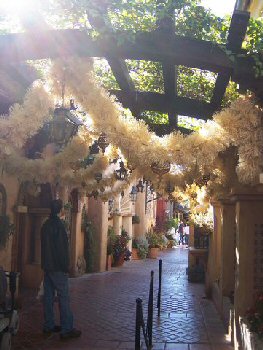 …and the more restrained but festive area near Rancho del Zocalo has been draped with garlands, too.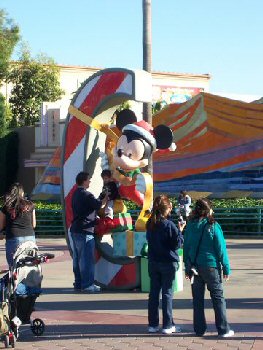 The holiday sightseeing continues over in California Adventure, where the "California" letters have been covered with candy cane stripes, and Mickey and Goofy (and a bunch of kids) climb on the letters.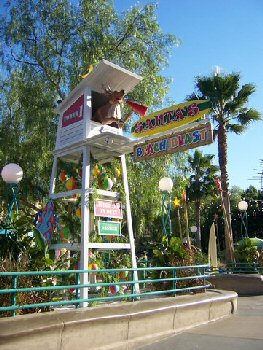 Sunshine Plaza (known as Candy Corn Acres only two months ago) has been transformed into Santa's Beach Blast.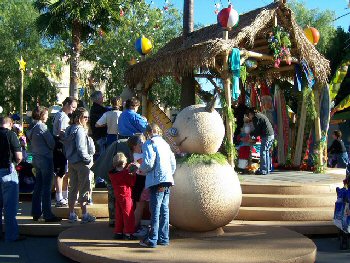 Here you can take a photo with a laid-back, tropical Santa, or play games, such as constructing a "sand-snowman" in a Mr. Potato-Head-esque manner, by day…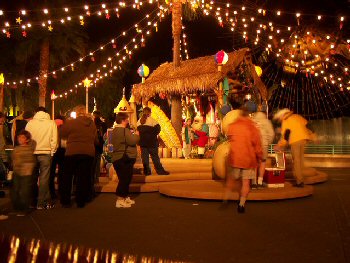 …or by night!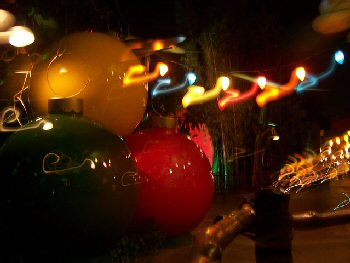 Giant ornaments have dropped into A Bug's Land.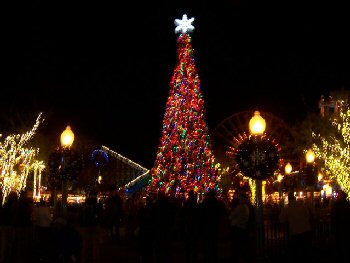 California Adventure gets its own tree in Golden State Park, complete with carolers.
But there's nothing more spectacular than Disneyland's Sleeping Beauty Castle at night! The new icicle-and-snow treatment is astoundingly beautiful in the dark, especially when the tiny lights covering the turrets shimmer and make the snow illusion even more convincing. The cool blue tinge to the castle's lights is a striking contrast to the warm yellow glow of Main Street in front of it and King Arthur Carrousel behind it.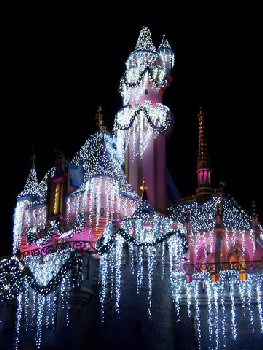 Sleeping Beauty Castle isn't always illuminated with its new snowy glow at night. The castle is transformed after the "Believe…in Holiday Magic" fireworks show, after "snow" falls on Main Street (and all of its occupants!).
The castle also sparkled with its new special decorations at 5:30 p.m. and 7:30 p.m. when we visited on a recent weekend. Although those extra illumination times aren't listed on the Disneyland website, they do appear in the daily entertainment times guide at the park. In our experience, the castle remained lit up for half an hour during the "bonus" lightings, making for a couple of welcome opportunities each night to admire its new look and take photos! The tiny lights are so densely packed together that it's tricky to photograph, but I was able to take these pictures by resting my camera on the tops of trash bins and railings as makeshift tripods. For family portraits, though, I'd let the pros take your nighttime photo: Use your PhotoPass card and let the friendly Disneyland photographers make sure you've got a good, sharp picture.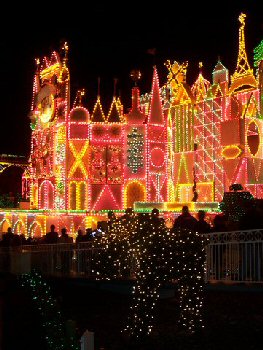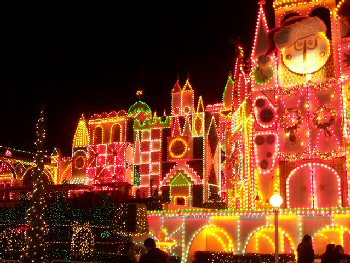 Of course, "it's a small world" also looks splendid in its holiday makeover, and taking in the topiaries while waiting in line or watching the train steam past the illuminated building is a uniquely lovely Disneyland experience.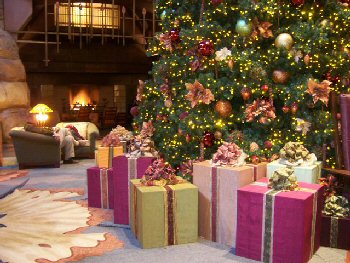 What a way to end the night! Disneyland and California Adventure look so fabulous during the holidays that's it's hard to leave. But, if you've got to go to bed, there's no better place to return to than the Grand Californian, whose lobby looks even more cozy and striking when it's decorated for Christmas.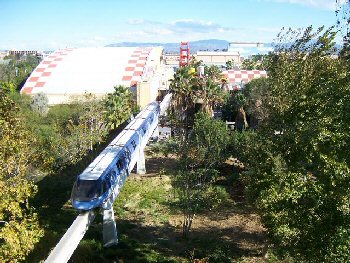 We were able to secure a fantastic Annual Passholder rate for a Sunday-night stay, and were lucky enough to be greeted by Linda, one of the most friendly hotel employees I've ever met…and I thought that even before she gave us an upgrade to a park-view room!

What a view! The only difficult choice when you're fortunate enough to stay in a room with a view like this one: how long can you stay in and admire California Adventure from your room until you've just got to explore it for yourself?
With all of the amazing holiday decorations making the Disneyland Resort at its most dazzling right now, you've got to see it for yourself. After all, it's never too early to plan for next year's holiday photo cards!
Incoming search terms:
The Spirit of Christmas 1999