This post may contains affiliate links for your convenience. If you make a purchase after clicking a link we may earn a small commission but it won't cost you a penny more! Read our full disclosure policy here.
Transatlantic Cruise on the Disney Magic May 2011 – Day 7 (5th of 6 days at sea with NO LAND IN SITE)
Cast of characters:
Mic from The Magic for Less Travel
Missy, from The Mouse for Less and of Minnesota mom's runaway to WDW fame, one of Mic's BFF's
Ross, Missy's darling husband (aka DH)
Tomorrow:   Day 6 – Day 5 at sea (with NO LAND IN SITE)
Still no sign of mutiny – although today was a power-sleep day, so there was really no energy to contemplate any mischief.   Besides, today is the day for the PremEAR of Pirates of the Caribbean:  On Stranger Tides!!!  We will give the Captain another day before taking control…
I was up later than usual and the ladies slept in until 11:30 or so.  I spent a while mushing around on deck 9, reading and watching people.  Deck 9 is the deck that most people congregate on as it has three pool areas:  Mickey's pool and splash area for the little ones, Goofy's pool (the "Main" pool) which also has the Funnel Vision outdoor movie screen and the segregated Quiet Cove, adult's only area and pool.  Each area is segregated well.  Neither the Mickey or Goofy pool area allows smoking, but one side of the Quiet Cove area is set aside for smoking.  So, depending on whether or not you have children and/or your tolerance for the squeals and giggles of the young at play (not necessarily just the kids) or what it is you want to do that day you can find a place that fits.  The key about Deck 9 is that it is still open to the air in the pool areas, but the sides are covered by see-through walls so that you can enjoy the view and fresh air without the sometimes high (and chilly) Atlantic winds.
Later in the morning Missy found me and we got some breakfast at Topsiders Buffet.  After wandering around some more – not really committing ourselves to any of the many activities – we found Mic relaxing near the Atrium/Lobby area.   Missy started noticing all the wonderful detail on the ship – everywhere you look there seems to be some small, subtle detail they have added to heighten the experience.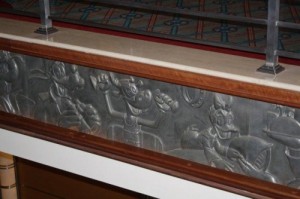 After watching the kids play for a while, we headed back to the room for more relaxing and movie watching.   There are a number of channels on the ship dedicated to specific movies – both Disney and otherwise.  So we proceeded to "veg" out for a while.
At about 4:15 or so we got ready and headed to the Walt Disney Theatre for the Pirates Movie!  Even though we were 45 minutes early, there were already a large number of people in line.  They were actually showing the movie 3 times tonight, but it seems everyone was as anxious as us to be the first to see Jack (sorry, Captain Jack) Sparrow and his new adventures.  No spoilers here –but the movie was a lot of fun – different than the others, but it definitely had its own charm!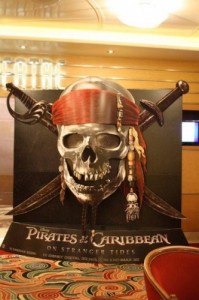 We then all headed to Diversions for this evenings trivia contest – Pub Quiz.  Tonight we came in second again.  Then to dinner at Lumiere's – French food tonight!  Again another "boring" night of awesome service, awesome food and awesome friends!
After Dinner, Missy and I separated to spend some time alone and the other folks headed to the Oceaneer Lab to put together and race soap cars for the Piston Cup!  In the evenings they frequently open up some of the kids areas for special adult events.  There was apparently some controversy – something to do with improper car-starting procedures, but everyone had fun.
Tomorrow:   Day 8 – Last day at sea (with NO LAND IN SITE)