This post may contains affiliate links for your convenience. If you make a purchase after clicking a link we may earn a small commission but it won't cost you a penny more! Read our full disclosure policy here.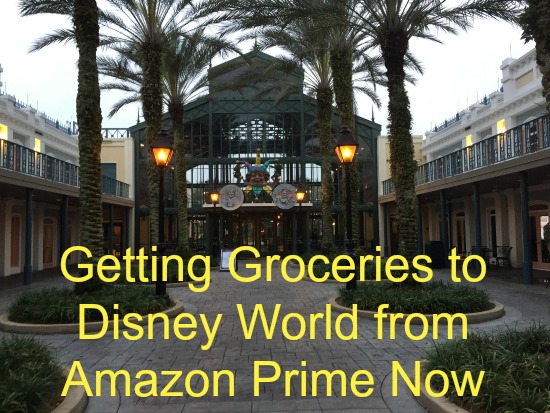 In-room breakfasts, snacks, and bottles of water for the parks are great ways to save money on your Walt Disney World vacation.  Fortunately, there has never been an easier time to get groceries delivered right to your Walt Disney World resort.  You have a number of options at your disposal now, and the one with widespread appeal is Amazon Prime Now, which is available to anyone with an Amazon Prime membership.  Let's take a look at how you go about using Amazon Prime Now to have groceries delivered.
What's Available?
Amazon Pantry has been available for some time, but that service does not include fresh or frozen foods.  Amazon Prime Now has dairy, cheese, and frozen items in addition to dry, canned, and bottled goods.  And you don't have to "fill a box" as you do with Amazon Pantry (though you do have to have an order of $20.00 or more).  Items you might consider for your vacation are milk, yogurt, cheese sticks, bottled water, cereal, and salty and sweet snacks.  Items that are not available at this time are fresh produce and alcoholic beverages.
When Do I Order?
Amazon Prime Now is designed to be ordered between 1 hour and 1 day before you wish to have them delivered.  This is in contrast to Amazon Pantry that requires an order several days or more in advance, and other Orlando-area grocers that sometimes need an order a few days prior to your arrival.  This can be a bit challenging to coordinate with all of the other steps you are taking for your WDW vacation, such as airline check-in and packing, but you can also do it while you are sitting in the airport or even upon arrival in Orlando.
How Do I Order?
First, you must be an Amazon Prime member to take advantage of this service. Go to amazon.com.
Enter the zip code for the Walt Disney World resort:

32830

Start filling your cart; you need a minimum $20 order to check out.
On the checkout screen, enter your delivery address. Be very specific here to ensure your groceries are delivered to the right place.  For the street address of your resort, visit the Walt Disney World site, click your resort name, then the "resort overview" tab.  The address will be listed on the right, below the map.  Enter your name and the word "guest" after it in the name field, then enter your resort's street address.  Your room number is not necessary.  If you try to enter your resort name (e.g., Pop Century Resort), you will likely get an error message; only enter the street address information used by the postal service.
Select your delivery time. Delivery within one hour carries a delivery charge of $7.99.  Delivery later in the same day or the following day is free.  You can have it delivered in any two-hour window on the same day or the following day between 8:00 a.m. and 10:00 p.m.  They will leave it with Bell Services at your resort.
Enter your mobile number in case they need to reach you, any special instructions (optional), your payment method, and your billing address.
You are free to tip your delivery person; the default value is $5.00. I highly recommend tipping!
Place your order!
What Happens Next?
You will get your standard Amazon order information in your email.  During your delivery window, your groceries will be delivered to Bell Services.  Then, one of two things will happen:  Bell Services will either call you to pick up your order (they will hold it for you and refrigerate any items needing to stay cool) or they will deliver it to your room (assuming you have checked in).  When I visited most recently, we used online check-in at Port Orleans French Quarter, so when the groceries were delivered, Bell Services looked up our room number, saw that we were already checked in (even though we were still on our airplane), and delivered our groceries to our room!  Bell Services put the cold items in the room refrigerator.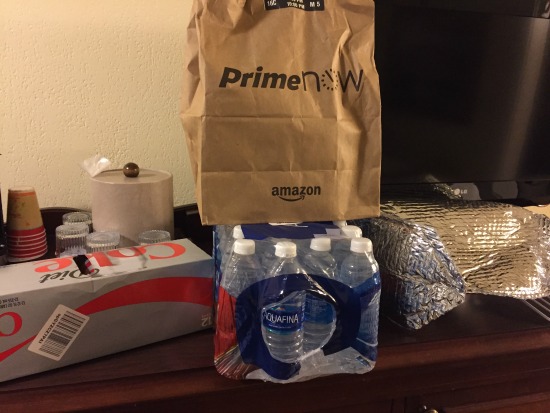 Amazon PrimeNow grocery delivery to our resort room
All-in-all, Amazon Prime Now is a very convenient way to get items delivered quickly to your room.  The per-item cost is similar to what you might find in your local grocery store and delivery is free.  They don't have everything you might want, but for the traveler who doesn't have a rental car (or just doesn't want to leave the Disney bubble), this service might fill your needs.
Have you ever used Amazon Prime Now? Share your experiences and tips in the comments.
Did you like this article? Make sure to share it with your friends! Check below for easy ways to share!
Incoming search terms:
amazon delivery to disney world resort
amazon delivery to disney resort
amazon grocery delivery disney world
amazon food delivery to disney hotels
amazon prime now delivery to disney resorts
https://www themouseforless com/blog_world/getting-groceries-walt-disney-world-amazon-prime-now/
amazon delivery to disney
how to get amazon fresh delivered to the grand floridian
amazon deliveries to disney world resorts
will amazon deliver to disney resort