This post may contains affiliate links for your convenience. If you make a purchase after clicking a link we may earn a small commission but it won't cost you a penny more! Read our full disclosure policy here.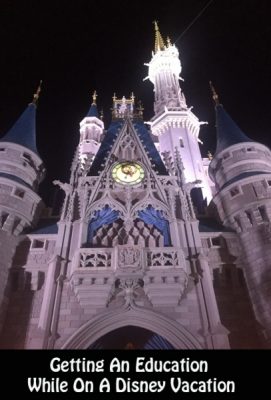 For the past nine years that my children have been born, we have taken trips to Disney.  These trips occurred whenever we wanted them to because as babies they were not in school, as there were times where we wanted to go during times of the year that were convenient for us in terms of crowd levels and weather conditions.  We had been pretty fortunate to get away with it until the past year or so.
For the past five of those nine years we have been going to Walt Disney World in January for Marathon Weekend.  During those race weekends, I have been participating in the Dopey Challenge, which meant more days the kids had to miss school because I was running in more races.  As of last year, it was the first year we returned in the month of April during Spring vacation from school.  We were fortunate that it wasn't the same week as Easter and also, the crowds and weather were great that time of year.
However, since we took the kids out of school for multiple trips during a school year; I always made sure that we were incorporating things in our vacation that were educational.  Once attraction that was especially on par with what my son was learning when he was in second grade was the Kilimanjaro Safari ride.  In school he was learning about the different habitats.  While we were on the ride, I gave my daughter the animal check list and she was circling as many of the 18 animals that were on the tour that we could find.  Also while on the ride, I used my iPhone to jot down notes in my notepad and took video of the animals.  When we returned from our trip I had my son watch the videos and write in a journal what he learned from the videos and I also reviewed my notes with him.
While in Epcot I made it a point to take notes during the Spaceship Earth ride to help teach them about the history of communication beginning from the Stone Age to the computer age.  Another favorite of ours is Living With The Land.  This is a great way to teach children where our food comes from and learn about new horticulture techniques in the living laboratories of Epcot.
Ellen's Energy Adventure has been their favorite as of late.  This is a great 45 minute ride that teaches the children about where energy comes from, beginning from the days of the dinosaurs until today.  You can't go wrong if you are on a ride that includes Bill Nye the Science Guy!  I am glad we got to see it as many times as we did before that ride may eventually become extinct.
Finding Nemo ride is also an excellent opportunity to build learning into your vacation.  When you exit the ride, you are in an aquarium full of educational opportunities to learn about manatees, the different fish in the coral reefs, sea turtles, sting rays, marine biology, shark safety and more.
There are still so many more things I want to do with my kids to help them learn more about different cultures and countries, such as having their name written in different languages throughout the countries in Epcot.  Watch the movies showcased in several countries throughout the showcase.  And also visit the 11 Kidcot Fun Spots where they can collect stamps and create a personalized souvenir at the craft stations.
So while many people think Disney vacations are all about the Mouse and thrill rides, there are so many things you can do to turn your vacation into and education while still having fun!
What is your favorite way of including educational experiences in your Walt Disney World vacation? Share your thoughts in the comments.