This post may contains affiliate links for your convenience. If you make a purchase after clicking a link we may earn a small commission but it won't cost you a penny more! Read our full disclosure policy here.
By Jane Jones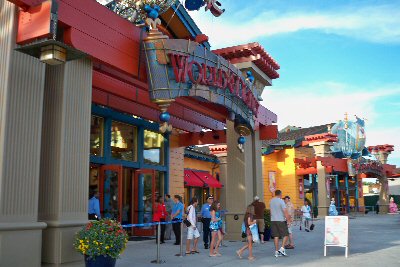 One thing everyone plans for on a Disney vacation is shopping! Whether it is to buy an autograph book and pen, the perfect T-shirt, or a special collectable, everyone loves to shop while at Walt Disney World. But are there any souvenir bargains to be had?
As the official MouseForLess Walt Disney World Shopper, I've been to just about every store, so another visit to the World of Disney at Downtown Disney wasn't all that exciting…except this time I would be attending a Passholder Sale. What's that all about? Would I find bargains? Well, read on…
In the summer 2009 issue of the Mickey Monitor (the official WDW Passholder publication) I ran across an article announcing "the World of Disney Passholder Sale Returns." RETURNS? Does this mean there has been one in the past and I missed it? I immediately contacted my friend who works at WoD and asked her for the scoop. While she didn't have much information, she did tell me that that it occurred last fall, and that information is pretty "hush hush," but that the upcoming sale would offer some good deals. Not one to shy away from a sale or crowds, I planned to be there.
The "invitation" stated that the sale would be held on Saturday, June 6, starting at 6:30 a.m. OK, maybe I wouldn't plan to be there THAT early, but I did make it in the doors by 7:30 a.m. I should have been there earlier — the first 1,000 people received a free Disney Cruise Line beach towel. I would have LOVED that.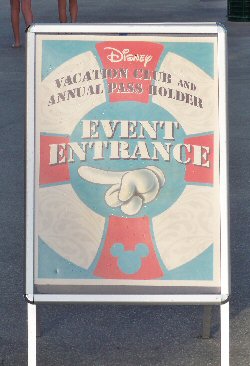 Oh, well!
Wow, the joint was jumping! There was only one allowable entrance to the store (via the Princess room entrance) and you were asked to present your Annual Pass. I discovered that while the announcement in the Mickey Monitor stated it was a Passholder-exclusive event, the signs allowed for Disney Vacation Club members to also participate. I don't recall any mailings on this, but I could have missed that info (I am DVC, too). This increased the size of participation (i.e. the CROWD). I was OK with it — I was there to observe.
I found out that last fall's sale had "doorbusters" or special sale items that were announced throughout the morning, but this year the doorbusters were all displayed when guests arrived. They were marked by yellow balloons. There were also a number of 50% off racks, shelves, and carts. These were marked with blue balloons. Also, there were "super secret" surprises at the registers when you checked out.
This was a real event! There was a meet-and-greet with Goofy set up in the back of the Jewelry and Pins room where you could get your photo taken (yes, PhotoPass available). While the Bibbidi Bobbidi Boutique was not open, there were "fairy godmothers in training" to take your reservation and show off the salon. Plus, some of the many shops at Downtown Disney were open early with their own special savings for Passholders and DVC members. This was all listed on a handy little map given to you at the WoD entrance. (Click here for a list of discounts, too!)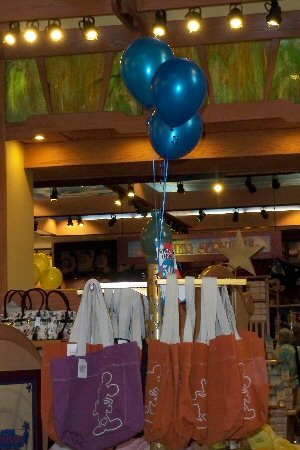 I spent the first half hour or so just marveling at the number of people loaded down with "stuff." The sale items I noticed were the items with balloons. Then I started to look closer and talk with Cast Members. Out they would come with new boxes full of merchandise. There was a method to the selections — a lot of the sale items were dated 2009 and others were part of the "Celebrate" theme from this year, which fortunately is not dated. There were also a lot of holiday themed items (Christmas, Halloween. Easter, etc.).  In reality, there weren't a lot of true deep discount selections, but enough variety to make it worth your time, and of course to encourage you to buy additional items. AND if you were an Annual Passholder, you received your extra 10% off your purchase!
I finally succumbed and started to shop. It was the $2 mouse ear hats that got me started. Then the $1 coloring kits. Then the 50% off "Celebrate pins" and starter lanyard set. Next the 50% snowglobe, the $5 photo album, and $2 Christmas ornaments. Needless to say, with my extra AP 10% off, I was sure I was making money on this shopping trip! It became so much fun. You would run into the same people and share where bargains were located. Cast Members began to recognize you and tell about a box of goodies that had just been brought down from the stock room. You also went to the registers to see what people had decided NOT to buy…maybe it was the last of some special "deal" you missed out on (I got a jacket that way!).
I made my purchases and took them out to my car. Yet, I couldn't resist returning to the store. There was still about 30 minutes left before the sale ended (at 9:30 a.m.) and I was sure there was something that I missed! I went back in (now the doors were open to the public) to see I could find any last-minute deals. Walking around, I found myself back in the Jewelry and Pin room looking at watches. Being a huge Sleeping Beauty fan I was surprised to find the PERFECT watch for me. I asked to look at it, thinking that if I liked it I would have my husband and daughter get it for me for my upcoming birthday. The Cast Member told me that this watch happens to be one of the few 50% off watches offered. WHAT? NO WAY! And, there was a Maleficent watch, too (both limited editions for the 50th anniversary of the movie — and 50% off). I snatched both, wore one and gave the other to my husband to have our daughter give to me for my birthday. This was worth the trip. I LOVE my watches, and for 50% (+10%) off, it was truly a Disney magical moment…and worth my time getting up!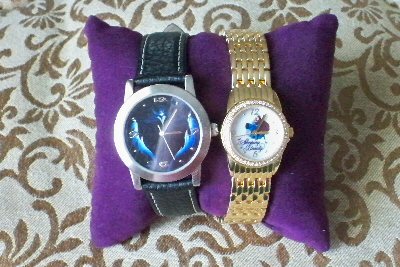 The crowds really dwindled around 8:45 a.m., so this last 45 minutes was great. Hardly anyone remained in the store, and the Cast Members still brought out marked-down merchandise. I think doing this was almost an oversight on management's part, but someone got the good idea to haul it out and sell it. Well, it worked and whatever they brought out in boxes and carts was picked over and sold. It was all quality merchandise — not seconds or damaged items. It was fun!
I am excited about the possibility of attending this sale again. It was well worth it. Spring, summer, fall, or winter I plan to be there. The key is to find out about it. Read your Mickey Monitors, check the AP and DVC websites, and of course, check on your favorite fan site — TheMouseForLess.com!