This post may contains affiliate links for your convenience. If you make a purchase after clicking a link we may earn a small commission but it won't cost you a penny more! Read our full disclosure policy here.
The other day my mom gave me an old Disney shopping bag.  It's wrinkled and worn and the plastic is starting to go brittle, but it's not the bag, but what's inside that I am going to write about.  Inside was full of Disney memories from my first two trips back in the early 80's.  Not pictures like you might expect, but receipts and ticket stubs, brochures and maps, real history as far as I am concerned.  My mom thought that since I have become the family Disney expert, I might have an appreciation for these items and she was correct!
Most of the items in the bag are from my very first trip to Walt Disney World.  It was May 1982 and I was 6 years old.  Disney was celebrating their 10th Birthday that year.  We stayed in a Garden Wing Room at the Contemporary Resort for 3 nights.  When I saw the receipt I was a little bit surprised for two different reasons.  First, was the nightly room rate.  In 1982 it cost $95.00 a night for a Garden Wing Room!  That was a lot of money for my parents to spend on a hotel room, but like my mom told me, back then there wasn't anything close by.  To stay off property meant a lengthy drive in the morning to get to the park and with me and my sister (she was then 4) it was easier to be close to the park.  The second surprise was the dining charges, but surprising in a different way.  My parents paid less for all four of us to eat than it cost for one person now!  I know the receipt doesn't reflect the total cost of the trip because they paid cash for the things in the parks but it kind of gives you an idea of what a family of four in the early 80's would have paid to go to Disney World.  It doesn't seem like much today, but it was a big splurge for my parents, kind of like it is for us now.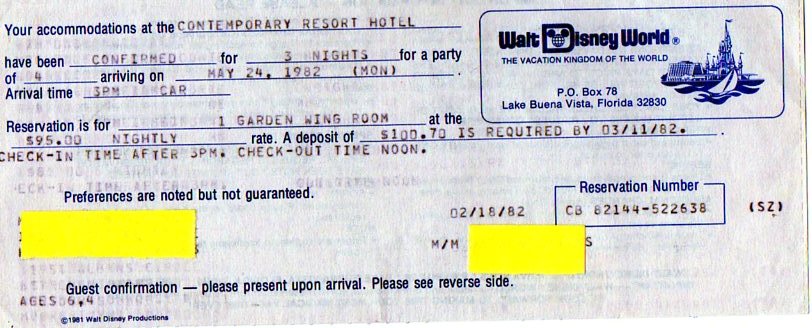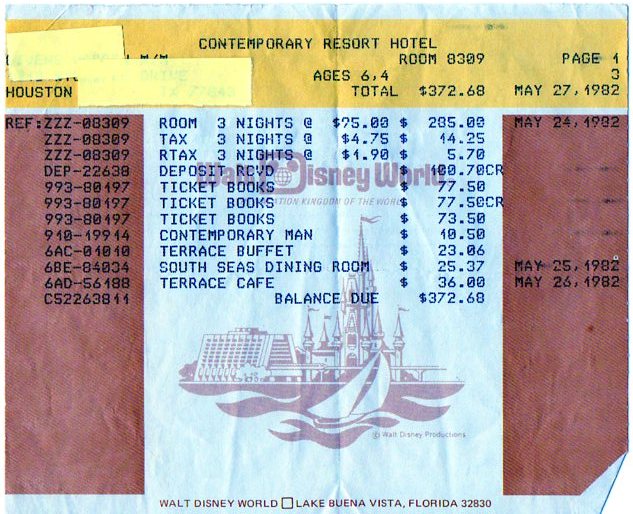 I also found our admission tickets to the Magic Kingdom (the only park at the time).  We had a 2 day Passport ticket as well as a coupon book for the rides.  The 2 day Passport ticket was $20.50 for adults and $16.25 for children.  The child's coupon book was $8.00 and had a selection of A-E ride tickets.  It says it was an $11.45 value.  I guess you had to pay to get in and then use the coupon book to see the attractions?  There is only one coupon book left from the four of us.  The only reason my mom kept it was because there were still tickets in it and she thought we would use it on a future trip, but by the time we went back in 1986, the coupon books were history.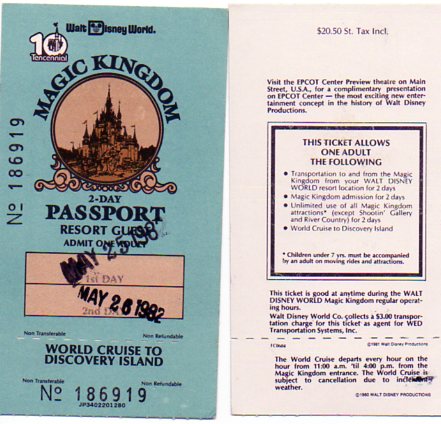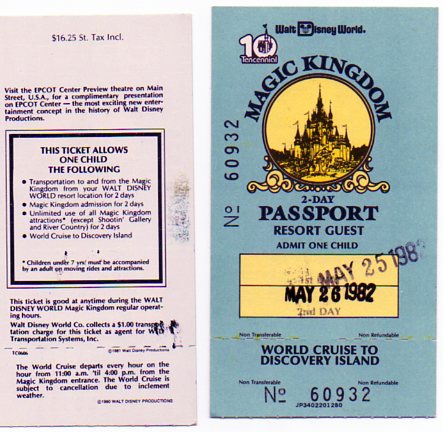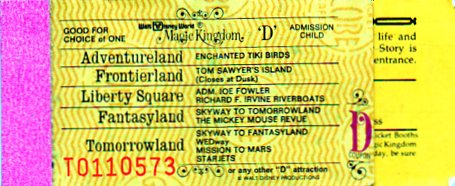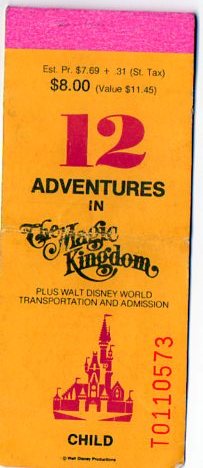 In 1982 Disney recommended at least 2 days to "visit all of the Magic Kingdom."  There was also River Country water park (now abandoned though not forgotten) and golfing and water activities like there is today.  Notice the blurb about the "Epcot Preview Center."  Opening day was a little more than four months away.  My parents say that they remember seeing the construction off in the distance and being excited about a future visit.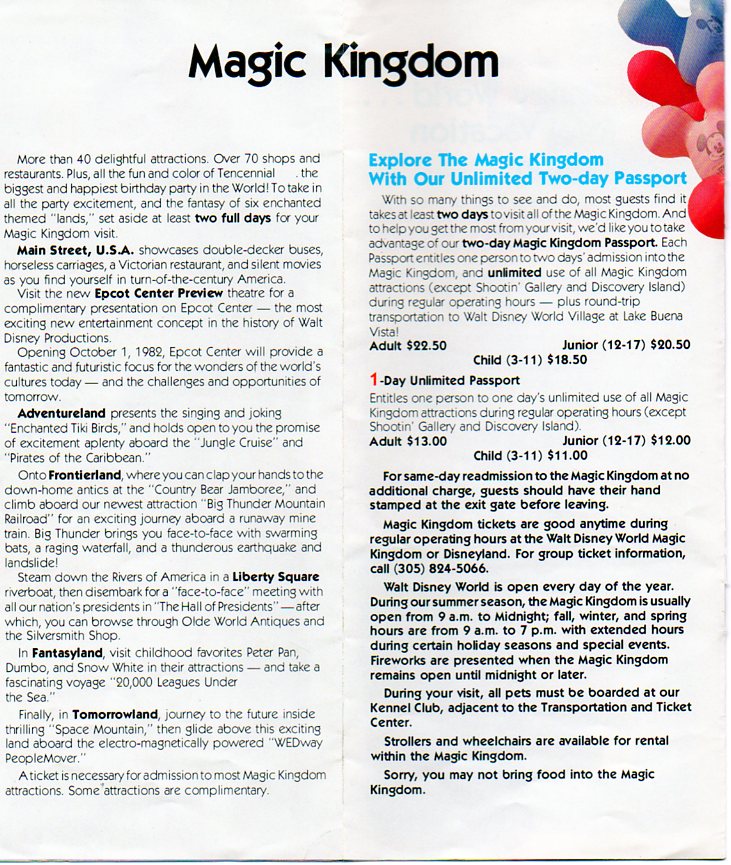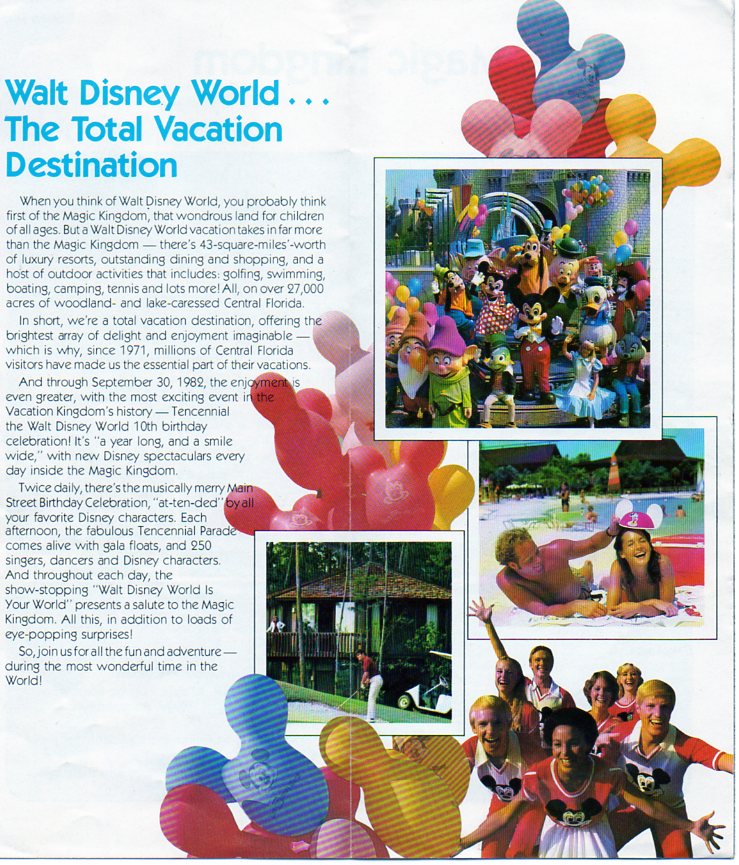 While staying at the Contemporary we saw a movie at the cinema there.  I have no memory of it at all, but my mom says it must have been a cartoon of some sort that we wanted to see.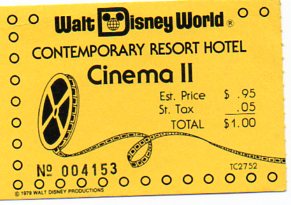 The last thing in the bag that I am going to share is our four day admission tickets from our trip in 1986.  Epcot was still pretty new and not at all like it is today.  There weren't really any rides and other than Figment, characters weren't really part of the atmosphere.  I remember enjoying it but really just wanting to go to Magic Kingdom.  A four day "Worldpassport" for an adult was $71.00 and a child admission was $57.00!  I like how it says that the same person has to use it all four days.  With finger scanners today that makes sense, but back then there was very little way to enforce that.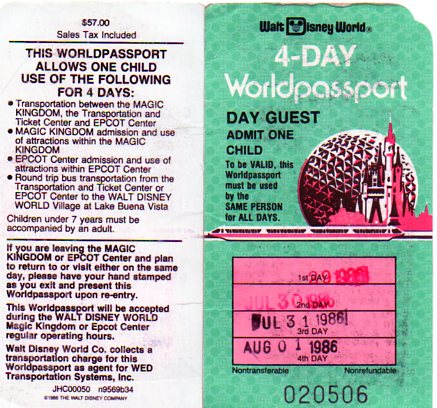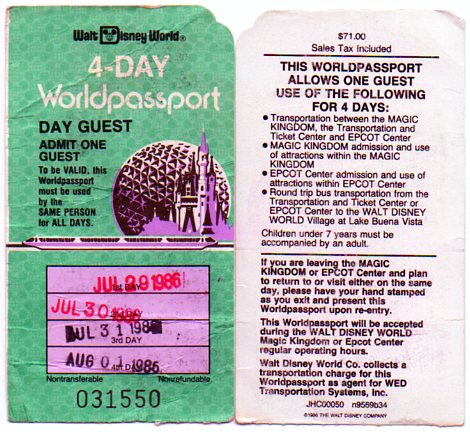 So there you go, a little step back in Disney History.  It isn't much, but it is still interesting to look at and think about.  It makes me want to go dig up some pictures, but they are all on slides in trays, hidden in the back of a closet at my parent's house.  That was the 80's.