This post may contains affiliate links for your convenience. If you make a purchase after clicking a link we may earn a small commission but it won't cost you a penny more! Read our full disclosure policy here.
From Our Magically Speaking Newsletter Archive – subscribe today!
By Rikki Niblett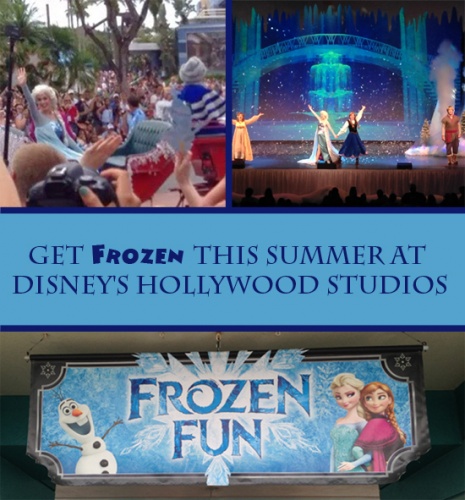 This summer at Walt Disney World, it's gonna be so hot, it's cool. How's that? Well Walt Disney World is kicking off its Coolest Summer Ever this year, which means that once again, at Disney's Hollywood Studios, guests will be able to see their favorite characters from Frozen at the Frozen Summer Fun LIVE event. The fun is scheduled to take place from June 17 through September 7.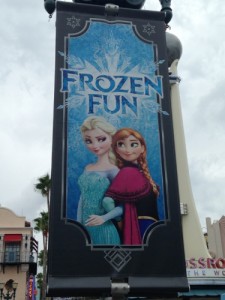 Last year was the first year this exciting event, so because of that, this year's offerings have been tweaked just a little, but don't you worry– it will still be just as fantastic as ever! (And I can promise you that you'll hear the songs from the movie only a few thousand times during the day.)
To start off the day's activities, guests will be able to catch the mini-parade called the Frozen Royal Welcome. Here guests will be able to see a cavalcade roll through Hollywoodland, featuring the Royal Arendelle Flag Corps, skaters, skiers, ice cutters and more. The parade will lead off with Anna in a horse-drawn sleigh, Elsa will be seen on a beautiful ice palace float, plus Kristoff and Olaf will be there too! It's a great little parade that will delight all ages, for sure!
Now for those of you who just can't let it go…this year, there will actually be two parade stops along the route – one on Hollywood Blvd. and one along the route by Echo Lake. During the stops, everyone will be invited to join in in singing "Let It Go." The parade will take place twice daily. Check the Times Guide for exact parade times.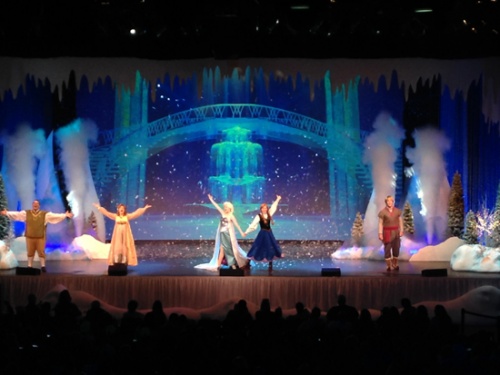 Last year brought us the extremely popular For the First Time in Forever: A Frozen Sing-Along Celebration show, and good news, the show is continuing…however, there will be one teeny, tiny change. The show will actually be moving into a new theater…the recently renamed Hyperion Theater. (Otherwise known as the former Superstar Television Theater, which previously housed the American Idol Experience.)
For those who haven't yet seen the stage show, the Royal Historians of Arendelle share the story of Frozen through a comedic retelling, which includes lively sing-along portions. The show also features special appearances by Anna, Elsa, and Kristoff and it really is a cute experience. I was able to catch it on my last trip and thoroughly enjoyed it. (And I am not Frozen obsessed, but I don't have Frozen Fatigue either. Though my hubby did enjoy the show too…so that's a plus for it.) I actually laughed out loud in some parts and of course, had the urge to belt "Let It Go" with the rest of them! FastPass+ will be available for guests who want to experience this offering in its new location.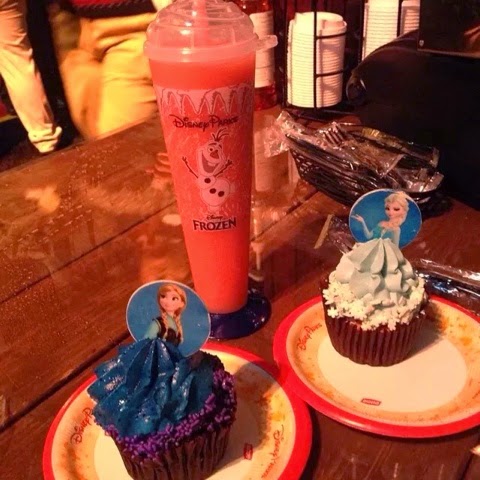 Of course, every Disney event features some sort of specialty beverages and food. Guests will be able to enjoy many different Frozen-inspired dishes. In addition, there will be lots of merchandise, photo opportunities, Frozen decor and more!
On the main Event Stage, which will be similar to the temporary stage that's been used in the past at Disney's Hollywood Studios, (for those who don't know, the Sorcerer's Hat has been removed, and the stage was previously able to be seen directly in front of the Hat), guests will be able to experience a few unique offerings. First, there will be Olaf's Summer Cool Down! I love Olaf and here, you'll be able to catch him and some of his friends, like the Ambassador of Hollywoodland, up on stage to have a little fun "In Summer". And as temperatures heat up, Olaf happily shares a burst from his personal snow cloud to cool things off.
Of course, it wouldn't be a Disney party without a DJ, so DJ Chill will be on hand at the Event Stage playing some sick beats. He will be joined by some of your favorite Disney characters too! Guests will even have the opportunity to be featured on the screen by utilizing a special hashtag! So get your selfie face ready!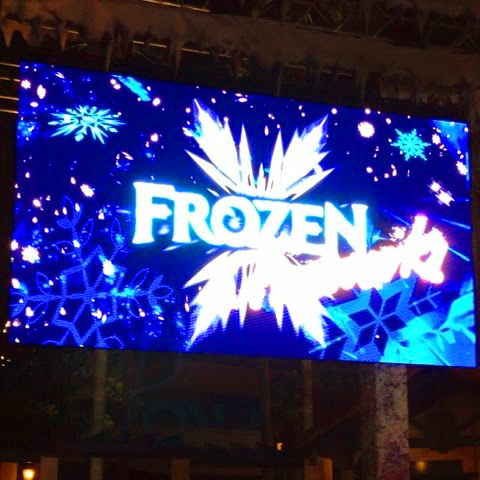 To end the evening, you knew there would have to be fireworks, right? The Frozen Fireworks will close out the night, as Anna, Elsa, Kristoff, and Olaf come together at the Event Stage to help kick off the fantastic fireworks show that will be set to the music of Frozen. Oh and be on the lookout for snow flurries too! These fireworks are simply mind-blowing! You don't want to miss them.
I did mention that there would be a few changes. Unfortunately, this year, there's no Wandering Oaken's Trading Post, which means no ice skating and no snow playground. That's kind of a bummer, because that was a really unique aspect to last year's event.
Also, if you want to meet Anna and Elsa, do know that the only way to do that is to head to the Magic Kingdom. The sisters are only meeting guests at the Princess Fairytale Hall in Fantasyland.
The Frozen Summer Fun LIVE event is a ton of fun, just like the name implies, and it is a can't miss event for those of you with Frozen fans in the family! Will you be making sure to spend some time in Hollywoodland (otherwise known to us as Disney's Hollywood Studios) to see your Frozen favorites? I certainly enjoyed experiencing it last year and I know I will be partaking in the cool excitement this year too!
Magically Speaking Featured Article
Library of Congress ISSN:1556-3863