This post may contains affiliate links for your convenience. If you make a purchase after clicking a link we may earn a small commission but it won't cost you a penny more! Read our full disclosure policy here.
By Erica Colmenares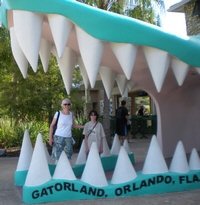 Usually, when my family visits Florida, we head straight for the land of Mickey, and don't see many of the other local tourist spots. This past summer, however, we had two weeks in the Orlando area, and decided to branch out. Gatorland had long been on my list of "must sees," and I finally convinced my skeptical teenager that we should visit "the alligator capital of the world," Gatorland.
Gatorland is in the middle of nowhere, it seems like. After seeing all the venues along I-Drive, I'd expected it to be surrounded by shops and restaurants. But Gatorland sits alone on a quiet part of S. Orange Blossom Trail. You can't miss it — just look for the big alligator teeth!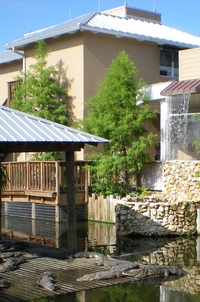 We arrived just before the park opened at 9:00 a.m. (Gatorland is open daily from 9:00 a.m. to 5:00 p.m.) Tickets at the gate are $22.99 plus tax for adults and $14.99 plus tax for kids (age 3-12). You can pre-purchase discounted tickets on the Gatorland website, and you can almost always find coupons for discounted tickets in Orlando-area tourist magazines. We used a coupon, and paid $20 plus tax for our tickets. At the ticket booth, we were given a very detailed, helpful map of the park, and an updated "Quick Glance" show schedule. This is also the place where you can rent a stroller or wheelchair, and buy tickets for the train.
There are three main shows at Gatorland: Upclose Encounters, the Gator Wrestlin' Show, and the Gator Jumparoo Show. During July, each show had three sessions. Each show's location is clearly marked both on the map and with signage throughout the park. The show times do vary throughout the year, so if you're a planner, look at the show page on their website; there's a link at the bottom to the most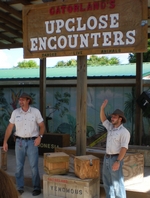 current show schedule.
Briefly, the Upclose Encounters show was a humorous look at a few reptilian beasts. The two wranglers who ran this show entertained the audience by making individuals hold scary-looking creatures and telling tall tales (with facts thrown in) about each animal they presented. It didn't last more than 15 minutes, maybe 20, and we were laughing the majority of the time.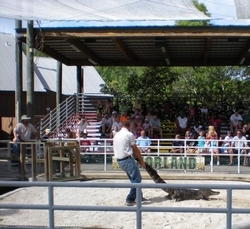 You can probably guess what the Gator Wrestlin' Show is. It's your basic gator wrestling. You know, when a wrangler grabs an adult alligator by the tail, pulls it up into the arena, and sits on its back while holding its mouth shut. Yeah, that basic scenario. After that, you can pay for the opportunity to get a close-up-and-personal photo with the gator.
While the above shows have theater seats, the Gator Jumparoo audience lines up, standing, on wooden walkways around open water. We arrived a little late (maybe 10 minutes before the show started) and didn't get a great view. But nowhere is horrible, and we got the main gist of the show, which is that gators can jump. Especially if you hang a raw chicken over 'em. I didn't like that you had to stand the whole time, but it was still worth the time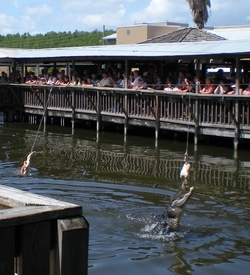 and effort.
There's also a newer mobile show attraction that Gatorland added since our visit, called Critters on the Go. It's billed as an interactive animal encounter with the cuter, more cuddly creatures at the park. Critters on the Go isn't regularly scheduled, so you just need to keep your eyes peeled (or ask one of the Gatorland employees; they are super-friendly and helpful).
We saw the first session of each of these shows, and were entertained by different combinations of the same wranglers at each show. They started out all clean and shiny in Upclose Encounters, and by the end of Gator Jumparoo, they were looking a little worse for wear. They all, however, were quick-witted, professional and fun to watch. It was hard to decide who was more impressive, the alligators or the humans who interacted with them.
Between the Gator Wrestlin', and the Gator Jumparoo shows, we were ready for some food. Gatorland has a number of snack locations, and one larger eatery, Pearl's Patio Smokehouse (right next to the Gator Wrestlin' venue). You can get all the standard fast-food fare, at fairly standard theme-park prices. For the adventurous, there are deep fried Florida gator nuggets, smoked Florida gator ribs, or the Gator Sampler. 
We timidly got the cheeseburger and chili, hold the reptile, please.
Besides the shows (and reptilian delicacies), there's lots to entertain guests to Gatorland. There are lots of small animal exhibits, gator-filled photo ops and kitschy gift shops. There's the Gatorland Express Train ($2 extra), with stops on both sides of the park. Our favorite non-show attraction was the Swamp Walk, a shaded loop out into, well, the swamp. The habitat was beautifully lush, and the wooden walkway felt rustic. We felt like we were nowhere near a busy tourist mecca.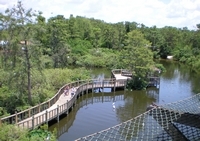 There's also a figure-eight pathway above the main walkway, called Jungle Crocs of the World. By the time we got to this, the sun was blaring down, and we were melting (i.e. it was July in Orlando). I would skip it if time's short, or the temperature's soaring. Do not, however, miss the Observation Tower, which can be reached easily from the main pathway without having to walk through all those darn croc exhibits.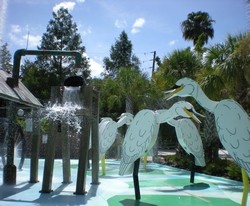 For kids, there's a wonderful water splash zone, called Gator Gully Splash Park, as well as a playground. There's a changing area next to the water play area, so in hot weather, bring along a swimsuit for the kids to change into.
If you like to read up on locations before visiting them, there's not quite as much written about Gatorland as there is about Walt Disney World. We did find Kelly Monaghan's chapter on Gatorland in his book, The Other Orlando to be informative. Also, the Gatorland website is full of details on why you might want to carve time out of your next Orlando vacation to see a couple alligators (or 1,000). Gatorland proudly calls itself Orlando's best half-day attraction(and that's about right; we were back in the car, headed to naptime, by 2 p.m.).