This post may contains affiliate links for your convenience. If you make a purchase after clicking a link we may earn a small commission but it won't cost you a penny more! Read our full disclosure policy here.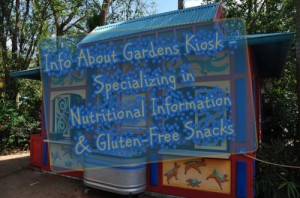 Disney is so well known in the community for being a vacation destination for those who have dining allergies.  They make sure to treat each and every guest's mealtime requests to the best of their abilities, with chef's appearing to talk with guests at meals, to having a vegan bakery at Downtown Disney for guests, to preparing meals that aren't even listed on the menus.  They make every effort to make those with dietary restrictions feel at ease.
For those who have maybe missed it, Disney's Animal Kingdom has rolled out something brand new that will be incredibly beneficial to those with restrictions.  Known as the Gardens Kiosk, located on Discovery Island, by the Adventurers Outpost, this booth allows guests a central location in a park to find out nutritional information (including at Counter Service locations, as well as many snack locations), that will work well with their dietary restrictions.
Cast Members are on hand to speak with guests individually about their needs, advising guests on options within the park.  The kiosk specializes in information about corn, gluten or wheat, lactose or dairy, peanuts and tree nuts, shellfish, fish, soy, and eggs.  In addition, there is also a book that is there on location to answer any specific questions you may have, including breakdowns of an item.  (For example, a cupcake would have a listing for the ingredients of the cake itself, the icing, and any garnishments on top.)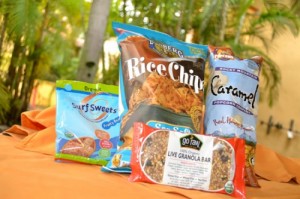 In addition, this location also sells some prepackaged snacks that are great choices for so many diets.  These include hummus with vegetables, flavored rice chips, caramel popcorn, gluten free vegan granola bars, gluten free vegan cookies, gluten free vegan blondies, gluten free cookies, gluten free cupcakes, and a gluten free beer.  (Some of those snack items are from Babycakes NYC, which has it's main shop in Downtown Disney.)
While I don't have any dietary restrictions in my family, I can say that I think it's wonderful that Disney is offering up this information to guests.  Not just for those who have issues, but also those who just want to be more knowledgeable.  It can really help put people's mind at ease knowing what they are eating.  I know, a friend of mine, tries to eat extremely healthy on her Disney vacations and I can only imagine how much having something like this in all four parks, would help her make her dining choices.
I can also say that for those of you who haven't tried anything from Babycakes yet, you are missing out.  Make sure to grab one of their cookies…they are quite yummy!  I get happy when I have more opportunities to pick up their treats!
The kiosk is only available from 9 am – 3 pm.
Do keep in mind that I would suggest that any guest with food allergy concerns should still consider speaking with a manager or chef, should they feel the need to, at any restaurant.  In addition, if you have special dietary requests, you can send an email 14 days prior to your visit with any specific needs to special.diets@disneyworld.com.
To me, this kiosk proves how dedicated Disney is to helping guests with special dietary needs.  Hopefully, if this test goes well, we will see kiosks like these in the other three theme parks.