This post may contains affiliate links for your convenience. If you make a purchase after clicking a link we may earn a small commission but it won't cost you a penny more! Read our full disclosure policy here.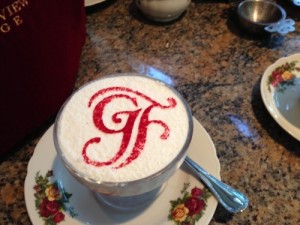 The Tea at the Garden View Lounge at the Grand Floridian Resort is something that I've always loved. Being able to be at this fancy Victorian style tea, but also to be able to take one ride on the monorail and be having fun at the Magic Kingdom in minutes was always something I looked forward to. Tea is something for the princess inside of us all; we've all participated in some sort of pretend tea party at one point of our lives. But now we're all able to enjoy the fun of individual tea pots, tiny sandwiches, and scones in real life.
This tea is not just for little kids. Girls of all ages can enjoy finger foods and intricate tea cups and even tea cozies too.  Of course to get all the enjoyment of Afternoon tea you have to know the menu and how to get all you're going to want. The Garden View Lounge is open from 2-4:30 daily and has a variety of different options for food and tea. There are Afternoon Tea Offerings like: The Grand Tea, Buckingham Palace, and the Mrs. Potts Tea. These are a meal of sorts including food like tea sandwiches, scones, assorted pastries, and your choice of tea. The Mrs. Potts Tea is specifically for kids and comes with chocolate milk instead of tea and PB&J sandwiches. Although I know that adults can request PB&J as well!
But if you do not want an entire meal there are tinier offerings such as: Strawberries and Cream, English Trifle, Scones, Two Jam Tarts, and Assorted Tea Pastries. Strawberries and cream is a must for me, and you also get them if you order the Grand or Buckingham Palace. They always have the best tasting strawberries and the cream is delicious. English Trifle is a bit odd the first time, but it can be quite good. It's made of three layers: sponge cake, fruit, and custard. All of those put together is always a good combination at tea. The fresh baked scones and jam tarts are magnificent; as well as the pastries which usually include things like tiny swans made out of cookies and flavored mouse, éclairs, and chocolate covered strawberries. All of these dishes have the feel of a proper English tea with not quite as much food.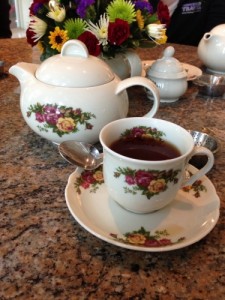 But what is afternoon tea without tea of course! They have pages of teas to choose from but here are a few of my personal favorites. The Garden View Blend and The Princess Breakfast Tea are made exclusively at The Grand Floridian and both are delicious. The Princess Breakfast is a rich tea made with vanilla bean and strawberries, great with two cubes of sugar! The Garden View is a bit tarter but still just as good and remains my mother's personal favorite after years of tea. Eros is also very good, made with mandarin oranges and vanilla for a nice sweet tea. Last but not least is Harmony, made with chamomile, peppermint, allspice and orange to get a mildly strong and excellent flavor.
Check out the complete Garden View Tea Menu on The Mouse For Less.  What looks good to you?
All in all, the Garden View Tea is a must do for any age. From Mrs. Potts tea to the Buckingham Palace there are teas and treats for everyone to enjoy and I myself love going back there again and again. The food, atmosphere, and of course the tea is always a treat whenever I go!