This post may contains affiliate links for your convenience. If you make a purchase after clicking a link we may earn a small commission but it won't cost you a penny more! Read our full disclosure policy here.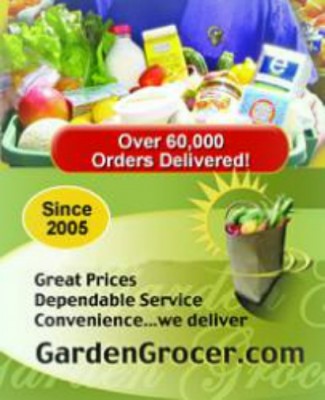 Let me just say it,  I dislike grocery shopping. Even more,  I dislike grocery shopping while on vacation. Why waste my precious Disney time waiting in line at the store when I can be waiting to ride Splash Mountain? That being said, I welcomed the thought of someone else picking up and delivering my vacation grocery order. Enter Garden Grocer, a true hero for those who don't want to waste time deciding between paper or plastic while on vacation.
Prior to my trip to Walt Disney World three years ago, I started to look into grocery delivery for snacks and drinks. Garden Grocer is well known on the Disney forums, but having never used a grocery delivery service before and I was a little skeptical on how it would work out. Turns out, it was a TERRIFIC experience!
Before committing to an order, I went to the site www.gardengrocer.com and browsed the selection of grocery.  I was pleasantly surprised at the assortment of items available gluten free items, kosher items and vegetarian delights.  Not only did I find well known, popular food brands that I find at home, but I also had the option of purchasing non-grocery items such as diapers, pet products, paper products and cleaning supplies.  I could create a generic list or I could be as detailed as I wanted. If I chose to order bananas, I could specify how ripe I would prefer them. There was even a option to choose lite alcohol; such as beer or wine.
I eagerly set up my account. I noticed that my order would need to be at least $40.00 and there would be a $14.00 delivery fee (the fee is only $2.00 if the order is over $200.00). I didn't find the fee to be exorbitant, considering the convenience, so I began to select items for my order.  A box of crackers, some block cheese, apple and yogurt packs, trail mix for handy in park snacks, a bottle of wine, pouches of applesauce to go and a case of water.
The website was incredibly easy to navigate and the search function allowed me to search by name brands or just by item.  My order was  a relatively small , but just what I needed for our stay. I proceeded to checkout and was asked to pick a delivery date and time along with the name and location of the resort I would be staying at (more on that later). There were many delivery dates and times available (probably because I was ordering far in advance) and I proceeded to choose a time close to my arrival at the resort.   I then entered my credit card information, received my confirmation  number and within minutes I received an email from Garden Grocer that my order had been received and would be ready for delivery on my chosen date and time.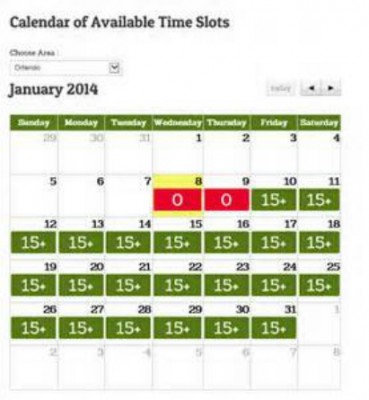 Upon landing at Orlando International Airport, I started to make a mental list as to the rest of the day and the approximate time that I would get to the parks. I had planned on having to wait to receive the grocery order, but imagine my surprise when I received a text while on Magical Express that the Garden Grocer representative would be meeting me at my resort within the hour. Talk about impressive! I wouldn't have to wait around and lose valuable park time. Win, Win!
The Garden Grocer representative met me at my resort within 15 minutes of my arrival. She had a friendly  smile and cheery attitude. She asked me to look over my neatly packed order to make sure everything was there, she even informed me that she had picked up a 36 pack of water instead of the 24 pack I ordered because it was cheaper. She then asked bell services to come over to the shiny, white van and give me a hand getting my order to my room.
Besides me recapping my satisfying experience with Garden Grocer, there are a few things that everyone should know before placing an order. The earlier you place your order the more likely you are to get your desired date and time for delivery and delivery times are between 8:00 am and 9:00 pm seven days a week. All orders must be placed at least 36 hours in advance.  
As I stated before, Garden Grocer accepts the usual credit cards and they accept PayPal. There are discounts/promo codes available on the web. If you are planning on purchasing alcohol you will be asked to fax your drivers license as proof of age, you will also have to present at time of delivery. Speaking of being present for delivery, Garden Grocer will deliver to most Disney World resorts and bell services will be glad to hold your order if you are not present (except orders with alcohol).  I have listed those resorts below with the few caveats:
Please check the Garden Grocer site for updates.
– AllStar: Movies, Music & Sports
-Animal Kingdom Lodge
-Art of Animation
-Beach Club
-Blue Heron
-Boardwalk Inn
-Boardwalk Villas
-Bonnet Creek Hilton
-Bonnet Creek Wyndham
-Caribe Royale
-Caribbean Beach
-Coco Key Resort (If arrangements are made bell services will accept delivery)
-Contemporary /Bay Lake
-Coronado Springs
-Doubletree Hilton
-Grand Floridian
-Floridays (Reservation number & name needed)
-Fort Wilderness Campground (We will need your reservation number and the delivery time must be after 2 pm on check in day, any other day it can be anytime. Driver can deliver directly to cabin without customer being present)
-Hard Rock (only after 4 p.m.)
-Hilton at Disney
-Kidani Village
-LBV Resort Village & Spa (Bell Services will hold for order delivered after 4 p.m.)
-Lighthouse Key
-Marriott Harbour Lake
-Old Key West
-Orange Lake
-Polynesian
-Pop Century
-Port Orleans: French Quarter & Riverside
-Reunion Resort & All Star Vacation Home (ONLY if the reservation was made through Reunion or All Star Vacation Homes, if the reservation was made through a private owner the guest will have to be present for the 2 hour delivery time)
-Saratoga Springs
-Shades of Green
-Sheraton Vistana
-Yacht Club
-Wilderness Lodge
There are however some resorts/hotels that you must be present at to receive your order. I have listed them below:
-Bahama Bay
-Embassy Orlando
-Emerald Island
-Extended Stay
-Give Kids The World
-Grand Cypress
-Hilton Garden Inn at Seaworld
-Hyatt
-International Plaza Resort
-LBV Resort Village & Spa (Bell Services will hold for order delivered after 4 p.m.)
-Liki Tiki Village
-Marriot Cypress Harbour
-Marriot Grand Vista
-Marriot Sabal Palms
-Marriot World Center
-Mystic Dunes Resort & Golf Club
-Nickelodeon Resort
-Omni Champions Gate
-Portofino Bay
-Rosen Plaza
-Royal Pacific
-Ritz Carlton
-Sheraton International
-Star Island
-The Point Orlando
-Wyndham Grand
-Waldorf Astoria
-Westgate Resort
-World Quest
-Windsor Hills (unless renting through All-Star vacation)
– Any residential home, condo, rental villa, etc. rented out by a private owner the guest must be present to accept the delivery.
As you can tell, I am a huge fan of Garden Grocer. Using Garden Grocer is like having a private concierge attending to your shopping needs. They offer convenience and selection, friendly smiles and great attitudes and best of all they shop like you would when considering price and choice. Garden Grocer gives you one less thing to worry about when planning your next Disney adventure.