This post may contains affiliate links for your convenience. If you make a purchase after clicking a link we may earn a small commission but it won't cost you a penny more! Read our full disclosure policy here.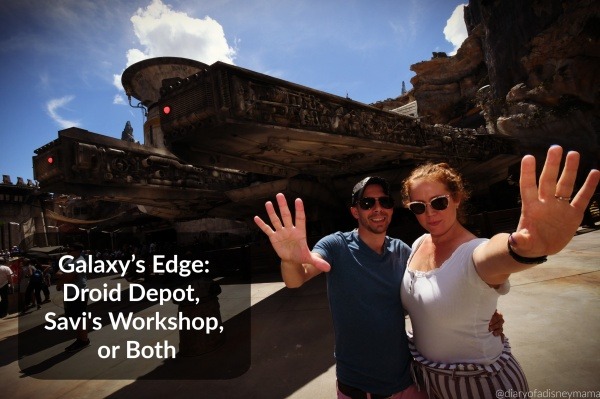 Bright Suns Travelers! Recently, Sean and I had the privilege to preview Star Wars: Galaxy's Edge at Walt Disney World during an Annual Passholder Preview, and IT WAS AMAZING. We spent about 4 hours immersed in the land. We rode Millennium Falcon: Smugglers Run, drank green and blue milk, and ate at Docking Bay 7 Food and Cargo. But the most notable parts of our day were building a droid at the Droid Depot, and making a Lightsaber at Savi's Workshop. I could, (and am itching to) share every minute detail, but I'll stick to the script and talk specifically about your most important decision when in Galaxy's Edge: Droid Depot, Savi's Workshop, or both.
No matter which way you slice it, both experiences are AMAZING, worth the money, and tailor to both Star Wars fans and non-fans alike.
Droid Depot
We actually did not have an appointment at the Droid Depot, but because of the lower crowds for the Passholder preview, we were able to walk in and build.  Please be aware, now that Galaxy's Edge is open to the public you will need a reservation to build.  Sean and I chose to build a BB Droid together. It was a really fun activity to do as a team!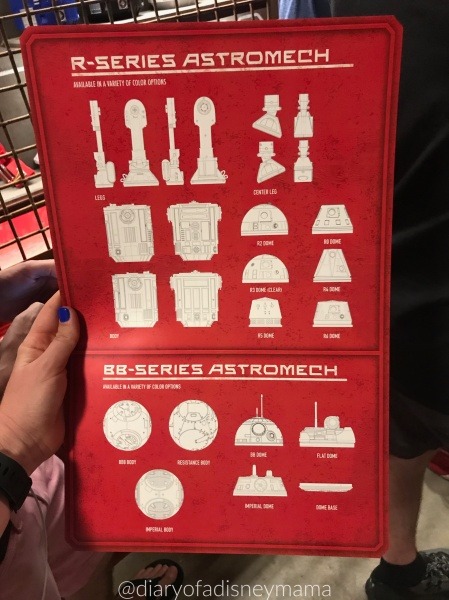 Once you choose your droid model (either a BB-Series or R-Series droid), you will pay for it ($99.99, plus tax) before building. You then get to choose your Droid parts from a conveyor belt. You are able to select any color combinations that your heart desires. After securing all of your pieces, you then head to the build station. A resident of Batuu (Cast Member) gives you a few quick tips for assembling your droid and then you're ready to build. The assembly of our BB unit, which we named BB-311, was easy and super fun. We were able to take turns assembling BB-311, and it was a fun little project to do together. I really fell like this could be a fun project for families, but for now only two party members (the builder and a guest) are allowed in the experience.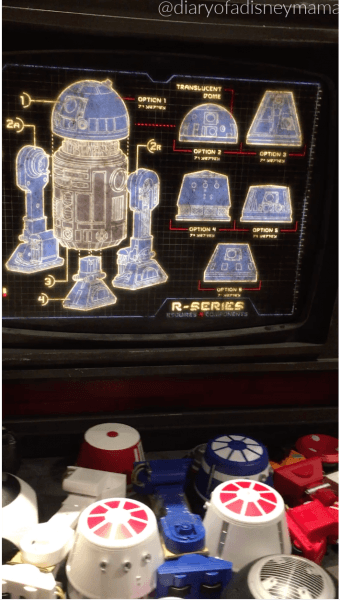 Important Things To Note
While the cost of a droid is $99.99 (plus tax), you can purchase personality chips for an additional cost.
At least one person in your party has to be 14 or older
Droids are non-refundable and not eligible for an Annual Passholder discounts
Prior to building, droids must be paid for
Droids must be kept in their holders while on Planet. However, they will interact with other droids within the land.  These interactions will differ based on if/or what kind of personality chip they have.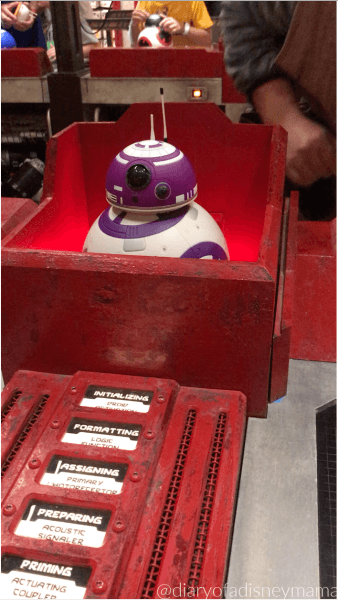 Fun story to note: as we were waiting at our gate to fly home, our droid started moving and making noise.  We looked up to see someone else had built a droid as well and were sitting near us.  So yes, they interact off planet as well!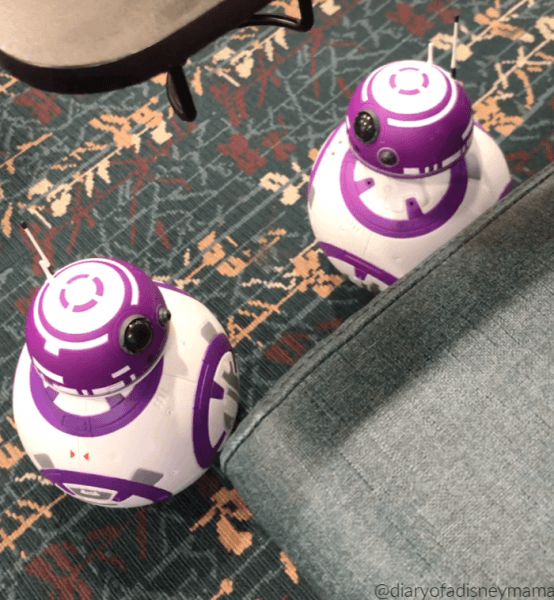 Savi's Workshop
Making a lightsaber at Savi's Workshop is quite the experience.  Because it is an actual Disney experience, you will need a reservation for in order to participate.
Once inside the workshop, the Gatherers will be there to guide you on your journey of building a lightsaber, and it is your responsibility to keep their shop secret and help hide them from the First Order. Unlike the Droid Depot, this experience is much more individual, although you are able to bring a guest with you and one member of the party must be 14 years of age or older. The experience itself runs about 15-20 minutes and involves some storytelling as well as some theatrics. As someone who sides with the Rey and the Rebels, I have to say that the dialog of the show was very moving and inspiring.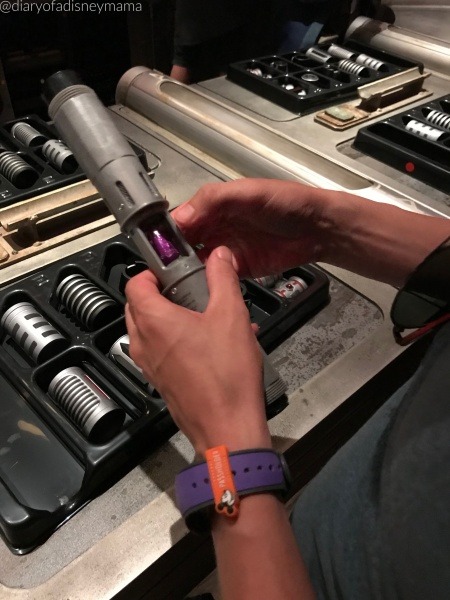 Some Additional Details
Cost is $199.99, plus tax
Your lightsaber comes with a carrying case
You can buy additional customization pieces at Dok-Ondar's Den of Antiquities
Lightsabers are not refundable and not eligible for Annul Passholder discounts
Prior to building, lightsabers must be paid for
Yes, are TSA approved!
All in all, Sean and I had a really great time on Batuu. I would highly suggest each of these experiences to Star Wars fans and non-fans alike because they are extremely immersive, and just down right cool. I highly recommend you making time on your next trip to Disney's Hollywood Studios!
'Til the Spires my friends and May the Force be with you!
Have you done either of these activities? Tell us your experiences in the comments or on Facebook or Twitter!
Did you like this article? Make sure to share it with your friends! Check below for easy ways to share!
Want to visit Star Wars: Galaxy's Edge? Contact The Magic for Less Travel for more information and a free, no-obligation quote.

Incoming search terms:
https://www themouseforless com/blog_world/galaxys-edge-droid-depot-savis-workshop-or-both/
all pf thr color cobinations atvthe droid workshop disney
build a droid or light saber
disneyland light saber vs droid
galaxys edge droid vs lightsaber
savi\s workshop or droid depot first
should families build one or two droids at hollywood studios
whats better lightsaber or droid at galaxys edge