This post may contains affiliate links for your convenience. If you make a purchase after clicking a link we may earn a small commission but it won't cost you a penny more! Read our full disclosure policy here.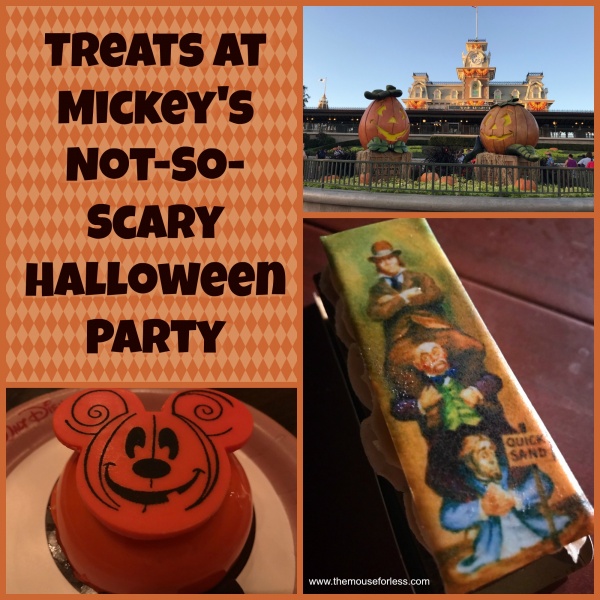 This past weekend, I was able to attend Mickey's Not-So-Scary Halloween Party! It had been a few years since I'd taken part in the fun, so I was anxious to get the opportunity to experience the fun that the party entails.
I was ecstatic that I was going to be able to see the Hocus Pocus Villains Spelltacular (I grew up watching Hocus Pocus), I love Happy HalloWishes fireworks, and Mickey's Boo-to-You Parade is my favorite parade in the Magic Kingdom! I was also super excited to go trick or treating!
The evening overall was a blast! I had a fantastic time and all the things I looked forward to lived up to the hype. But of course, this is Foodie Friday, so you knew there had to be food involved with this post, right? Well, I wouldn't leave you hanging.
Now, as you can see from the photos, Walt Disney World certainly delivers on delicious Halloween-inspired treats. These are all sold throughout the day to all Guests.
But did you know that there are special treats that are only available to Guests to pick up at various locations during the Halloween Party? Like the Worms in Dirt that can be found at Pecos Bill's.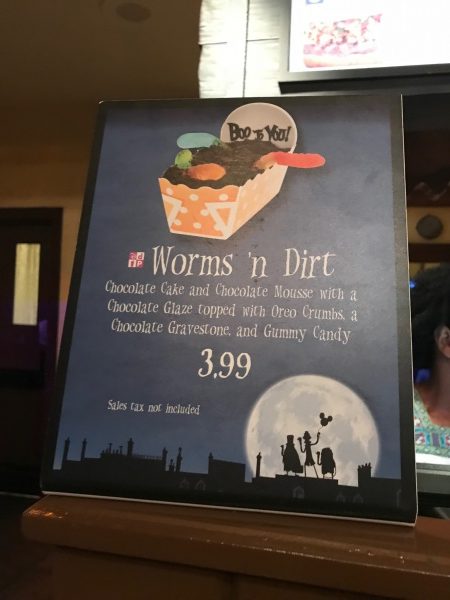 So, of course, I knew that I had to take one for the team and try a few of these dessert options to share with you.
The first one at Mickey's Not-So-Scary Halloween Party that I tried was one I was very much looking forward to. You see Disney was offering 4 different Haunted Mansion themed desserts…each one themed to a different stretching room portrait. These desserts can be found at Liberty Square Market, Aloha Isle, Auntie Gravity's Galactic Goodies, and Big Top Treats. In addition, they all are filled with different treats, like raspberry compote and topped with white chocolate mousse and chocolate ganache and topped with Oreo panna cotta. I decided that I wanted to try the chocolate tart filled with chocolate ganache and topped with peanut butter icing that was found at Liberty Square Market.
I had such high hopes for this one and they feel exceedingly flat. The chocolate shell was flavorless, the peanut butter icing was very good and sweet, and the white chocolate piece on top with the artwork was beautiful, but just ok. The treat was also exceedingly small, especially for the price. (And if you wanted to get all four, you had to go to each location….which means you paid full price for each one….a price of well over $5 each. This means you spent over $20 on these treats if you wanted all four.) They were exceedingly over-priced, especially given their size. If you'll be heading to the party within the next few days, I would strongly avoid picking these up.
In contrast, I went to Gaston's Tavern to pick up the Pumpkin Cheesecake Dome. This was exceptional! For about the same price as my tiny Haunted Mansion dessert, I got a full sized, individual cheesecake. This cheesecake actually reminded me a lot of the desserts that they are serving at Satu'li Canteen in Pandora – The World of Avatar. The pumpkin cheesecake sat on a graham cracker base, then was covered in a shiny orange glaze coating (apparently it's white chocolate) and then comes with a white chocolate Mickey pumpkin candy.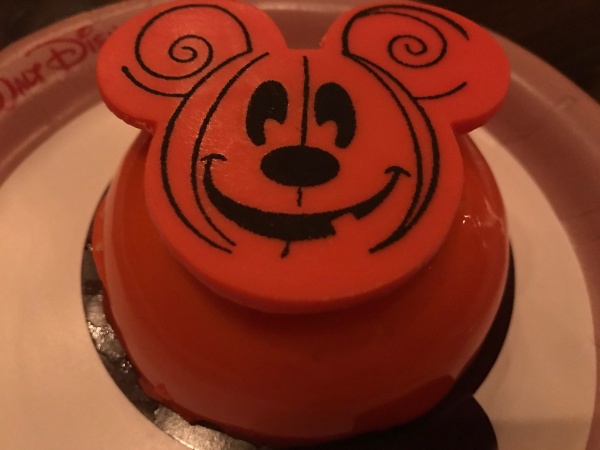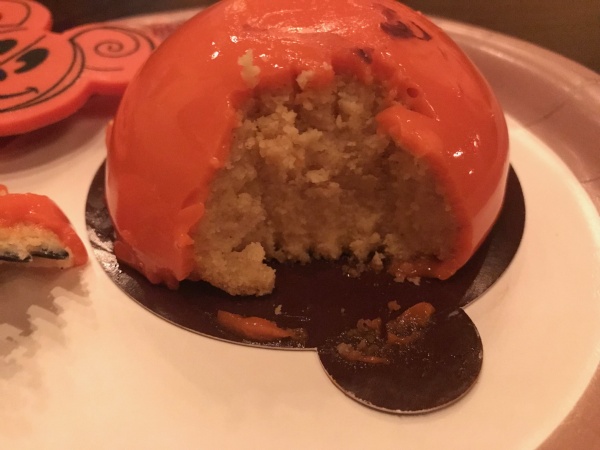 This cheesecake was incredibly rich. It had fantastically bold pumpkin flavoring. You should absolutely love pumpkin spice if you pick this dessert up! Due to how rich it was, I couldn't finish it. I actually brought it home with me, but if you don't have the ability to do that, you definitely want to make sure you share it.
Overall, I can't deny the fun that I had at Mickey's Not-So-Scary Halloween Party and I'm so glad I got to experience it once again. Oh and the treats were just the icing on the cake! (P.S. Just a note…anyone who comes to my house for Halloween night is getting my leftover Mickey's Not-So-Scary Halloween candy…and it's the good stuff because Mars Candy is the sponsor!)
Did you try any of the treats during Mickey's Not-So-Scary Halloween Party this year? What did you think and what was your favorite? Share in the comments.
Did you like this article? Make sure to share it with your friends! Check below for easy ways to share!