This post may contains affiliate links for your convenience. If you make a purchase after clicking a link we may earn a small commission but it won't cost you a penny more! Read our full disclosure policy here.
Disney Springs without breaking the bank
While it is very easy to do major damage to your credit card when visiting Disney Springs, there are also ways to have a great time without breaking the bank. Here are some fun things to do for free or for under $10 per activity.
I traveled to Disney Springs by boat from Port Orleans Riverside. It is a wonderful relaxing journey on the Sassagoula River, past Port Orleans French Quarters, the Treehouse Villas, and Saratoga Springs. If you do not stay on a property serving Disney Springs by boat you can take the boat once at Disney Springs to travel from the Marketplace Dock to The Landing, and onwards to the West Side Dock. The boat service is free of charge, and your feet will thank you.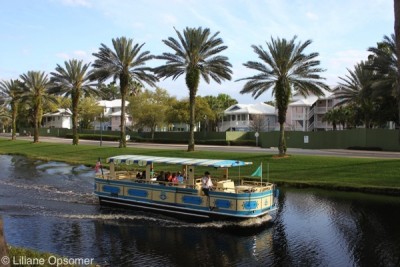 At Marketplace you must stop at Ghiradelli's Soda Fountain and Chocolate Shop. Throughout the day the store hands out free chocolate samples.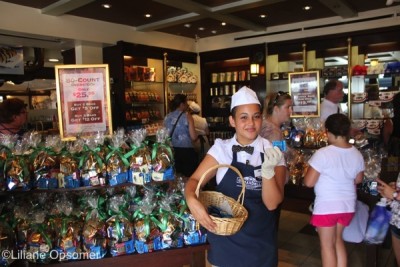 Little ones will enjoy riding atop one of the 16 handcrafted horses of the Marketplace Carousel or the Marketplace Train Express. Rides costs $2 per ride.
If you are into pin trading, stop at Disney's Pin Traders, the store regularly hosts pin trading events. World of Disney and Once Upon a Toy also have pin books or pin boards that they bring out at certain times of the day, just ask a Cast Member. You can buy Disney pins in bulk on Ebay and trade away when visiting Walt Disney World. Another fun thing to do at Once Upon a Toy is to play with Mr. Potato Head. Kids can enjoy playing will all the different parts without you purchasing any. Mind you the Mickey Ear for Mr. Potato Head is a must, don't you think?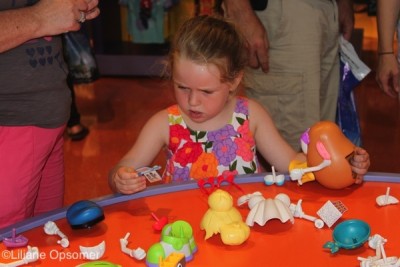 The LEGO store has always been my favorite Disney Springs destination. Kids can play for free with the little bricks and there is no sales pressure from the staff. At the end of March it was announced, that starting May 1, LEGO mini-figurines of Disney characters were going on sale for $3.99 each. The first series consists of 18 figurines, including Mickey Mouse, Minnie, Peter Pan, and Mr. Incredible. Except for Ariel, there are no Disney princesses and Goofy is missing too. I sure hope he and my favorite princess, Merida, will make it into a possible next series. I think that the price is right and that the little figurines are really a nice and affordable souvenir or gift.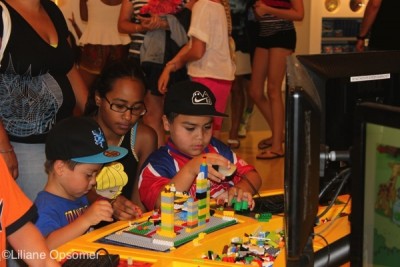 Street entertainment at Disney Springs is amazing and it is absolutely free. There are musicians performing throughout Disney Springs and concerts and dance performances are held regularly on the Waterside Stage in Marketplace.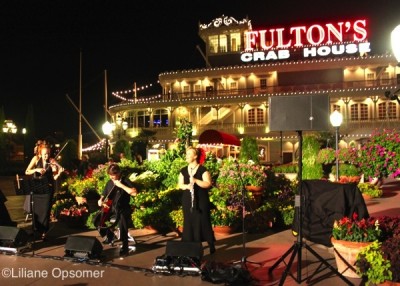 Lunch at Disney Springs
My favorite lunch place is Earl of Sandwich. The Original 1762 sandwich (roasted beef with cheddar and horseradish sauce) is a good, filling, and yummy deal. All sandwiches are $6.99 lunch or dinner.
I like to eat my sandwich outside on a bench watching children frolic in the splash-pad fountain right around the corner. Kids love to chase the jumping water jets and it is a real fun and relaxing thing to do on a hot summer day. Just bring a change of clothes for the kids, slap on the sunscreen and let them have fun.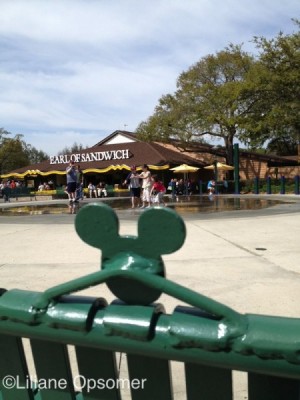 A great place to shop for a small grownup souvenir is Basin. I love the Mickey Mouse confetti bath bombs. The bath bomb costs $4.99 and the store will wrap them individually for you. They make for really nice gifts. While at the store try out the different soaps or scrubs. It makes for a nice, sophisticated, and free cleanup after lunch.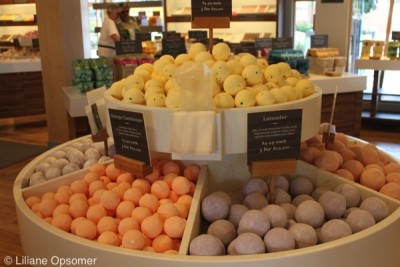 The Paleo Zone of the T-Rex restaurant is also free of charge. Kids will love playing in the sandbox and parents can rest in this shaded area. You do not have to eat at the restaurant to let your child play.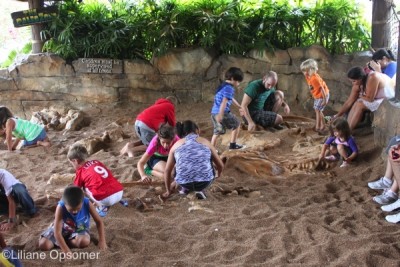 If you are a fan of Indiana Jones' pilot Jock Lindsey check out the newly opened  at The Landing.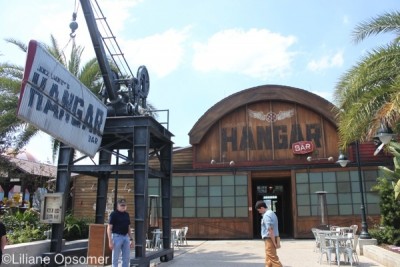 The place is filled with interesting memorabilia. Don't be shy and scout the place out. Once you have seen it all, enjoy any of their non-alcoholic specialty beverages ($3.75 to $4.29) indoors, at the waterfront lounge, or even in Jock's dry-docked boat, Reggie. I personally prefer the outdoor seating with views of the Sassagoula River.
There are three great desert options at The Landing. A small cup of ice cream at Vivoli il Gelato starts at $5.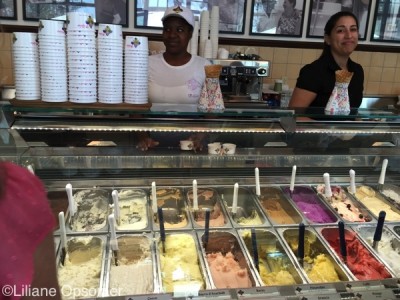 The cupcakes at Erin McKenna's Bakery NYC are $4.95.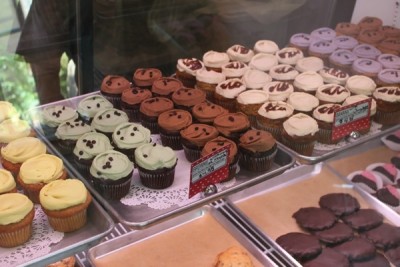 The newest kid on the blog is The Ganachery where you can watch the signature ganache squares being made. My favorite is the Egyptian Sea Salt Ganache. The price for one piece is not on the cheap side; it will costs you $3 per square!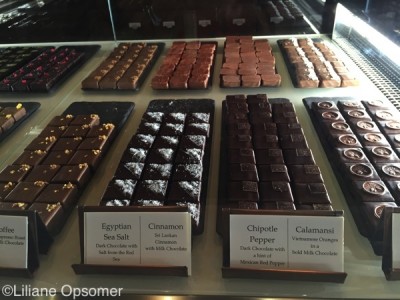 On the Westside, the House of Blues offers regularly free concerts on their outdoor patio. For the price of an Angry Orchard Hard Cider ($6) or a non-alcoholic Mango Ginger Press ($4.95) you can enjoy great music.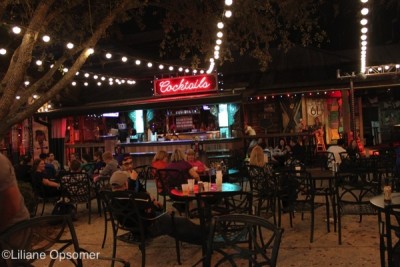 One thing I never spend money on is water. I always bring my own water bottle inside my tote bag. The bottle is kept cold in a cooler sleeve and I refill at water fountains throughout Disney Springs. I use a Go Caddy. I like to have my hands free for picture taking and I simply do not like to carry that much stuff with me anymore.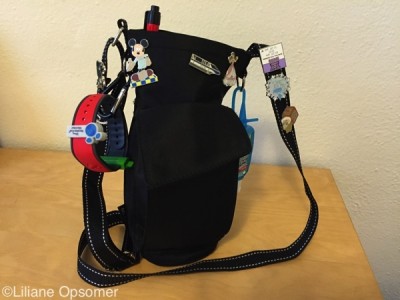 The picture doesn't give it justice, so here is what I all manage to pack into it: water bottle, sunscreen, medication and Band-Aids, a pen, lip balm, a snack, hand sanitizer, iphone, extra battery, charging cable, a small camera, credit card, some cash, my driving license, and keys. And yes, that still leaves just enough space for a couple of LEGO mini-figurines that I absolutely will buy when I visit in May!
Do you have any suggestions for affordable activities at Disney Springs or anywhere else in the Kingdom of the Mouse? We would love to hear from you.