Having Fun at the Disney Side Dog's Day Event
|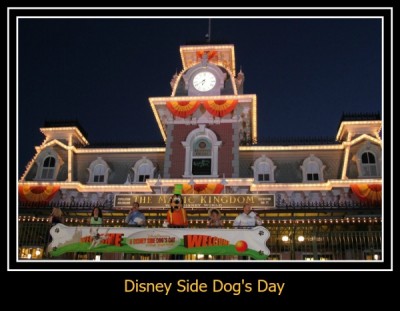 The Mouse For Less Blog would like to welcome Tanya, who brings us a story about the Disney Side Dog's Day, which took place earlier this year at the Magic Kingdom.
Has Disney gone to the dogs?  For a few hours on a very early Saturday morning, it did!  In mid-August, the Disney Parks Blog put out a call to Florida dog owners inviting them to submit photos of their dogs showing their Disney Side.  The judges then reviewed the photo entries and chose 101 of the best dressed pups to visit the Magic Kingdom.
On the morning of the one-of-a-kind, Disney Side Dog's Day event, the dogs, along with their owners and guests, checked in at the Magic Kingdom gates hours before the park opened.  The staff of the Disney Parks Blog, along with Pluto, Goofy, Bolt, Stitch, and Dug, welcomed everyone into the Magic Kingdom just before sunrise.
The dogs were escorted down Main Street and they strutted their stuff for the judges along their very own "green carpet", complete with fire hydrants.  (I am happy to report that I did not witness any of the pooches actually stopping by or using the hydrants!)  As the sun came up over Cinderella's castle, a light breakfast was served to humans (and dogs).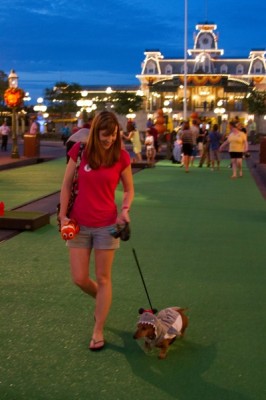 The winners of the costume contest were then announced.  There were so many unique and adorable outfits, I imagine that the judges had a very difficult time selecting the winners. Once the awards were presented, the celebration continued with a doggie dance party.  The Disney character dogs came out to pose for photos and dance with their canine guests.
A neat aspect was that The Animal Planet film crew was on hand to capture every exciting moment and every dog was allotted their 15 minutes of fame.  Clips from this event were included in Animal Planet's "America's Cutest: Disney Side Howl-O-Ween" special.  Although the episode aired in October, you may be lucky enough to catch a rerun of the show in the future!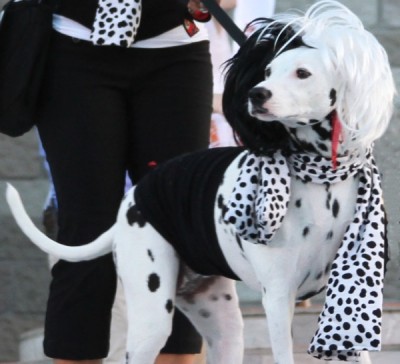 After a lively dance party, the guests were led on the walk of a lifetime around the entire Magic Kingdom park.  While the dogs were not permitted inside any of the shops, buildings, or rides (I am not sure my dachshund would have enjoyed a ride on Space Mountain anyway), walking around the park with their best friends was an unforgettable experience for every dog lover present at the event.
At the conclusion of the walk, Disney cast members waited to usher the pups through the castle and accompany them on their final stroll down Main Street.  In true Disney fashion, the park was spotless and ready for the day before the gates opened to guests and the dogs and their families walked away with incredible memories.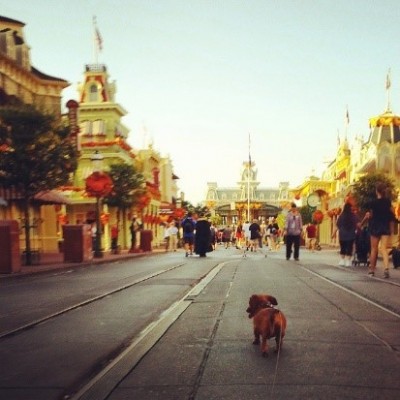 Would you enjoy visiting Walt Disney World with your pet?  Would you like to see Disney make this an annual event?