This post may contains affiliate links for your convenience. If you make a purchase after clicking a link we may earn a small commission but it won't cost you a penny more! Read our full disclosure policy here.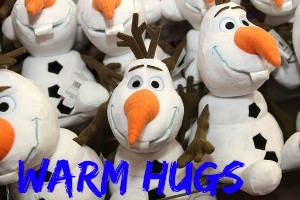 Like a wintery mix of snow and ice covering the fjords of Arendelle, Frozen-mania has almost completely covered Walt Disney World. During my most recent trip to WDW, I witnessed first hand the number of people swept up in Frozen-mania. Almost every park has something related the movie. I overheard one person call it a fad, but after a quick glance around my Disney bus to Hollywood Studios, I knew he was wrong. Why? Almost every mother and daughter on the bus had their hair braided (either in one long center braid like Elsa, or the double side braids like Anna). One little girl had to have an "emergency braid re-do" just because mom didn't have it quite right the first time. If it's a fad, it isn't going away any time soon.
Hollywood Studios: When you enter the park, during Frozen Summer Fun, everyone gets an "Olaf on a stick." Guests can take a picture of Olaf and post it to Twitter using #olafsummervacation. This park also has Wandering Oaken's Trading Post which is your one stop shop for anything Frozen. I had to buy the Olaf stuffed animal for my son, and my daughter got an Elsa doll (there is a FIVE doll limit per transaction for all of you interested in the Frozen black market). Expect to stand in lines though because the day I was there, the line was out the door. They also have ice skating and Frozen themed snacks. Wanna build a snowman? You can do that there too. Outside, use your Disney PhotoPass to get great shots of your family posing in front of a snow covered backdrop. Even though they aren't actually there, Olaf and Sven magically appear in your photos when you get home. Also, don't forget to watch the Frozen themed fireworks after Fantasmic.
Epcot: I expected there to be more Frozen stuff in Norway. There is, however, a small section with information about the movie and how it compares to real life in Norway.  This exhibit is located inside the Stave Church. I had heard a rumor that there may be a future Frozen ride where the Maelstrom currently resides. If that ever happens, enjoy the shortened wait times at Soarin' and Test Track!
Magic Kingdom: This is the park where you can actually meet Anna and Elsa. However, if you can, make sure to get a FastPass+ now because the lines are usually between 90 and 120 minutes long. I would love to write about my daughter's interaction with Anna and Elsa, but I couldn't get a FastPass+ reservation and the line never dropped below 90 minutes.
Magic Kingdom is also where I witnessed Frozen Mania at its peak. We were in the gift shop and a lady returned an Olaf stuffed animal. Since Hollywood Studios is the only place to buy Frozen merchandise (with limited merchandise at Downtown Disney), she had not one, not two, but SIX families following her around the store hoping to buy the snowman. When she returned it, the Disney Cast Member would not sell it to anyone. I asked the Cast Member if that was normal. She smiled, sighed, and shook her head yes.
All this Frozen stuff can wear you out, and if you should fall asleep in a Disney resort, guess who calls to wake you up?  It won't be Mickey and Stitch as it was the last couple of years. It's going to be Olaf. Even Mickey had to take a backseat the year Disney was Frozen over.
So, have you and your family taken part in the Frozen craze, like ours did?