This post may contains affiliate links for your convenience. If you make a purchase after clicking a link we may earn a small commission but it won't cost you a penny more! Read our full disclosure policy here.
I received this app for the purpose of writing this review.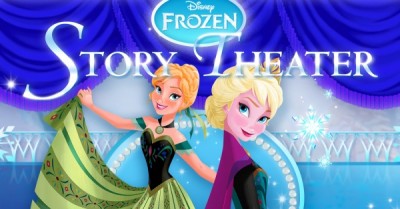 Do you have a Frozen fan in your family? Who am I kidding?  Of course you do!  So, knowing that, you should really consider purchasing and downloading the brand new Frozen Story Theater app!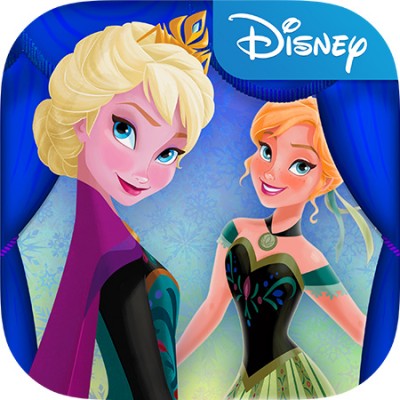 This app is a part of a series called Story Theater and the app's goal is to help enhance a child's creativity and storytelling skills.  That couldn't be more apparent with Frozen Story Theater.  This app allows little ones to create their own animated story using the characters they love from their favorite movie, including Anna, Elsa, Kristoff, Olaf, and yes, Marshmallow!
One thing to note is that in order to utilize this app, the microphone will need to be enabled, but don't worry! It's all part of the storytelling fun.
How does the game/story work?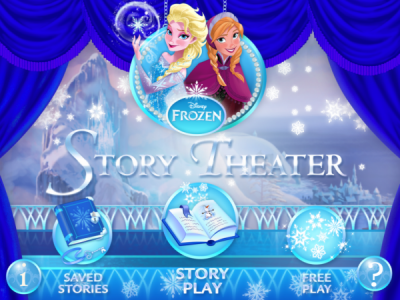 There are two major play areas…one is "Story Play" and one is "Free Play."  Both offer unique options for exploration and imagination.
The first that I tried is "Story Play."  This version is a little more rigid, allowing your littlest ones to pick the elements that they would like to use.  The app helps them along with the process, with a minimal number of choices, as well as prompts to guide them with the story that they are attempting to tell.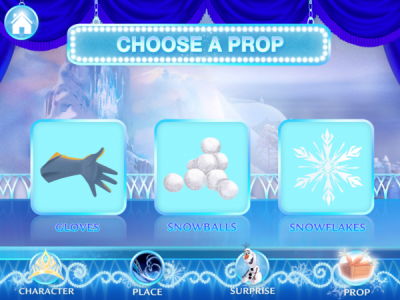 As you can see, in the "Story Play" section, you are asked to choose a Characters…either Anna or Elsa. Then you choose which place you'd like your story to be set in, like the Ice Palace, Arendelle, or even Wandering Oaken's.  You can then choose which kind of surprise you'd want to see.  ( I won't spoil those!) Finally, you can choose which prop you want, like carrots or snowballs!  There are only a couple of selections for each, so it makes it really easy to choose.
In between choosing your options, you are told a little about the story and the world you are creating from the narrator.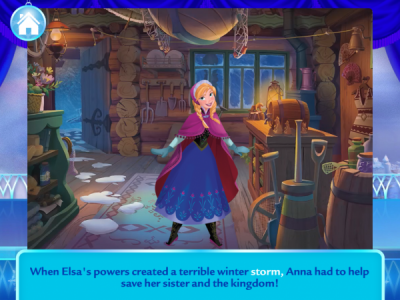 That's when the fun begins!  Kids are then asked to create the dialog to further the story.  Speaking out loud (because the microphone has been enabled) they can either be creative and come up with their own thing or they can use the prompts based off the story that's being conveyed from the narrator's suggestions.
Once the story has been created and you've viewed it, you can save what you've made for future viewings.
For those who are looking to really use their creativity, try the "Free Play" option!  Here, you are able to create the story that you want…no prompts!
You are able to pick the characters, (and the best part is you can choose multiple characters!), the background, multiple props, and you can even change the music! You are also able to record any audio that you want to tell the story you are creating.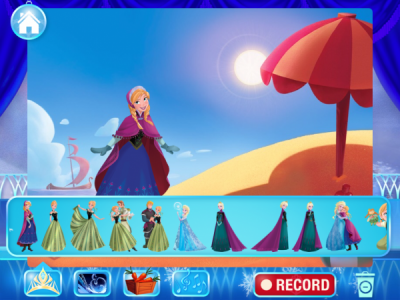 My story is all about when Kristoff and Anna met Olaf! "Hi!  I'm Olaf!"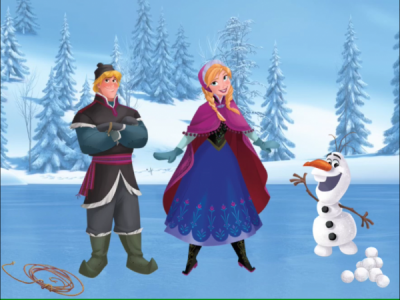 Once you create your stories, you do have the option of saving them to your device and sharing with friends and family.  Honestly, not sure that many will share these stories, but at least the option is there, for those who do want to.  If you aren't saving them to the device, know that they are saved to the app, so it's not necessary to save them to your phone or iPad.
The other thing I wished was possible was the ability to change your story when it's finalized and saved for the "Story Play" option. Once your story has been created, that's it, it's done.  There' no way to edit any further without re-starting and re-creating your story.  (And to the lesser extent this is true of "Free Play."  "Free Play" does allow you to edit after saving, but once you return to the Home Screen, you cannot go back to the story you were previously creating.)
The app's suggested age range is anywhere from 6-8 and I think that's right on the money.  My 6 year old niece would have a blast picking the characters, creating the worlds, and using her own voice to tell the story for the scene she has set.
This is a fun app that I think really allows your child to use their imaginations and create worlds of fantasy through both voice recordings, as well as the choices that they use to tell the story.  I mean, really…who doesn't want to build a snowman, put a crown on his head, and give him a cookie to munch on? You know there's a fantastic story behind that scene…and I want to hear it!
Frozen Story Theater is a premium app that costs $5.99 and is available across all iOS platforms.
Disclaimer:  I was given a code for this app free of charge for the purpose of this review.  I received no other compensation from the app provider, nor was I required to give a positive review. The opinions expressed are my own.

Sponsored Ad:  Would you like to help support The Mouse For Less website in continuing their mission of being THE Disney vacation planning resource?  You can do so by purchasing Frozen Story Theater from our Affiliate Link through iTunes. Thanks so much for your support!
Incoming search terms:
do you have other programs like frozen stories
https://www themouseforless com/blog_world/frozen-story-theater-app-a-review/