This post may contains affiliate links for your convenience. If you make a purchase after clicking a link we may earn a small commission but it won't cost you a penny more! Read our full disclosure policy here.
As a proud member of D23, the Official Disney Fan Club, I was able to see Frozen 2 over a week before its official release date. Back in 2013, Frozen became the highest grossing animated movie of its time. With warm hugs, sisterly love and a ballad that every little girl sang until she was blue in the face, Frozen fever took over the country.
Directors Jennifer Lee and Chris Buck, and composers Kristen Anderson-Lopez and Robert Lopez all return for this much anticipated sequel. So, after 6 years, was the magic still there?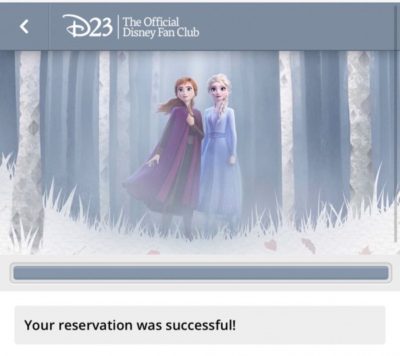 Songs
The songs in the original Frozen became a cultural phenomenon that I don't think anyone saw coming. The Frozen 2 soundtrack had a lot to live up to…and it delivers! Olaf has another catchy, fun song that is very, well…Olaf. Kristoff has an amazing soft rock power ballad that had the adults in the audience cracking up.
When snippets of "Into the Unknown" were released many were reminded of the success of "Let it Go".
While this number is great, I really feel Elsa's other big song "Show Yourself" performed later in the movie is the better song. My favorite song though is Anna's "The Next Right Thing". While this song probably won't be a kid's favorite song, I feel it is a very raw and honest song for when times get hard.
Story and Characters
Frozen 2 seems to recognize that the original fans of Frozen have grown up a little, and the characters seem to have grown up too. This movie has bigger, more mature themes and problems than the original film. It feels more serious than the first movie, but still has the sweet and funny moments that fans love in a Disney movie. Olaf has even matured and become more philosophical, but you will still want to give him warm hugs.
This movie answers many questions about the characters' pasts, while also disproving some fan theories. It also recognizes that some people (okay, most people) are done with a certain song from the original film in a really fun way.
There are some great new characters that will find some popularity with fans. While Gayle is probably my favorite new "character", the water horse and Bruni characters will be flying off the store shelves soon (The horse is already hard to find!)
Bruni is a pretty cute lizard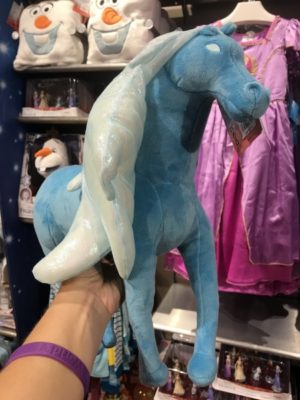 The mystical water horse is already a popular toy at the Disney Store
For the kids?
This sequel feels much more grown up than the original. The problems are a little bigger and the characters face more intense peril than in the first movie. There wasn't strong violence in any of the scenes, but some moments felt like they could make a sensitive child nervous or upset. They are less intense than scary genie Jafar in Aladdin, but it is more intense than when Marshmallow was guarding Elsa's ice palace in Frozen 1.
The movie kept my 6 year old boy interested for the full hour and a half. He told me he liked it better than the first movie and his favorite part was "all of it!" He was laughing and clapping and singing along with the characters. I think most kids will enjoy this movie almost as much as the adults.
Bottom line
Frozen 2 was worth the wait! It has a well developed storyline, great new characters, and songs that will have everyone singing for the next 6 years and beyond. Make sure to stay after the credits!
Are you planning on seeing Frozen 2 in theaters? Let us know in the comments or on Facebook or Twitter!
Did you like this article? Make sure to share it with your friends! Check below for easy ways to share!
Want to visit a Disney Destination? Contact The Magic for Less Travel for more information and a free, no-obligation quote.

Incoming search terms:
disney frozen 2 next let it go
https://www themouseforless com/blog_world/frozen-2-see-it-now-or-let-it-go/
disney frozen 2 let it go