This post may contains affiliate links for your convenience. If you make a purchase after clicking a link we may earn a small commission but it won't cost you a penny more! Read our full disclosure policy here.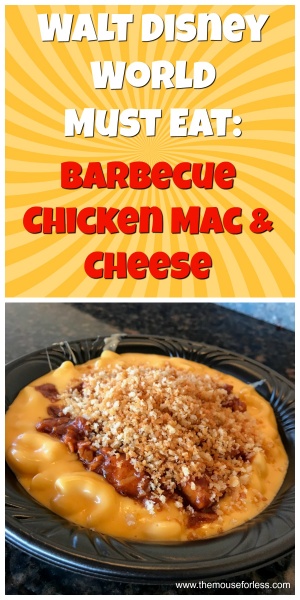 The Friar's Nook is one of those places that seems like it's never open. Every time I walk past there, the walk up window quick service dining location has its doors closed, but every once in a while, typically in the afternoons, you'll find the elusive windows are open and see that they are serving Guests. The restaurant is located in Fantasyland at the Magic Kingdom and doesn't have a super large menu. Mostly, it features hot dogs and beverages, but there's one item that peeked my interest that's listed. It was the Barbecue Chicken Macaroni & Cheese.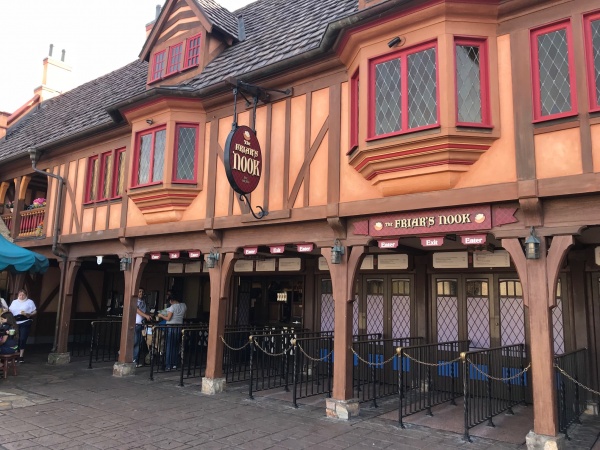 The lines for Friar's Nook can sometimes be long, due to it being a popular location, both because it's relatively noticeable and the fact that its limited menu has a large appeal to families with children. (They also offer a plain mac and cheese, increasing its likability among families.)
The Barbecue Chicken Macaroni & Cheese comes with cole slaw (which I did opt out of getting…while I'll try most things the way they are served here for the blog, cole slaw is one thing I won't eat) and is topped with panko bread crumbs.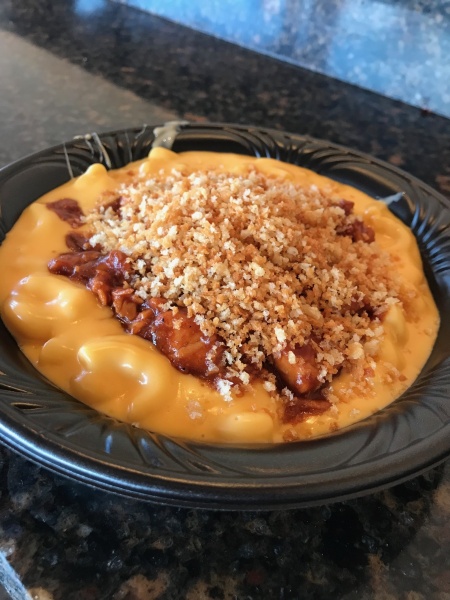 One bite of this and I was in love. The mac and cheese is clearly homemade; this isn't from a box. The noodles were perfectly al dente and it was incredibly cheesy. Picking it up with my fork, the cheese would string, like good cheese should do. The barbecue chicken had a wonderful flavor and paired perfectly with the mac and cheese. It seemed like quality chicken too.
Honestly, I'm weird about foods mixing, so this dish was a little off putting in my mind, but one bite and I was completely sold. The barbecue chicken mac and cheese was incredible. Oh and it's large too! I could have EASILY split this. I only ate half of it and I was stuffed.
The barbecue chicken mac and cheese is a solid winner and I honestly cannot wait to head back to Friar's Nook to pick up a bowl again.
Have you tried this mac and cheese before? What did you think? Share your thoughts in the comments. 
Did you like this article? Make sure to share it with your friends! Check below for easy ways to share!
Incoming search terms:
https://www themouseforless com/blog_world/friars-nook-magic-kingdom/