This post may contains affiliate links for your convenience. If you make a purchase after clicking a link we may earn a small commission but it won't cost you a penny more! Read our full disclosure policy here.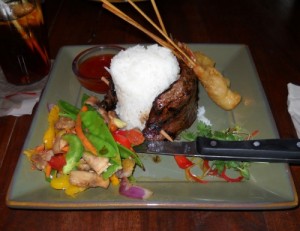 Have you heard the saying that there is no such thing as a free lunch?  Well, it's not true!  If you're able to book a Walt Disney World Resort vacation with the free dining promotion, you will indeed get a free lunch.  In fact, you can even have a free steak dinner, as well as a lot of other goodies if you use your dining credits wisely!
There are three dining plans available at the Walt Disney World Resort, a Quick Service plan, a Standard ("Table Service") plan, and a Deluxe Dining Plan.  You can review the differences in each plan here.

If you booked a trip with the free dining promotion, you will have the free Quick Service plan if you are staying at a value resort and the free Standard Dining plan if you are staying at a moderate or deluxe resort, though you are able to pay to upgrade your dining plan if you would like to do so.  If you would like the Deluxe plan, you can pay to upgrade to that plan to gain more credits.
In order to get good use of your dining plan, first determine how many credits you have to use.  For each night you stay at your resort, you get dining credits.  For example, if you are using the Standard Table Service plan and are spending seven nights at Port Orleans, each person in your traveling party will have seven counter service meals, seven table service meals, and seven snack credits for your stay.   These meals are free, so when doing your planning make sure you use every credit to get maximum benefit out of free dining!
Some meals in finer dining locations require two credits per meal, but many popular places require just one table service credit.  You can use this guide to download a brochure to see which restaurants are on the Disney Dining Plan and how many credits each meal requires.
Let's look at each type of dining credit you may have and review how to best use those credits.
Table Service Credits                   
Make your Advance Dining Reservations (ADRs) well in advance!  Popular places book quickly.  You can make your reservations 180 days before your arrival day by calling 1-407-WDW-DINE, by using the My Disney Experience app or Disney website, or by contacting your travel agent to make the dining reservations for you.  Having ADRs in hand before your trip ensures you that you will get a table at the places where you would  like to dine.
Explore the menus to pick cuisines that your family enjoys.
Location, location, location!  Try to eat in or near the Magic Kingdom on a day you are slated to be at the Magic Kingdom.  Try to eat in or near Epcot on the day you plan to visit Epcot, etc.
Look at the resort restaurants as well as the restaurants in the parks.  Some of the best and most popular restaurants are at the Walt Disney World Resorts!
We like to mix it up with a variety of meals including regular table service, buffets, and character meals.  You can use a table service credit for any meal, so be open minded about big breakfasts and lunches as well as dinners.
Character dining is a great way to use a dining credit!  You want to meet Mickey Mouse and you have to eat anyway, so why not schedule a character meal or two to meet Mickey while eating?!
To get bang for your buck, go ahead and book places that offer steak and seafood entrees!   One of the fun things about free dining is that your free dining credit can get you that big juicy steak for free!
Counter Service Credits
Counter service locations offer a variety of food choices.  Pick cuisines your family enjoys and try places convenient with your park touring.
Many of the resorts have fun counter service places to visit!  If you need a break from the parks, consider going to a nearby resort to explore a bit and enjoy a meal.
All of the dining plans provide a free refillable mug for use at your Walt Disney World Resort.  Make good use of the mug during your stay by getting coffee or tea in the morning and cold beverages with meals. 
Snack Credits
You could use snack credits for items such as bottles of water or fresh fruit, but there are many fantastic snacks out there just begging to be tried!  To maximize your snack credits, go for the huge cupcakes, the ice creams and Dole Whips, the pastries in the World Showcase, and items from the Main Street Bakery or Goofy's Candy Company.
Stretch your snack credits by sharing some of the snacks.  The cupcakes are quite large and one cupcake can easily be shared by two or even three people.  Just ask for an extra plate.  Other snacks easy to share are the big pretzels in Germany, some of the pastires, slices of fudge, and popcorn.
If you have leftover snack credits at the end of the trip, don't let those go to waste!  You can bring home some snacks with you.  We've brought home fudge, Mickey Rice Krispie treats, big lollipops, and boxed candy.   It's fun to bring a Disney treat or two home with you.  Savor every single snack credit!
If you use all of your dining credits wisely, you will have a deliciously wonderful trip!