This post may contains affiliate links for your convenience. If you make a purchase after clicking a link we may earn a small commission but it won't cost you a penny more! Read our full disclosure policy here.
For a luxurious stay with top-notch service, try the Four Seasons Resort Orlando
The Four Seasons Resort Orlando at Walt Disney World is the best deluxe resort in the area, with comfort, amenities, and personal service that far surpass anything of the Disney Deluxe resorts. The Spanish revival–inspired architecture calls to mind Florida's grand resorts of the early 20th century.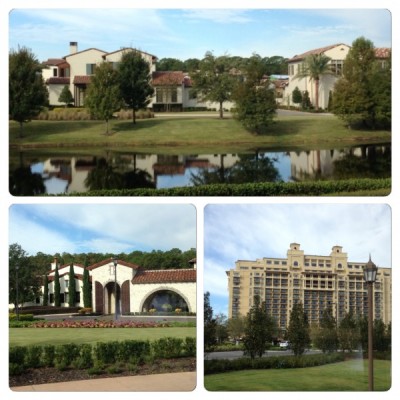 The lobby is bright, welcoming and has plenty of pleasant seating areas, and a bar. Also in the lobby is Lickety Split, a nicely decorated quick service restaurant with a full barista menu with premium coffee, freshly made breakfast, lunch items and very yummy house made ice cream.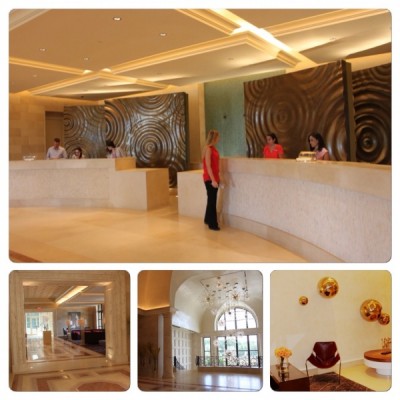 Most of the guest rooms have an 80-square-foot balcony with table and chairs. Standard-view rooms look out onto the resort's lawns, gardens, and nearby homes in Golden Oak. Lake-view rooms overlook the lake, the Tom Fazio–designed Tranquilo Golf Club, or the pool. Park-view rooms offer views of the Magic Kingdom's nightly fireworks while some suites are available with an Epcot view. I had a lovely room with a terrace overlooking the parks and it was wonderful to see the fireworks go up at night.
Standard guest rooms average around 500 square feet and feature either one king bed with a sleeper sofa or two double beds (a crib is available in double rooms). Amenities include two flat-panel TVs, a coffeemaker, a small refrigerator, a work desk with two chairs, a personal DVR to record TV shows, and Bluetooth speakers for your personal audio. Each nightstand had four electrical outlets and two USB ports.
Bathrooms have glass-walled showers, a separate tub, marble vanities with two sinks, mosaic-tile floors, hair dryers, lighted mirrors, and a TV in the mirror above the sink. If I hadn't stayed in the parks so late I would have enjoyed watching TV while soaking my sore feet in the tub.
If you're looking for family activities, the Four Seasons Resort Orlando at Walt Disney World has them. On Explorer Island you will find the adult pool, a family pool, a 242-foot waterslide, children's splash zone, playground, and a lazy river. The PB&G, (pool bar and grill) – serves barbecued meats, and salads.
The free Kids for All Seasons program is a gem, and a fabulous value. The program runs daily, 9:00 a.m.–5:00 p.m. No Disney resort offers free childcare programs. The indoor and outdoor supervised activities are great, so great in fact that you might have a problem to convince your kids to leave the hotel.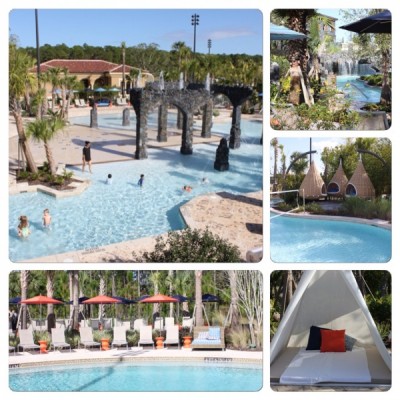 Add to this the family pool area and the lazy river and you too might not want to leave. What I found absolutely great was that each area had plenty of cozy, well-designed seating areas.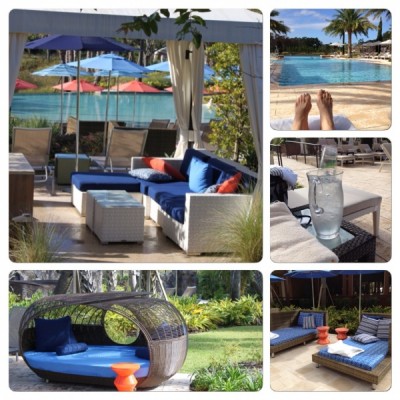 Capa, a Spanish-themed rooftop restaurant, serves seafood and steaks. It is pricey but comes with a huge balcony overlooking the parks, offering an amazing view. Make sure to arrange reservations around the time the fireworks start at the Magic Kingdom!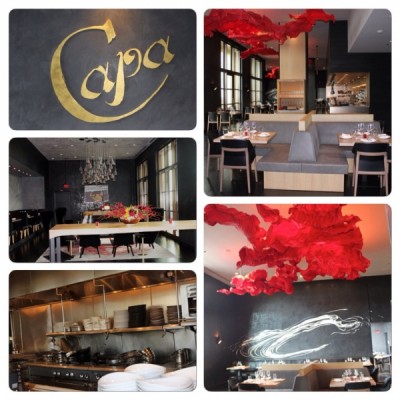 Ravello serves a buffet breakfast and upscale Italian dishes for dinner. I liked the selection of breakfast items but was surprised that a glass of champagne, a mimosa or Prosecco was not included with the breakfast buffet, – after all this is a Four Seasons.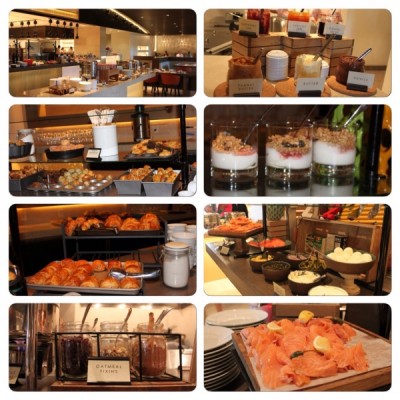 On Thursdays, Saturdays, and select Tuesdays, Ravello serves a Disney-character breakfast. Mickey, Minnie and Goofy join guests and take time for autographs and pictures. I enjoyed the character breakfast but if you are looking for a quiet breakfast you should order room service on character breakfast days.
Weather permitting you could opt to sit on the terrace of Ravello but the characters will come outside to meet and greet guests sitting there. While you are at a Four Seasons, keep in mind that this is after all at Walt Disney World and therefore many guests are families with young children.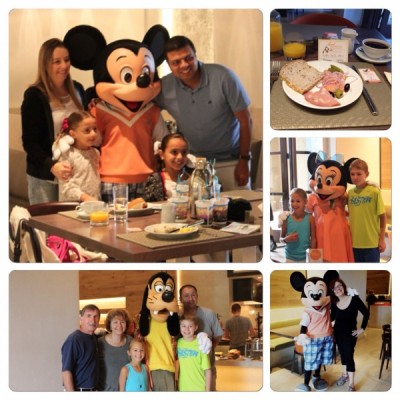 While the kids are at the Kids for All Seasons camp check out the spa. The Four Seasons Spa is located one level down from the lobby. The treatment rooms are attractive, with typical spa touches including flowers, candles, soft lighting, and soft music. The lounge is well appointed and has two fireplaces. Lounge snacks included various teas; a refreshing chilled fruit juice, blanched almonds, dried and fresh fruit.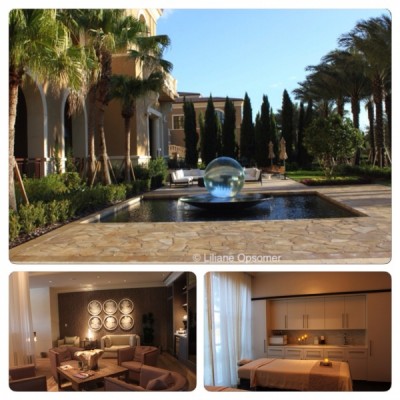 If you must go to the parks there is regular bus service provided. The bus service is not as good as the one provided by Disney, however you will be riding a luxury coach and the bus is always on time. The bus to the Magic Kingdom leaves every half hour, the other three parks are served hourly. Note that the Magic Kingdom bus does not drop off at the Magic Kingdom bus area but at the TTC (Transport and Ticket Center). From the TTC you have to either take a monorail or a ferry to the Magic Kingdom. Take this additional commuting time into consideration when you intend to arrive prior to rope drop or if you wish to stay at the Magic Kingdom till it closes.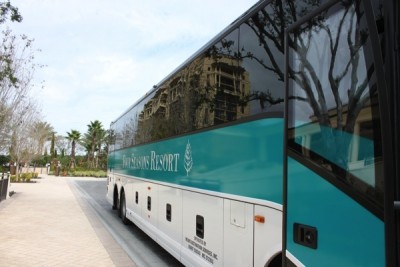 While the Four Seasons is on Disney property, staying there does not qualify you for Extra Magic Hours or the use of the Magical Express from the airport. Advanced FastPass+ reservations can be made but only 30 days in advance. You won't be getting a MagicBand and you can't signup for the Disney Dining Plan.
What you will get is a first class, luxurious stay with top-notch service. I enjoyed every minute of my stay at the Four Seasons. I loved my room with a view and couldn't get enough of the relaxing, quiet and tranquil areas that I discovered all over the resort.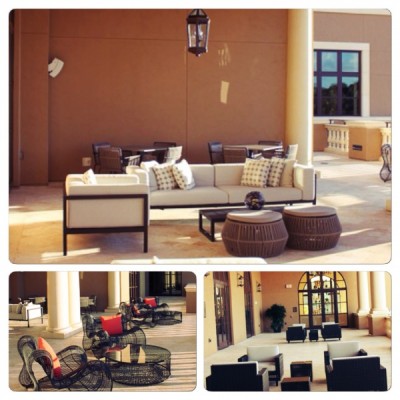 I love the theme parks but there were moments when I would have liked to skip the rides and the parades for another dip in the pool, one more round in the lazy river or a peaceful evening on the terrace of my room.
Have you stayed at the Four Seasons Resort Orlando? Do you dream about staying here? Share your thoughts in the comments!