This post may contains affiliate links for your convenience. If you make a purchase after clicking a link we may earn a small commission but it won't cost you a penny more! Read our full disclosure policy here.
By Carol Garcia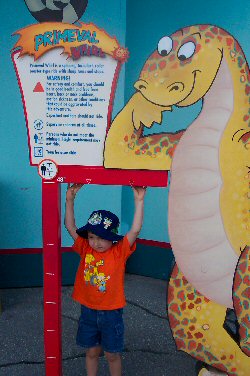 In planning Magically Speaking's fourth birthday celebration, we looked to find a way to tie our birthday in with Disney. Since we're turning four years old, we are focusing on traveling to the four theme parks of Walt Disney World with a four-year-old (or any young child).
Disney World is perhaps one of the most family friendly destinations available. But while the Magic Kingdom remains the most frequently visited theme park, we can't help but wonder, "Are people skipping the other three parks?" A common observation we hear is that families with young kids won't enjoy all four parks. Perhaps not equally, but every park at Walt Disney World can appeal to kids of all ages.
In this article, we're updating one of our "vintage" series: Touring with Young Children.
Let's start with the basics that are true of all four parks: Touring with young children takes planning and flexibility. If the youngest in your party needs a break, then you should take one. If you're traveling with someone who requires naps, the little one will most definitely need a nap at Disney. It's very exhilarating, with so much to do, quite a bit of walking, fresh air, and a big departure from a normal day at home. All of this requires relaxing downtime to make in-park time more pleasant. (This goes for the adults, too!) If you're looking for more tips on traveling with young children, check out our previous article, Traveling with Toddlers. It provides 13 tips that are invaluable for parents traveling with young ones.
Check out the height requirements for rides on TheMouseForLess.com. You don't want to get to the line with your excited little one only to find out he's too short. And for those in your party who are over 54 inches tall, don't forget that there are lots of rides to experience. You can still do these, if you take advantage of rider swap. This is a great tool for making sure everyone gets the chance to experience the height-restricted attractions. Parents can take turns riding the big rides while one is always with the little one. Best of all, you only have to wait in line one time.
So now, we've got down the basics. We all know that the minute you set foot on Disney property, your group will be heading to the Magic Kingdom. The classics, the castle, and a general sense of magic can be found in this park. (This is the Walt Disney World park most like the original Disneyland.)
Unless you have a one-park, one-day ticket, your admission will let you into any of the four parks. What is there to do at the others? Plenty!
Epcot was the second park built at Walt Disney World. (There isn't an "equivalent" at the Disneyland Resort.) It's undergone a transformation from what it was when it originally opened. Epcot still has a reputation among some as an older-kid park. That isn't the case anymore. In face, some of the kids in my house love Epcot as much as they love the Magic Kingdom, but for different reasons.
Epcot lets kids explore the world in a fun way, and there's plenty to keep the little ones entertained: In the diverse Future World, you can hang glide across California, ride through history, or see some fast cars. The lovely World Showcase lets every member of the family explore far-away lands through food, shops, Cast Members, and even some rides and shows. For details on this park, visit our updated Touring with Young Children: Epcot page.
Next up is Disney's Hollywood Studios. This park, the next built at the World, highlights the movies. There are many Disney and Pixar friends here and a variety of things to keep the little ones (and the whole family) entertained. (This park is most similar to the Disneyland Resort's California Adventure park.) "Fantasmic!" is the evening's entertainment, and the only nighttime show on property that offers stadium seating. A bench to sit on while waiting is a nice alternative to standing or squatting on the pavement. For an updated look at this park, visit the Touring with Young Children: Disney's Hollywood Studios page.
Finally, the baby of the group, Animal Kingdom, opened its gate around ten years ago. For a great deal of time, Disney professed that this park is not a zoo with its "Nahtazu!" campaign. And it's true: this isn't your typical zoo. Yes, there are animals, but you see them in a different way than in your local zoo back home. There are also some wonderful shows ("Festival of the Lion King" and "Finding Nemo — The Musical"), family-friendly rides, and interesting walking trails. (Disneyland Resort doesn't have a park like Animal Kingdom — although you could head south to San Diego's Wild Animal Park.) To find out how what to see in this park, visit Touring with Young Children: Animal Kingdom.
As you can see, Walt Disney World's four parks offer diversions for young children (and the rest of your party, too). With some planning and flexibility, all of the parks are fun for everyone. Here's to the abundance of offerings at Disney World's four parks — and to four years of Magically Speaking!