This post may contains affiliate links for your convenience. If you make a purchase after clicking a link we may earn a small commission but it won't cost you a penny more! Read our full disclosure policy here.
By Deb Niarhos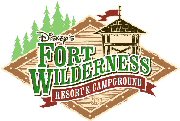 It would be just like Walt Disney World to take 700 acres of lush Florida land and create the perfect camping resort, now wouldn't it? Well, they did just that and it has been pleasing guests since Walt Disney World opened in 1971. The resort is currently home to 784 campsites and 409 cabins. Fort Wilderness is one of the rare camping resorts to have obtained the highest possible ratings from Woodall's and Trailer Life campground directories.
Fort Wilderness is one of the original resorts that Walt himself had a hand in creating. (The Contemporary and The Polynesian complete the original three.) You might know Walt Disney had a great love of trains and Fort Wilderness used to have a tribute to that in the form of the Wilderness Line: an authentic narrow gauge railway. It was added during the first expansion of the campgrounds in 1973. Although no longer in use, you can still see some remaining tracks around the campground. Some of the cars were later used as ticket booths in Pleasure Island and then later sold to collectors.
The Fort Wilderness of today is divided up into three main areas: The Outpost, The Meadow and The Settlement.
Let's start exploring at the Outpost. This is where you check-in. If you are checking into a campsite, you drive through the check-in area (sort of like a toll booth). To check into a cabin, you park and go into the building. There is also a bus stop at the Outpost to get the internal busses or busses to the theme parks. There is no driving of cars once you get to your site in Fort Wilderness. Driving is permitted only at check-in or check-out time. To get around the resort during your stay, you will need to walk, use the internal bus or rent a golf cart. The Kennel is also located at the Outpost and there is a stable where you can take a trail ride.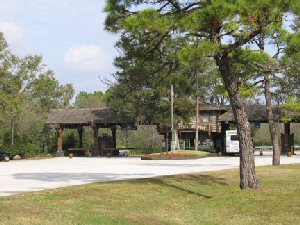 The Meadow area has a general store with limited parking. This area is where you can rent a bike or golf cart for use in getting around the resort. There is also a huge pool for swimming and courts for playing volleyball, tennis or basketball.
Fort Wilderness offers a campfire program that can be found in the Meadow area. The campfire begins with a sing-a-long with Chip and Dale. You can purchase hot dogs and s'mores fixings for cooking over the campfire, too. Then as it gets dark, they show a Disney movie on an outdoor movie screen. A different movie is shown every night. Anyone can participate in this fun evening; you do not have to be a guest at Fort Wilderness. You can check TheMouseForLess website for the current movie schedule.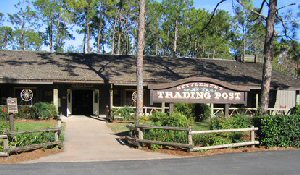 The Settlement Trading Post
The Settlement area is the third section of the resort.  Here, there is a large general store. The Marina is located here and the large boats offer the best transportation option to the Magic Kingdom. It is a really nice boat ride, too. You can also rent small boats or pontoons, or take a fishing excursion from the Marina. Although swimming is no longer allowed in Bay Lake (the lake that borders the resort on one side), there is a large beach that can still be enjoyed.  The beach is also a great place to catch the Electric Water Parade.
One of the best buffets in Walt Disney World is here at Trail's End Buffeteria. They offer some of the best basic fixins' for a great price. Crockett's Tavern is a bar located right next door, but it is my understanding that during busy times they use Crockett's for Trail's End seating. You can sit in a rocking chair on the porch at Trail's End while you wait for your table. On the other side of Trail's End is Pioneer Hall: home of the Hoop Dee Doo Musical Review, currently the longest running musical in America. If you enjoy cornball humor and great vaudeville-style entertainment, you will love this show! My family absolutely loved this and it is a must do for many.
| | |
| --- | --- |
| Pioneer Hall | Hoop De Doo Musical Review |
Also in the Settlement area is another bus stop, a small petting zoo and the Tri-Circle-D Ranch:  Home of over 100 amazing horses that work in the Magic Kingdom including Cinderella's fleet of white ponies that pull her carriage. You can also take a horse drawn carriage ride from here.
The campground is divided into loops. Each loop has either campsites or cabins. Whether you want to rough it in a tent or enjoy a fully equipped cabin, you will find everything you need at Fort Wilderness. You will find two types of sites. Partial hook-up sites have water and electricity for tents and pop-up campers. Full hook-up sites are water, electric and sewer for RV's of all size. You can of course get a preferred hook-up with all of the above and cable TV and high speed Internet. Now my idea of roughing it is a campground without cable TV!
There is a comfort station in all the camping loops. Each comfort station has an ice machine, laundry facilities and of course pristine showers and restrooms. In my experience, these are some of the cleanest, well-equipped comfort stations available anywhere.
One loop is designated the pet loop and, for an extra fee, you can keep your beloved pet right in your RV with you. We did this and our dog loved it!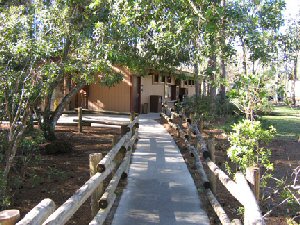 Path to the Comfort Station.
For your little campers, there are playgrounds throughout the campgrounds and plenty of animals to keep everyone entertained. Have you ever heard the sound that a peacock makes? You can experience it here. We had many different animals come up to our RV. My girls especially liked the ducks. And the Spanish moss hanging from the trees is just a beautiful backdrop for the whole experience.
Now, which is the best loop to stay in? That is dependent upon what you wish to be close to. If you wish to be near the Settlement Area where you get the boat to the Magic Kingdom, the 100 –500 and 700 loops would be a good choice for you. If you would prefer to be near the Meadow for the pool and campfire program, then loops 600 or 800-1600 are good choices. If you want to be off the beaten path and have peace and quiet, loops 1700-2000 are the ones for you.
The cabins are found in loops 2100-2800. The cabins, well what can I say about the cabins! They are great! You have a fully-equipped kitchen. A living room area with plenty of storage and a Murphy bed that comes right out of the wall – my girls loved this! It has a couch and love seat. The eating area has a table large enough for six to eat comfortably. The bathroom was huge in my opinion. It has a full size tub, a shower and a sink. The bedroom has a double bed and a set of bunks. The one thing I found lacking in the bedroom was adequate room for clothing storage. We used the bunk for the girls' clothes since they slept on the Murphy bed. Outside there is a deck with a picnic table and a grill.
The cabins are closer to the entrance or Outpost area. There is a second pool located in the cabin loops. When we stayed in a cabin in August 2004, we had this pool all to ourselves. There are laundry facilities at this pool also. While the girls swam I did laundry and swam between loads!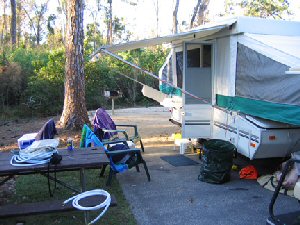 Campsite
This is one of the more affordable ways to stay at Walt Disney World.  In fact, if you already have the camping equipment, it's an extremely affordable way to visit and offers enough amenities to keep your family busy for days.  The rates for these campsites and cabins can be found here
Even though we no longer have an RV, we are sure to visit Fort Wilderness every time we go to Walt Disney World. It is so peaceful and tranquil that you forget you are in theme park heaven. You can see why I call Fort Wilderness Disney's Diamond on the rough. It is a beautiful resort among rustic settings. Now matter what you choose to do here I am sure you will love every minute of it.