This post may contains affiliate links for your convenience. If you make a purchase after clicking a link we may earn a small commission but it won't cost you a penny more! Read our full disclosure policy here.
By Teresa Pitman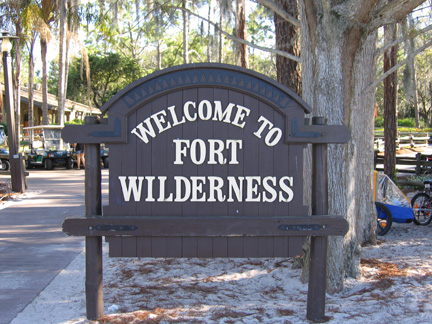 Although I love nature and the outdoors, I've never been a camper. Sure, I told my family, I'd be happy to camp if there was air conditioning, a real bathroom with all the modern conveniences, a comfy bed, maybe even maid service — all without the hassles of driving an RV. Well, sprinkle a little pixie dust around and that's just what you get at the Fort Wilderness cabins. It's my kind of camping.
Drive up to your FW home, and you'll see what looks like a log cabin with a fenced-in deck attached and two doors leading from the deck into the cabin. There's a short driveway for your car, and a plug for your golf cart (more about the golf cart later). Feel like a cookout? You've got a barbecue and picnic table on the deck, just waiting for your charcoal and burgers. Open the first door and go inside, and you'll find a full-sized kitchen (complete with fridge, stove, oven, dishwasher and all the basic pots, pans, dishes and utensils), a table with a bench and chairs for seating, and a smallish living room with a couch, another table and chairs, and a TV set and DVD player.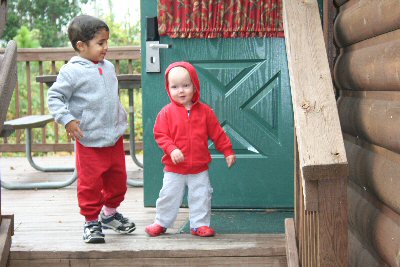 Hanging out on the deck of the cabin.
Past the kitchen and down the hall you'll find first the bathroom, and then the bedroom. The second door to the deck leads out of the bedroom. There's a double bed and a set of bunkbeds, as well as a fold-up port-a-crib in the closet.
"But wait!" my grandson asks. "Where's grandma going to sleep?"
Well, Sebastian, that's another piece of Disney magic. Okay, it's not actually magic — it's a double-sized Murphy bed in the living room that pulls down from the wall, pillows and blankets included, and it's surprisingly comfortable.  If you've been counting, you'll notice that with the Murphy bed down, our cabin sleeps six, plus a baby, making it perfect for larger families who might otherwise need to get two resort rooms. (The downside, of course, is that all six or seven people need to share a single bathroom.)
This was our second stay in a cabin, and we loved it both times. Here's what we especially liked:
1. Because we drove to WDW, we were able to pick up food on our way and save money (and time) by preparing some of our own meals. There's a good-sized pantry that can easily store a week's worth of food supplies, plus the fridge. With three little kids who wake up STARVING every morning, it was nice to be able to make a hearty and healthy breakfast in the room. The food prep equipment in the room is pretty basic, but we brought muffin pans and a slow-cooker from home to let us do more cooking.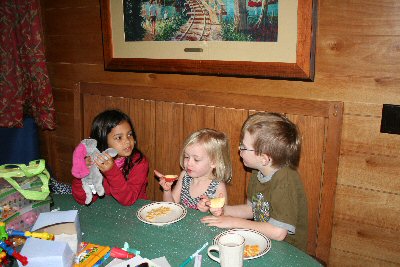 Plenty of room for a leisurely breakfast.
2. The separate bedroom means that if the adults don't want to go to bed at the same time as the kids, they can relax in the living room watching TV, or play cards, or enjoy sitting out on the deck for drinks and conversation while the kids sleep.
3. Because you're in a separate building, there are no worries about your noisy kids disturbing other Disney guests, or having someone in a room above you playing loud music or stomping on the floor and keeping you awake.
4. Like nature? You'll get plenty of it here. We saw armadillos, rabbits, and deer at various times, and the kids thoroughly enjoyed walking on some of the nature trails or just playing around the cabin. You can also enjoy just being outdoors, playing basketball (there are hoops set up), climbing and sliding at the playgrounds, visiting the animals at the petting zoo, playing tetherball, or just relaxing on the beach. It's like two holidays in one — the excitement of the theme parks and then the relaxed atmosphere of the Fort. (There are also many activities in the Fort, such as the campfire and outdoor movie every night, and organized games and sports every afternoon.)
5. Maid service! Not only do you get your beds made and your bathroom cleaned, they even wash the dishes for you!
I do feel obligated to point out a few other aspects that some people might see as negatives:
1. That one and only bathroom that I mentioned earlier. We had six people in our cabin, and getting everyone ready for a morning in the parks was sometimes a challenge.
2. If you don't have a car or a golf cart, getting around the Fort can seem daunting. What you have to do is this: walk from your cabin to a bus stop (and depending on where your cabin is in the loop and how short your children's legs are, it can be quite a hike), catch one of the internal buses (maps at the bus stops help you figure out which bus you need to catch) to the main entrance bus stop, and catch another bus to the park you want. Or, if you are taking the boat to Magic Kingdom, you ride the bus to the opposite end of the campground, and then you have to walk from the bus stop to the boat docks. You have to reverse all this at the end of the day to get back. For a tired toddler, that can add up to a lot of transfers and a lot of walking. Golf carts make all this much easier (and kids think they are so much fun!) but they're pricey to rent. Of course, with a golf cart you can also have some extra entertainment driving around looking at the campsite decorations, which can be quite impressive during major holidays! If you have your car or a rental car with you, driving to the parks is another option, but there is no parking for cars at Pioneer Hall or Trail's End, and only short-term (15 minutes) parking at the store.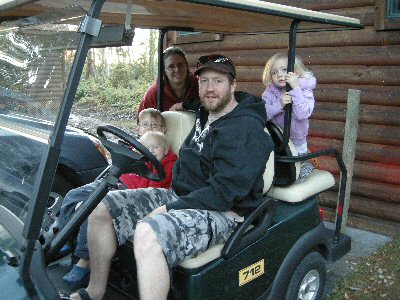 A golf cart helps get the family around the resort.
3. If you are part of the official "I don't like to cook on vacation" group, that full kitchen will be wasted on you, and you may find the eating facilities at FW fairly meagre. There is a buffeteria restaurant (Trail's End, which also offers takeout) and Crockett's Tavern, which has pub-type snacks, but that's about it, unless you want to hit one of the expensive dinner shows in the campground (Hoop-Dee-Doo Revue or Mickey's Backyard Barbecue).
Those disadvantages aside, we loved staying in the cabin. Some of our best vacation memories are of the more relaxed moments: eating homemade muffins with our breakfast at the picnic table; barbecuing burgers with our friends on their cabin deck; kicking around a ball on the grass with the kids; sneaking up on a couple of bunnies hiding in the grass next to our cabin; watching TV with a glass of wine or beer and some snacks from our pantry while the kids slept; and driving around the loops on our golf cart to marvel at some of the Christmas displays.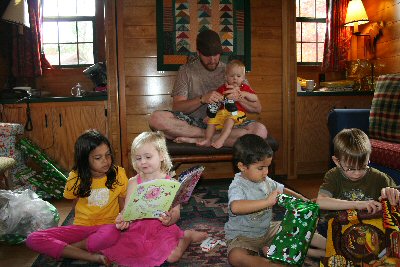 Stretching out in the living room while celebrating Christmas.
I think the cabin might work best if you're taking a longer vacation. On our first cabin trip, we were only there for five days, and spent most of our time in the parks. Even then, we found the kids enjoyed the peaceful setting and the separate bedroom made bedtimes easier. This time, we stayed for ten days so we were able to mix park days with hanging-out-at-the-campground days, and we really appreciated the comfort of the cabin.
See you at the Fort!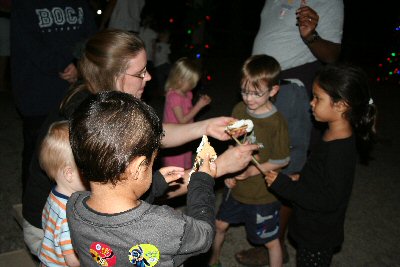 Roasting marshmallows after a day at the parks.