This post may contains affiliate links for your convenience. If you make a purchase after clicking a link we may earn a small commission but it won't cost you a penny more! Read our full disclosure policy here.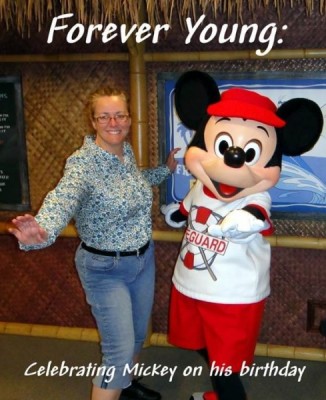 Setting the stage: It was 1928 and Walt Disney, along with his small team at the Disney Studios, had been producing a very popular series of cartoon shorts starring Oswald the Lucky Rabbit.  The cartoons and character, though Disney creations, were owned by Charles Mintz and his company – Universal Studios.  When Mintz swindled Oswald away, along with most of Walt's staff, Walt nearly lost everything.  It was not the first hit that Walt had taken, but he took the same stance he had before – the company needed to start looking for their next big 'thing'.
Enter our very small and inoffensive hero, Mortimer Mouse.  Oh, sorry, I mean, Mickey Mouse.  Several concepts of the jovial little mouse were conjured by Walt Disney and Ub Iwerks.  Once that young Mickey was chosen, Ub went on to begin production of Plane Crazy.  Originally shown in May of 1928, Plane Crazy did not attract an audience or a distributor.  Undaunted, Walt and Ub gave Mickey a second chance as the star of The Gallopin' Gaucho.  Alas, this short was no more popular than the first.  It was not until Walt gave Mickey a voice and his third starring role that Mickey Mouse took off.
On November 18, 1928, Mickey Mouse starred in Steamboat Willie as the happy – if often bullied – pilot of a riverboat.  Steamboat Willie was the first cartoon short to use the new technique of synchronized sound.  The synchronized sound was put to excellent effect.  Everything on the boat was musical and Walt ensured that there were lots of sounds to go along with the gags in the show.  Steamboat Willie was the first Mickey Mouse cartoon to attract a distributor, enabling the mischievous mouse to travel throughout the United States and later the world.
Unlike the first two Mickey Mouse shorts, Steamboat Willie took its place in cinematic history, pulling little Mickey Mouse and the Disney Studios along with it.  Mickey has starred in cartoons, movies, on television, and in comics and storybooks.  He was seen on stage and in ice skating shows.
With the advent of Walt Disney's theme parks, Mickey became a celebrity you could visit, interact with, and build memories with.  Mickey has been seen on the most amazing array of products – including as a stuffed doll from the early 1930's.
Walt Disney was reported to have said:
When people laugh at Mickey Mouse, it's because he's so human, and that is the secret of his popularity.  I only hope that we don't lose sight of one thing – that it was all started by a mouse.
And Mickey is a very likeable guy.  He is most often optimistic, imaginative, kind, and someone most of us would love to have as our best friend.  Of course, he is also mischievous, forgetful, and seems to attract trouble.  Fortunately for Mickey and his pals, this trouble usually ends up as an amazing adventure.
It was not until the 1970's that anyone thought that Mickey Mouse deserved his own birthdate.  It is reported that there was a big debate behind the doors of the Studios regarding choosing that very important birthdate.  Should Mickey's birthday be the date on the trial sketches?  After all, that would be the day that he was 'born' at least in looks.  What about the day that Plane Crazy was released?  Some argued that this was the first short that showed his personality.  Finally, the date 18 November was chosen because that was the first time that Mickey in his full being was introduced to the world.  That date he not only had movement but also sound.  He had his own voice and his own purpose in life.  And so, we now recognize Mickey and his contributions to pop culture on his birthday, November 18, 1928.
On this, Mickey Mouse's 87th birthday, let us all be thankful to the brave little mouse who started the juggernaut that is Disney.  Without him, we would not have the movies, parks, and products that bring our families together.  We would not have that cute guy in his red pants to make us smile.
Happy birthday Mickey!  Thank you for being someone who brings so much joy to so many.  Here's to another adventurous, entertaining, and human 87 years and more.