This post may contains affiliate links for your convenience. If you make a purchase after clicking a link we may earn a small commission but it won't cost you a penny more! Read our full disclosure policy here.
By: Debbie Bohem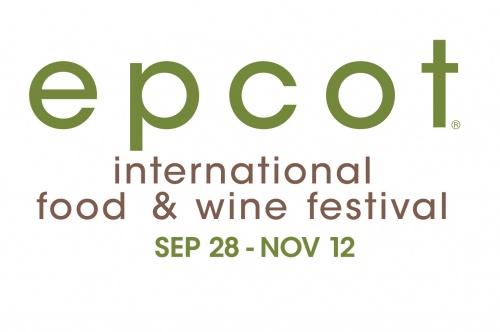 August and the Disney lover's mind turns to……..
Well, if you're like me, the Fall and Epcot's International Food & Wine Festival!
Planning your trek around the World Showcase to sample everything you just have to indulge in is no small feat.  So, at the end of July we rejoice when the official list of participating countries and menus are released.  Now, we need to decide where and what we want this year and how to accomplish everything.
First tip – avoid weekends if at all possible.  Traditionally weekends are the most crowded for the Food & Wine.  Local residents generally visit then and when you add all the people who travel to Orlando for this event it can get pretty crowded.
Second tip – buy the special Food & Wine gift card which can be worn on the wrist.  You can put as much or as little money on this card as you like and it's right there to swipe at each kiosk instead of having to pull out cash or a credit card for every morsel.  You will have to remove it from your wrist to use it but it still saves time.
Third tip – download the festival map and make a plan.  If you must have bratwurst on a pretzel roll in Germany and Canada's Cheddar Cheese soup, map it out.  It's impossible, in my opinion, to get to every country in one day so plan appropriately.   I believe that it can be done in two days but that remains to be seen.
I first downloaded the list of participating countries, including the menus, the minute they were made available on the Internet.  Then I perused the offerings from each country and chose those foods we must have.  The actual map will be available later this month.
Here are the things that I don't think you should miss:
Australia – last year's baby lamb chop with a red wine reduction sauce was melt in your mouth good.  This year's sauce is mint pesto.  I think this is a go.
Canada – that amazing cheddar cheese soup with a little bit of spice that lingers in the back of the mouth is a must.
Greece – the chicken souvlaki with tzatziki sauce was so good on both previous trips that I now make this dish at home.
Germany – the aforementioned bratwurst on a pretzel roll is an absolute must followed by apple strudel with vanilla sauce.
Belgium – the waffles with berry compote and whipped cream.  My mind is transported to eating very similar waffles at the New York World's Fair in 1964 and 1965 with my parents and sisters.  Another must.
Since this year we'll be spending at least two days at the Food & Wine, there are other items I'm hoping to try.  Canada will be offering a Wild Mushroom Beef Filet Mignon with Truffle Butter Sauce is top of my list.  It's very difficult to get a dining reservation so this is a good way to sample one of the staples at Le Cellier.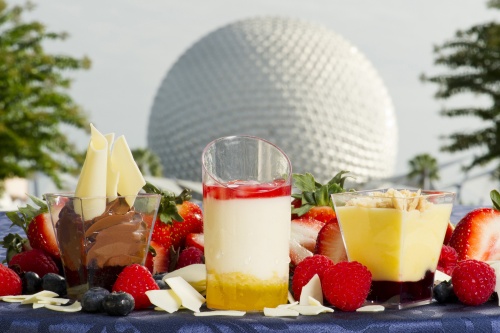 The Desserts and Champagne booth has three brand new offerings in 2012.  Yogurt Panna Cotta with Orange Cake, Raspberries and Pomegranate, Lemon Custard Verrine with Blueberry Compote and Dark Chocolate Mousse with Chili and Salted Caramel.  These three special desserts are in addition to the wonderful choices in each country's kiosk.  To top it off this booth will also be offering treats from Nesquick and Moet & Chandon Champagne.
Ireland and Poland are on my must do list this year along with a stop at Hops and Barley.  Two brand new additions to the festival this year are Florida Local and Terra.  There's even an entire kiosk called Cheese.
The beauty of the Food and Wine Festival is the ability to take a trip around the world's culinary delights in a beautiful park in the middle of Florida.  Twenty-nine different kiosks will offer tastes of meals, desserts and beer or wine.  Your trip will stop on six continents.  Now where else can you do that?
As if the culinary delights aren't enough the Food and Wine Festival is accompanied by the Eat to the Beat concert series.  Each night at the America's Garden Theatre the sounds of some well known musical groups will be a treat to the ears.  Showtimes are 5:30, 6:45 and 8:00 pm.  The lineup includes Boyz II Men, Smash Mouth, Air Supply, The Pointer Sisters, Blues Traveler and Big Bad Voodoo Daddy.
So, to figure out how to do everything.  Download the map from Disney.com by clicking on Walt Disney World, Theme Parks, Epcot and then choose Special Events.  All 29 countries and their menus are located there along with the entire concert schedule.  After you've decided which foods are your "must do" choices, circle those kiosks on the map and make your plan.  On our previous 2 visits, we started in Canada but, in one day we only managed to get to The American Adventure before our day ended.  This year we will begin our trip around the world's food at Mexico and work our way from there on day one and vice versa on day two.
The Festival Center located between Universe of Energy and Mission:Space is the place to see the cooking demonstrations, buy your gift cars and festival souvenirs including the official cookbook and Duffy the Disney Bear.
Did I mention that the countries in World Showcase are all open as well?  Take a break from eating and drinking to take a ride on Maelstrom in Norway, see the Impressions de France 360 degree flight over France, or listen to the Voices of Liberty in The American Adventure.  There's so much to do and see during this special event that it can be overwhelming.
Illuminations caps off each night at 9:00 pm.  So find a spot near your favorite culinary delight, grab a treat and be prepared to be awed by this amazing display over World Showcase to end your day.
Epcot's 17th Annual International Food and Wine Festival begins on September 28 and ends on November 12 this year.  Be prepared to be wowed.