This post may contains affiliate links for your convenience. If you make a purchase after clicking a link we may earn a small commission but it won't cost you a penny more! Read our full disclosure policy here.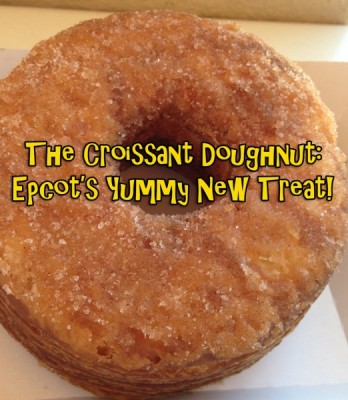 I told you all a while back that I was DYING to try the croissant doughnut that Disney recently rolled out in Epcot.  This past weekend, I managed to sneak down to Walt Disney World for a quick, last minute getaway and was able to snag this little beauty.
The croissant doughnut (or the cronut in other parts of the world) is sold at the Refreshment Port, which is located in the World Showcase Promenade, right near the pathway to the Imagination Pavilion.  It's on the same side as the Canada Pavilion.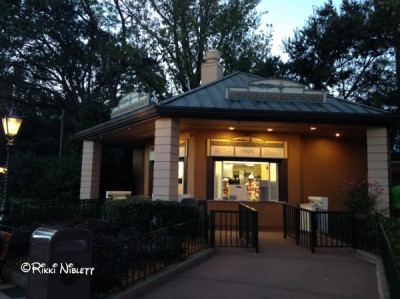 The Refreshment Port used to serve up McDonald's goodies a long time ago, but when that sponsorship disappeared, so did the french fries and McNuggets.  Now, the stop pretty much serves the Croissant Doughnut, ice cream, chicken nuggets and a few beverages, including coffees with Godiva liquor.  If it hadn't been 11:30 in the morning, I actually would have considered the libation.  However, I decided to forgo this time.
Refreshment Port Menu:  https://www.themouseforless.com/walt-disney-world/dining/menus/refreshment-port-menu/
So, what exactly is the Croissant Doughnut?  It's a croissant pastry, that is fried up like a doughnut, and dusted with cinnamon and sugar.  Right away, I knew I couldn't go wrong.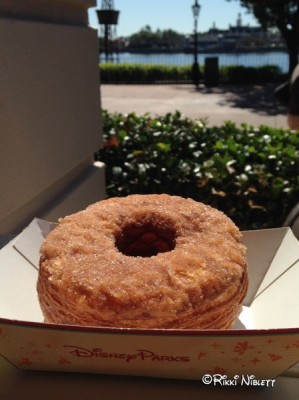 I took my first bite and I was in love.  The outside edging is sort of crispy, but as you make your way to the center it gets more doughy.  It tastes delightfully buttery and it is just caked in cinnamon and sugar.  It is deceptively bigger than it looks.  Though, trust me, I had no trouble eating the entire thing.
It is the perfect way to start your morning or a great snack when touring around World Showcase.  Make sure you have plenty of napkins on hand though.  You are certainly going to need them.
So…would I get the croissant doughnut again?  The answer…is yes.  In a heartbeat.  And I would suggest that you try it too!  It is perfectly delicious goodness.