This post may contains affiliate links for your convenience. If you make a purchase after clicking a link we may earn a small commission but it won't cost you a penny more! Read our full disclosure policy here.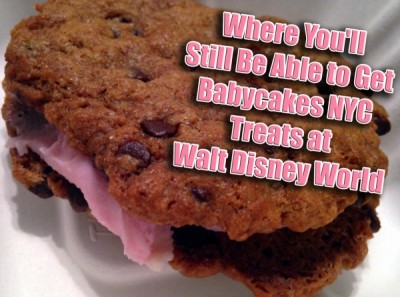 The news came out this week that three restaurants combined into one location at Downtown Disney will be closing.  They are Pollo Campero, Bodie's All-American Burgers and Babycakes NYC.  The last day of operation will be March 19th.  After that, the building (formerly a McDonald's location, back when McDonald's was a mainstay on Disney property) will be demolished to make way for more Disney Springs construction.
Now, I don't think that the Latin-inspired chicken restaurant, Pollo Campero or Bodie's will be missed nearly as much.  They never seemed to have the cult following that Babycakes NYC had.  I am sure they had their fans, but to me, losing Babycakes is a sad fact.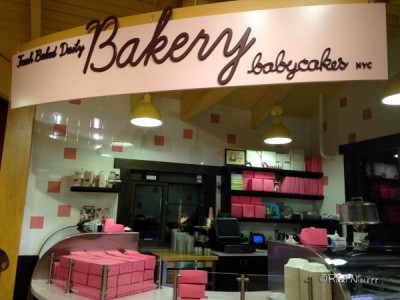 You see, Babycakes NYC sold gluten-free, vegan, organic, and diabetic-friendly bakery items and they baked their treats fresh daily.  You never knew what you'd see available for sale at their counter.  Some things were staples: their cupcakes, their doughnuts, and their cookies.  But every once in a while they had a truly unique item for sale…like their version of a mounds bar or currently, they were selling a version of King Cake for Mardi Gras.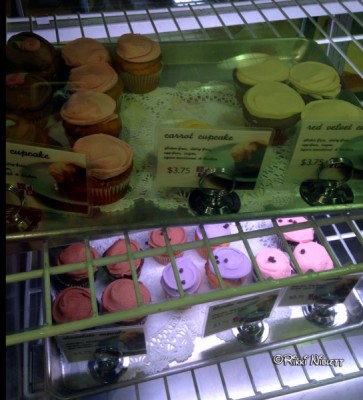 Their little kiosk could be found inside the Pollo Campero building, just to the right hand side of entering the main doors.
Matter of fact, just a couple of weeks ago, I made a stop at Babycakes.  Even though I do not have any dietary restrictions, I was in the mood for one of my favorite treats they sell…the cookie sandwich.  It's a wonderful treat made up of two of their famous cookies with a healthy smattering of icing in the middle.  It is oh so yummy and I enjoyed it immensely!  (I also loved that my icing was pink!  It was right after Valentine's Day.)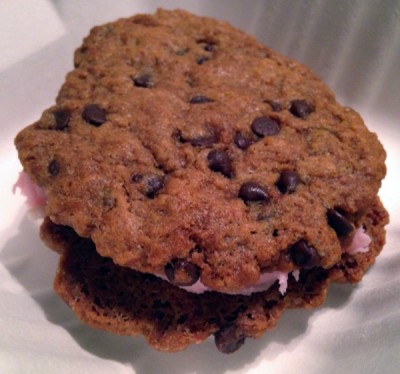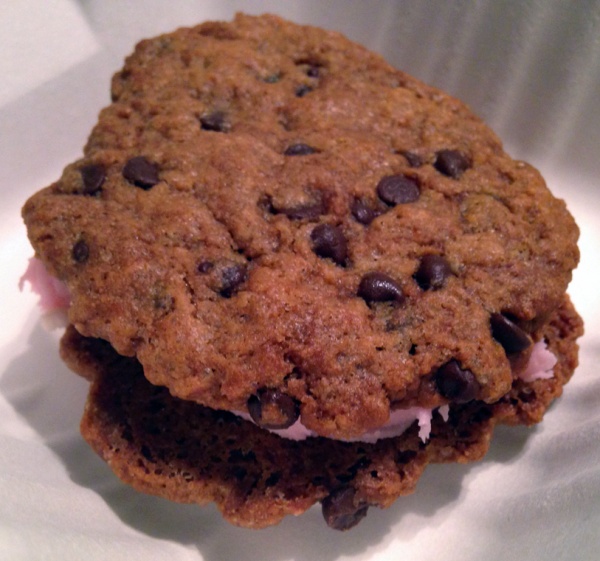 This bakery was really a godsend to many people.  It was one of the few places where people with dining restrictions could go without many problems what-so-ever. The staff was always friendly and willing to answer any questions you had.  Not having the ability to get the chance to choose from a multitude of items for these families and individuals will be a huge loss. However, those who were fans of Babycakes NYC, fear not!  You will still be able to buy some of their products at select locations around property, so at least they aren't disappearing completely.
Babycakes NYC will offer their products at the following locations:
Disney's All Star Sports Resort:  The End Zone
Disney's Animal Kingdom:  The Gardens Kiosk
Disney's Animal Kingdom Lodge: The Mara
Disney's Art of Animation Resort: Landscape of Flavors
Disney's Beach Club Resort:  The Beach Club Marketplace
Disney's BoardWalk Resort:  The Boardwalk Bakery
My hope is that Babycakes NYC will just be on a temporary leave from Downtown Disney and that when it's rebranded as Disney Springs that it will return with it's own cute little shop.  (I mean, it's such a great bakery…I can't imagine that it would disappear forever.  There has to be a spot for it in Disney Springs, right?)
What are your thoughts?  Have you stopped at Babycakes for a treat?