This post may contains affiliate links for your convenience. If you make a purchase after clicking a link we may earn a small commission but it won't cost you a penny more! Read our full disclosure policy here.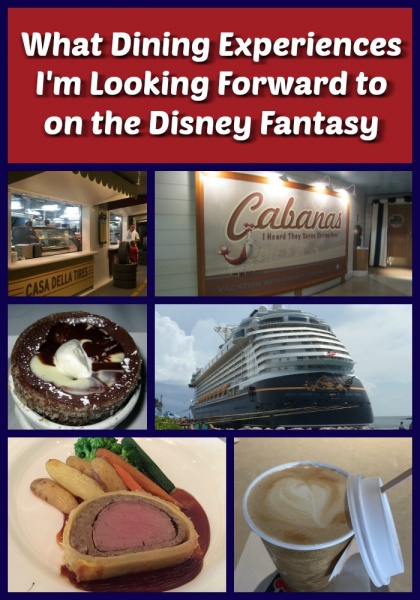 The excitement in my household is reaching a fever pitch! We are just days away from a Disney Cruise. This isn't just any Disney Cruise, but it is a cruise on the Disney Fantasy (for the first time!) with a huge group of friends. It can't get much better, right? I can't wait to sun near Satellite Falls, catch the great theater shows, ride the AquaDuck, have a verandah for the first time ever, oh and yes, eat until I burst! That's the fun part of cruising right?  So, here's what I'm looking forward to experiencing this time!
Remy: I've always been intimidated by Remy. It's got a fancy menu, you have to really dress up, it has a semi-decent upcharge ($75 currently) and the feel is just extraordinary elegant. Remy is themed around the movie Ratatouille and features a French-inspired menu that consists of of superior seasonal ingredients. But this cruise, because it's a seven night extravaganza, I decided to take the plunge and try this sophisticated dining experience at least once. We're going with friends, so dining here will be fun no matter what, even if I don't know if I know what I'm eating.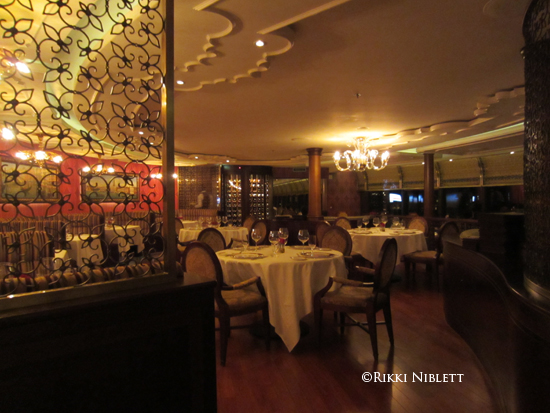 Palo: Again, another surcharge restaurant, but I highly find this one worth it. I have never not once not had an outstanding meal at Palo. With a meal that features a northern Italian menu with a modern twist, Palo is intimate, without being stuffy. At dinner, I thoroughly enjoy the antipasti plate, the lobster ravioli, and of course the famous chocolate souffle. At brunch, I've enjoyed all the offerings! If you leave Palo hungry, you've done it wrong.  Usually I'm being rolled out of there; stuffed beyond belief.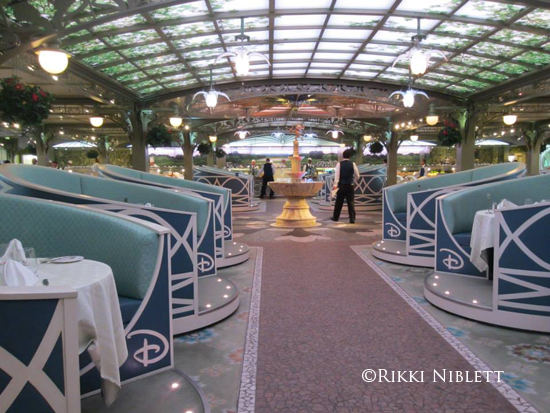 Rotational Dining: One of the more unique aspects of Disney Cruise Line is what is known as rotational dining. Here, you go to the different restaurants onboard the ship, and your waitstaff follows you! This means they know your preferences quickly and can easily have favorite beverages and other options available for you without hesitation. By the end of the cruise, you really do become attached to your servers. After all, they've been a part of your family for the past few days!
Room Service: This is something I've never experience, but very much look forward to doing for the first time. Since we're in a verandah, I want to at least try one morning to have room service bring me breakfast where I can enjoy my coffee on the balcony with a good book. There's something that seems so peaceful about that. (But as a head's up, remember that if you do use room service, you do have to tip them with cash…make sure to have some on had.)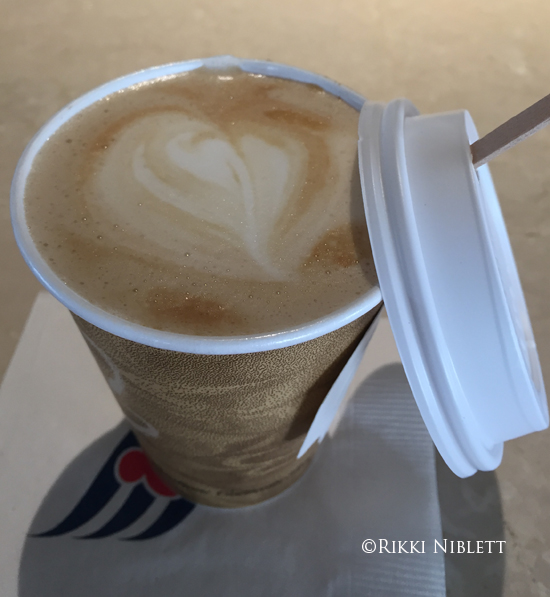 The Cove Cafe: This is a great little coffee shop that is found the adults section of the ship. You can indulge in gourmet coffee options (which do come at a cost) and enjoy a great pastry to go with it. I love that you can look out at the adult pool through the giant circular windows!
Casual Dining: You never go hungry or thirsty when you are on a Disney Cruise. Why? Because there's always something open that's serving up some sort of treat. Whether it's Flo's Cafe with its pizza, burgers, chicken fingers, and fries; or it's Cabana's serving breakfast, lunch, or dinner; appetizers in the bars; all the ice cream you could ever want; or soda fountains that serve free soda (which is a rarity in the cruising industry.)
Sweet On You: Recently the Disney Fantasy went under the knife and saw a small refurbishment. With the addition of some big changes in the kids clubs, there was also the addition of the new Sweet on You sweet shop. Here, you can get gelato, ice cream, cookies, cupcakes, and more. While it does have an additional cost to purchase something here, I hear the treats are incredible.
So those are just a few of the many dining experiences I'm looking forward to on the Disney Fantasy! Now it's your turn. Is there something that I didn't mention that you think I should have? Or something that you want to see me make sure I review when I get back? Let me know in the comments!
Did you like this article? Make sure to share it with your friends! Check below for easy ways to share!