This post may contains affiliate links for your convenience. If you make a purchase after clicking a link we may earn a small commission but it won't cost you a penny more! Read our full disclosure policy here.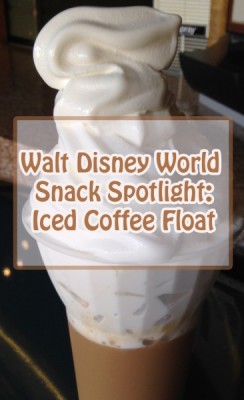 The summer heat is here, and one especially feels it while visiting Walt Disney World, well, the majority of the year! However, during a summer vacation to the parks, you are looking for any little way to cool yourself off from the blazing heat!  Well I have found a great and unique way to cool off on your next trip!  It's the iced coffee float!
Now, I first discovered this treat last year at Sunshine Tree Terrace…however this was back before the Terrace swapped locations with Aloha Isle.  Now that Sunshine Tree Terrace is located near the front of Adventureland, things may have changed.  While the menu does indicate that the quick service location serves up soft serve ice cream AND iced coffee, the menu no longer lists it as an option at Sunshine Tree Terrace.  If you are in the area and you are craving this treat though, I suggest simply asking if they can make one for you.  The worst they could tell you is no.
However, with all that being said, I do know of at least one more location of where you can get this sweet and refreshing treat…it's at Auntie Gravity's found in Tomorrowland next to the Merchant of Venus shop!
Ok…so what is this treat like?  Well, it's simple.  Disney takes ice coffee and pours some into an ice cream cup.  Then they add ice cream on top!  Oh and did I mention that they don't just add ice cream on top…they PILE it on top! This treat is the classic float, just with iced coffee instead of soda!  And what a genius idea too!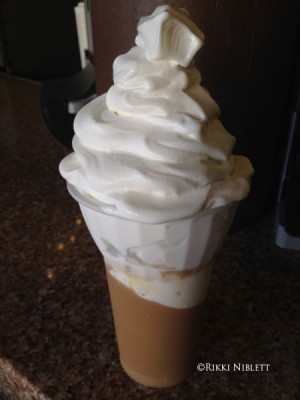 You can get this great snack with one of three different types of coffee – french vanilla, mocha or just latte.  I tried the french vanilla and WOW was it sweet!  The vanilla of the ice cream and the french vanilla flavor of the coffee paired together quite nicely and is perfect for the vanilla lover in your family!
This treat was so sweet that I couldn't even finish it.  (Which for me something has to be ridiculously sweet for me not to finish.)  Just because it was super sweet doesn't mean it wasn't incredible though.  Also something to note, on an extremely hot day, like most afternoons are in Orlando, keep in mind that the soft serve ice cream will melt FAST.  And because there was so much piled on top, it made for quite a mess.  I strongly suggest stopping and eating this one at a table, because otherwise it will be everywhere.
Overall, I was exceptionally pleased with this great treat and I certainly plan on getting one here on my July vacation! Only this time, I think I might try the mocha.  Chocolate and vanilla mixed together, now that sounds like a match made in heaven!
Have you ever tried this treat? Do you know anywhere else you can get it across Walt Disney World? Let me know your thoughts in the comments!