This post may contains affiliate links for your convenience. If you make a purchase after clicking a link we may earn a small commission but it won't cost you a penny more! Read our full disclosure policy here.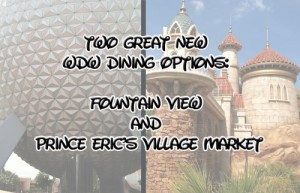 I always want to keep you updated on the newest food options that can be found at Walt Disney World and today, I have two great new options for guests.  One can be found at Epcot and one at the Magic Kingdom.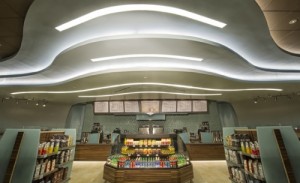 First, off, the biggest in the Disney foodie world this week, is that the second Starbucks location has officially opened in Epcot.  Known as Fountain View, this former ice cream parlor can be found near the Fountain of Nations, on the same side as Club Cool.
This new coffee shop takes it's nods from it's futuristic location and is presented with a more modern approach.  A delightful teal, wood, and frosted glass palate can be found throughout the location, with "waves" that appear to be cut out in the ceiling.  Because of it's more "modern" feel though, this location tends to feel a bit more like a traditional Starbucks location, instead of it's sister store over at the Main Street Bakery, with a period-specific feel making it feel more like a random coffee shop.  The Starbucks name and logo are also more prominent on the outside of this building.
Menu offerings include the classic drinks, like lattes and Frappucinos, as well as Starbucks breakfast sandwiches and pastries.  A few Disney goodies can be found here though, like cupcakes and brownies.  Additionally, bags of coffee, as well as VIA packets can be purchased.  The Starbucks card will be accepted here, however, rewards will not.
Full Menu:  https://www.themouseforless.com/walt-disney-world/dining/menus/fountain-view-menu/
Additional locations are still on the drawing board for Disney's Hollywood Studios, Disney's Animal Kingdom and apparently two for Downtown Disney.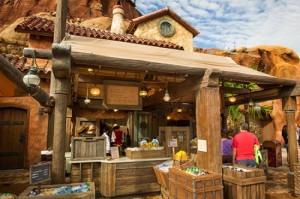 The second quick counter location that opened this week is Prince Eric's Village Market, located near Under The Sea ~ Journey of the Little Mermaid in New Fantasyland at the Magic Kingdom.
This shop is pretty much on the opposite spectrum as the Starbucks, selling healthier, better for you food options.
Guests will be able to snack on fresh whole and cut fruits, greek yogurt, hummus and pretzel chips, craisins, and pickles.  For those who are looking for an icy treat, shaved ice will be served here as well, with five different flavors to choose from.  These include blue raspberry, cherry, grape, orange, and watermelon.  Frozen lemonade can also be picked up.
Healthy drink options can be found here as well, such as all natural lemonades, Odwalla, orange juice, apple juice, and bottled water.
Full Menu:  https://www.themouseforless.com/walt-disney-world/dining/menus/prince-erics-village-market-menu/
Both locations are sure to be delicious and add different perks to each park.  (For example, Epcot – as well as all the parks- needed a serious upgrade in coffee and having healthy snack options in the Magic Kingdom is great for those who don't always want a Mickey Premium Ice Cream Bar…wait…who am I kidding…I always want that…)
Which of these two options appeals most to you?