This post may contains affiliate links for your convenience. If you make a purchase after clicking a link we may earn a small commission but it won't cost you a penny more! Read our full disclosure policy here.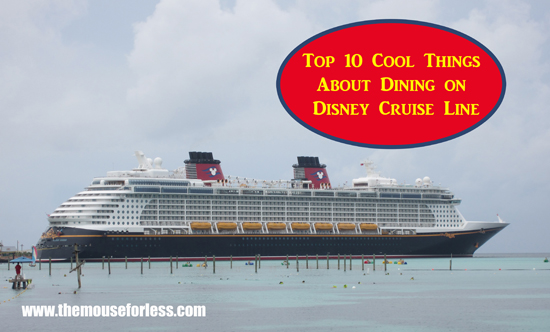 I am officially in the countdown until my next Disney cruise!  Just over 8 months until I get to see that beautiful ship again. In addition to being absolutely in love with the ship overall, I am totally head over heals for the food. I mean, how can you not be? As soon as I board that ship, it becomes my own personal all-you-can-eat smorgasbord! There really isn't anything bad about dining on Disney Cruise Line, but some things certainly stand out over others.  So while I'm sitting here day-dreaming about being on-board the incredible Disney Dream again, I'll share with you my Top 10 Cool Things About Dining on Disney Cruise Line!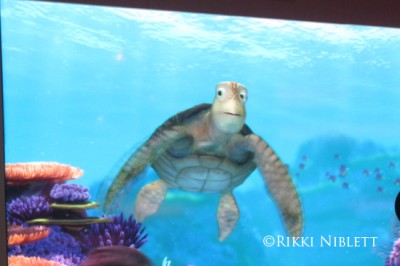 Animator's Palate: How cool is this restaurant? There are shows that take place each night you dine there. You can interact with Crush from Finding Nemo, you can draw your own cartoon character, or you can watch as the place transforms from black and white into color. I also love the little artistic touches that can be seen all over the room, including paint brushes on the plates, and art palate as a centerpiece, and gorgeous art all over the walls.  (PS: I would like to have one of the awesome chairs too.)
24 Hour Room Service:  Have a hankering for a great midnight snack? Done! Want breakfast in bed? Done! Have a little one who needs to eat a quick snack after a nap? Done! Anytime you want something to nosh on, you've got it at your disposal. (While room service is complimentary, just make sure to tip your server.)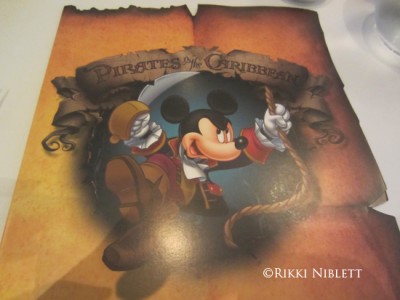 Pirate Night: One of the most fun part of cruising DCL is Pirate Night. (The official name of the party is The Pirates in the Caribbean party) You get to dress up and on top of that, you get to enjoy some incredible special menu items that are served throughout every restaurant on the ship.  There are some great options like pot stickers, seafood pastas, and more!  Each item is themed to the evening's festivities.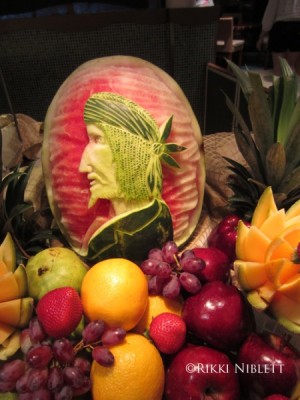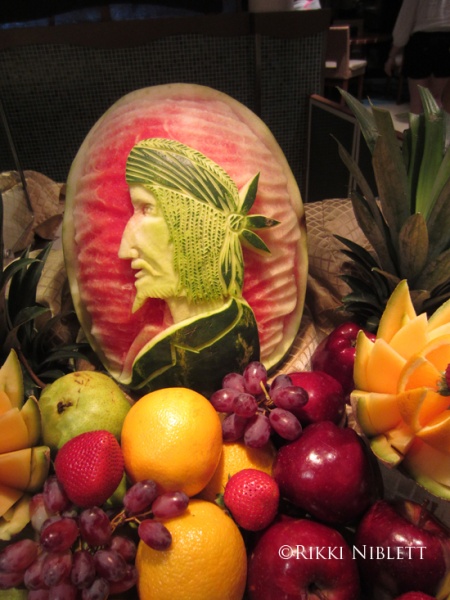 Midnight Buffet:  Speaking of Pirate Night, did you know that there was a midnight buffet that evening?  There's tons of different offerings, including giant turkey legs! Stay up for this one; it's totally worth it.
Unlimited soda, lemonade, tea, and coffee: One of the big perks of Disney Cruise Line is the unlimited non-alcoholic beverages. (These are only available on the pool deck section.  If you go into the bars, you pay for these beverages.) This is huge, especially given that most cruise lines charge for this perk. So, if you're a big soda drinker, know you have the freedom to drink up!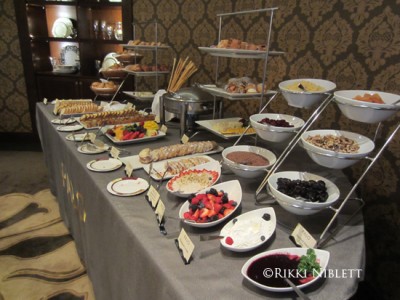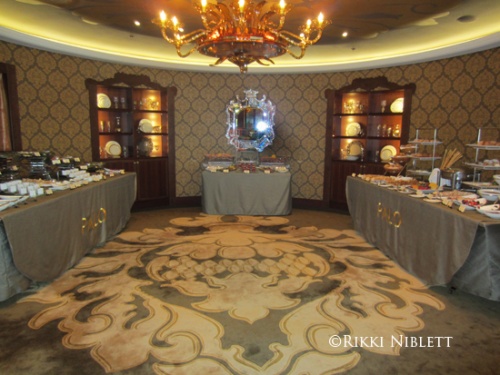 Palo Brunch: Want to know the one meal that I always come out super stuffed from? It's a meal at Palo…specifically Palo's brunch.  This meal is only offered at days at sea and it does come at an additional cost, but oh my god, is it worth it!  You get to choose from any of the brunch items available on the buffet (and there are a ton), then you can choose to order a flatbread or a main dish (the chicken Parmesan is amazing…but the pancakes aren't bad either!)  The last time we ordered both flatbreads to share amongst the table AND we each had our own main dish. THEN you get to go to the dessert bar and get as many desserts as you choose!  Oh my god. Honestly….if you don't leave rolling out of there by the end of this meal, you didn't do it right.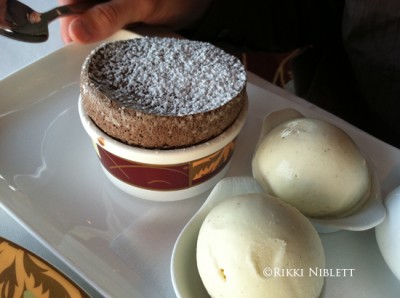 Palo's Chocolate Souffle:  Speaking of Palo…this one gets its own mention, because it's that good.  During a dinner at Palo (which again, dinner has an additional per person cost), you have the option of ordering the chocolate souffle for dessert.  If you are a chocoholic, this is the dessert for you.  It is rich, and dense, and incredible.  This is a dessert that is meant to be savored. And savor I do.
Snacks at the Lounges/Bars:  So, you've eaten dinner and you're hanging out in the evening at the lounge and bar section of the ship, enjoying a nice cocktail or beer.  All the sudden…because you haven't eaten in 20 minutes, you realize that you are hungry. What is a person to do?! It's been 20 minutes…I'm so famished!  Never fear–Disney Cruise Line has you covered!  You see, there is a section (on the Dream, it's located near the front of The District) where guests can grab a few appetizers to nosh on.  They have lots of great options and they rotate not only during the evening, but each night.  Just know..you are covered and you will not go hungry.
Ice Cream All The Time from Eye Scream Treats: Oh my god…as if I didn't eat enough…did you know you can grab an ice cream cone any time you want one? Yep!  I don't even think this needs an explanation.  This is just awesome on it's own!  (Eye Scream Treats is available on on ships except for the Wonder.)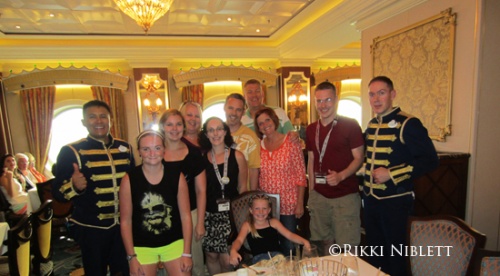 Rotational Dining:  One of the hallmarks of Disney Cruise Line is rotational dining. But what exactly is rotational dining? It's where you visit different restaurants on each night of your cruise, but your serving staff follows you.  This means that they know what your likes and dislikes are, can offer great suggestions, have your typical drinks all ready for you even before you sit down, and you become connected with these Cast Members in a way that's totally unique.  We always get our photo taken with them at the end of the cruise.  So, as you can see, rotational dining is a major perk and it's only available on Disney Cruise Line.
So, that's it.  My Top 10.  Cruising and dining on Disney Cruise Line is simply fantastic experience. You can try things you never thought you'd try, you can delight in things that you absolutely love, and you will leave fuller than you've ever felt before, probably gaining 20 pounds in the process.  But that's what's so great about cruising! The only problem…getting off the ship.  As soon as you're back in the real world, you get sad that you're not eating every chance you can get.  Haha!
Those are my thoughts, but what are yours?  What's your favorite Cool Thing about dining on Disney Cruise Line?  Share with us in the comments!