This post may contains affiliate links for your convenience. If you make a purchase after clicking a link we may earn a small commission but it won't cost you a penny more! Read our full disclosure policy here.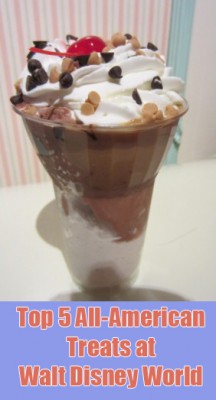 Happy Fourth of July weekend everyone! I'm ready to celebrate the birthday of our magnificent country's birthday in style and I hope that you are too!  You know who else presents an amazing salute to our country? Walt Disney World! Not only do they put on one heck of a show on July 4th, but they also celebrate our country throughout many of their parks with different lands, attractions, and yes, even dining!
So, today, I have found for you, the Five Best All-American treats that you can find throughout the Walt Disney World property! I hope you're hungry!
The Red, White, and Blue Salad (Liberty Inn): First things first, we're gonna start a little light. Let's start with a salad. Now most people don't have Liberty Inn on their radar, however, if you're looking for a patriotic dish, this is the place to visit! The name of the salad is thanks to the ingredients found in the dish.  It's prepared with Field Greens, Ocean Spray Craisins, Pecans, Apples, Blue cheese, Sherry Vinaigrette.  Yum! Simply delicious! See…now you have a reason to put this one on your list of things to try!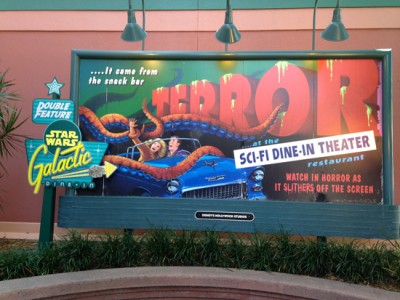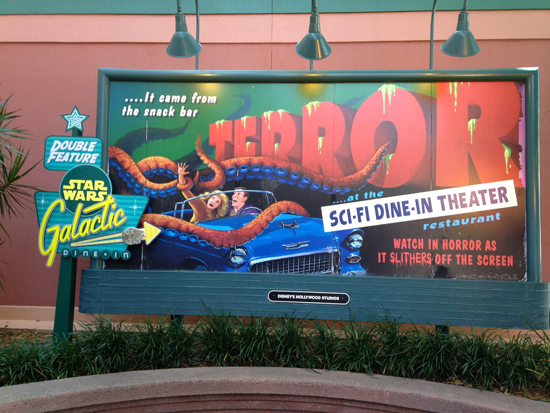 The Famous All American Picnic Burger (Sci Fi Dine-In):  Ok, we started with a nice salad, let's move on to the main course. I'm talking about the All American Picnic Burger!  This thing is a monster. It consists of a Flame-broiled Angus Burger Patty topped with Grilled Hot Dog, Sauerkraut, and Sautéed Onions drizzled with Ketchup, Mustard, and crowned with a Pickle Spear. Nothing says USA like both a burger and a hot dog piled on top of each other in the same sandwich, next to a helping of fries! Mmmm..mmm.
Johnny Appleseed Cake (Liberty Tree Tavern): Looking for something a little different to round out the meal? While it isn't apple pie, it is an interesting spin on the apple dessert.  It's at tavern-made White Cake filled with Apples and Craisins Dried Cranberries all topped with Ice Cream. Enjoy this dessert with a good old mug of Patriot's Punch and you are good to go!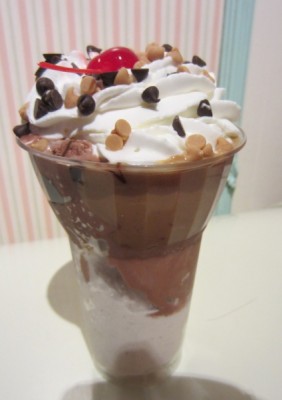 The All-American Sundae (The Plaza Ice Cream Parlor): Would you rather have ice cream? Look no further than the Plaza Ice Cream Parlor!  How do you get more delicious than a sundae piled with both vanilla and chocolate ice cream, chocolate and peanut butter sauces, chocolate and peanut butter chips, whipped cream, and a cherry?
The American Dream (Fife and Drum Tavern): To round out our list, we include this great treat which you can grab and walk around World Showcase with.  Found at the American Adventure Pavilion, this treat prominently features the color that scream America.  The American Dream consists of Frozen Strawberry, Vanilla Ice Cream, and Frozen Blue Raspberry. Grab one today and enjoy the cool delight during the ever so hot summer afternoons. (Or, if you're in the Magic Kingdom, head to Sleepy Hollow to grab a similar treat, the Presidential Sweet, a combination of Blue Raspberry and Strawberry Slush topped with Vanilla Soft-serve Ice Cream.)
So, that's my Top Five, but this is where you come in. I'm sure I missed some great treats that are simply All-American to you!  Let me know in the comments your favorite!