This post may contains affiliate links for your convenience. If you make a purchase after clicking a link we may earn a small commission but it won't cost you a penny more! Read our full disclosure policy here.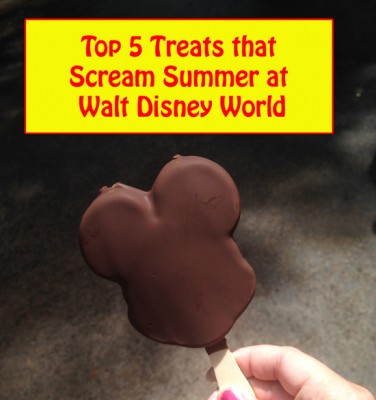 Summer vacation is here. Matter of fact, I'm on my Walt Disney World Summer Vacation right now! Since it's summertime, there are certain treats at Walt Disney World that are just better to enjoy in the heat! Ok…they are good to enjoy all the time, don't get me wrong, but there is just something about them especially in the summer.  Let's take a look at my Top 5 Treats that Scream Summer at Walt Disney World!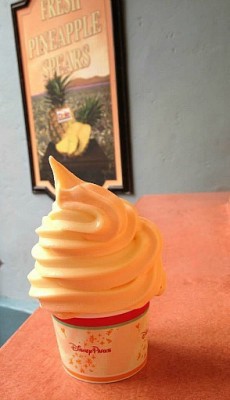 Dole Whip Swirl: You knew this one would lead things off, right? It's ice cream, it's pineapple fruitiness, it's the epitome of summer. I don't think there are any other words necessary, right? Now with two dedicated locations to grab one at (Disney's Polynesian at the Pineapple Lanai and Aloha Isle at the Magic Kingdom, plus, you can also grab this treat at Tamu Tamu at Disney's Animal Kingdom…with rum!)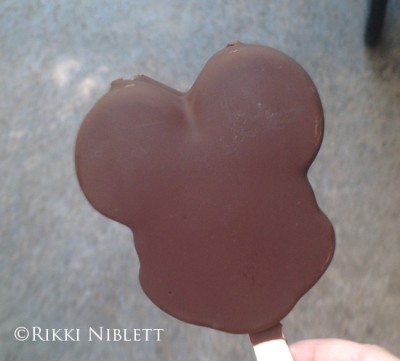 Mickey Ice Cream Bar:  While I love eating this any time of the year, there's something really special eating it when it feels like it's 150 outside. It's that special race of "Can I eat this without melting all over me?" Due to the extreme temps, I should always know I'm going to loose. But it's totally worth it when you bite into it and get that cool ice cream/chocolatey rush.
Kakigori:  Found at Epcot in the Japan Pavilion's Kabuki Cafe, this is another one of those fruity treats that is perfect while touring in the middle of the afternoon and you're looking for a good cool down!  Shaved ice and fruit flavors meld perfectly here in a unique snow cone.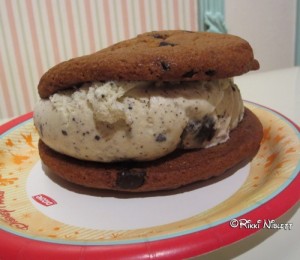 The Ice Cream Sandwich Cookie: Found at various locations throughout the World, this is another where you are attempting to eat it before it melts all over.  It's two giant cookie with a slab of ice cream pushed between them! This is one treat where it's big enough to share, but perfectly ok it you don't want to!
Wheezy's Breezy Freezy: Found at Hey Howdy Hey Take Away at Disney's Hollywood Studios, you can get one of these freezes in one of four great flavors-Coke, Wild Cherry, Lemonade or Watermelon. Just try not to get a brain freeze!
Honorable Mention: Due to it being a not totally Disney-only thing, I'm going to throw in the Starbucks Frappuccino here. It's like a milkshake with a jolt of caffeine and perfect for sipping through the parks!
There are a lot of great treats that are perfectly summer at Walt Disney World and of course, I've just scratched the surface! Make sure you share the treat that makes you think of summer from Walt Disney World in the comments!