This post may contains affiliate links for your convenience. If you make a purchase after clicking a link we may earn a small commission but it won't cost you a penny more! Read our full disclosure policy here.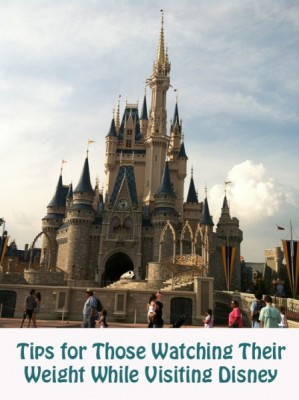 With the beginning of the year, we all have those resolutions we are attempting to keep.  Some are attempting to post 365 days of photos, some are attempting to quit biting their nails, and some are attempting to watch their weight.
The hard part is when vacation rolls around.  Now, for many of us, when you're on vacation, the calories don't count. However, we all know that's not true and that people who are watching their weight should continue to watch what they eat while visiting the Disney theme parks.
But let's be honest–It's not easy to do.  There are so many tempting treats like ice cream, popcorn, cake cups, turkey legs, caramel apples, I could really go on and on. But for those of you being cautious, a Disney vacation can seem, well scary.  You don't want to blow all that good work you've accomplished so far.
So, here are my top tips for those watching their weight, but still want to travel to a Disney park.
Consider sharing meals:  We all know that Disney meals are HUGE.  There is simply no way I can eat a full plate all by myself, whether it's at a table service or counter service location.  So, what my husband and I will end up doing is finding something that we both can agree on and splitting it.  It cuts the calories and means you don't accidentally eat a full plate all by yourself.
Don't dine at buffets:  Buffets are so awful for people watching their weight.  You see, you decide to try a little of this and a little of that.  And oh…let's also add some of this.  Before you know it, you're sitting there with 2 or 3 empty plates of food.  Then of course, you'll want to sample the desserts!
Purchase kids meals at counter service locations:  It's all about moderation and to me, kids meals are just the right size!  Plus, they come with healthier options, like apples, grapes, or carrot sticks.  Not to mention, you can get a milk or a bottled water with your meal.  Don't worry if you don't have a kid with you in your party.  You'll be able to still get a kid's meal without any issue.  I do it all the time.
Order water with your meals:  Did you know that at counter service locations, if you ask for a cup of water, they'll give you one…for free?  Not only are you not drinking a sugary, carbonated beverage, but you're saving money too.  I call that a win!
Watch the drinking:  I don't just mean alcohol, but every liquid you ingest.  It sounds like a great idea to get a Grand Marnier Slush, a Starbucks latte, and then stop at Club Cool at the time, but all those things have extra calories that so many of us don't consider when we think about what we ate.
Don't do the Disney Dining Plans:  I know that the Disney Dining Plans sound like a great deal.  You can pay for all your meals up front and you don't have to worry about what the cost is.  However, for those watching your weight, this is a terrible idea.  It's just so much food!  Plus, almost every meal comes with dessert!  And while there are certain options that are healthier than others, having dessert with every meal is just asking for the extra pounds.
Don't order fries:  Did you know that you can actually order meals without the addition of fries?  If you just want to order a burger at most counter service locations, there is the option to order the burger ala carte.  If you do want something extra to nosh on, see if they'll substitute the fries for the apples, carrots, or grapes.
Grab a piece of fruit:  Looking for a good snack or better yet, something to eat in the morning?  Skip the Mickey Waffle (ack!) and grab a banana, apple, or orange.  These are available in most food courts, as well as certain stands throughout the parks. They do say, an apple a day….
Don't skip your work outs:  Did you know that many Disney resorts have workout facilities?  In addition, many resorts have paths to run on.  So, keep your normal workout routine and get out there.  Your body will thank you for it.
Don't stress:  Honestly, don't stress about what you eat too much.  If you don't totally gorge yourself, you'll likely do fine thanks to all the extra walking that you'll do.  Most walk miles and miles on a Disney trip, and that's per day!  So, unless you just totally over-do it, you'll likely burn off most of the extra calories that you ate.
Honestly, a trip to a Disney park can really be done successfully without a lot of weight gain.  It is possible.  I achieve it every time.  But you have to remember to be smart about what you do.  As much as I wish there were no calories in Disney, unfortunately, that's just not the case.
What did I miss? What tips do you have for watching your weight while traveling to Disney?