This post may contains affiliate links for your convenience. If you make a purchase after clicking a link we may earn a small commission but it won't cost you a penny more! Read our full disclosure policy here.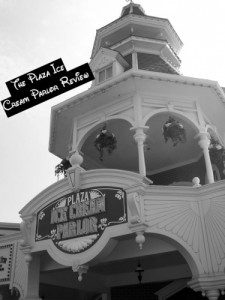 So…you want to know what one of my all time favorite places to stop off at when in the Magic Kingdom?  The Plaza Ice Cream Parlor.
The Plaza Ice Cream Parlor can be found on Main Street USA, closest to the Castle and right next door to the Plaza Restaurant, opposite Casey's Corner.  The restaurant, specializes in delicious ice cream treats and is very much in the gingerbread style, akin to the time period, with lots of white, along with pinks and teals.
The shop is tiny and gets extremely busy during the evening while people are waiting for the nighttime parade and fireworks, however the lines typically move fast.  Once you get up to the registers, you place your order.  You then head up to the counter until they call out your order.
The restaurant has no indoor seating, but does have a few tables right outside it's doors, as well as some umbrella covered tables that are over by The Plaza Restaurant, with a great view of Cinderella Castle.
For those on the dining plan, most items here are on the Disney Dining Plans as a snack credit.  Which allows for some great values for some of the items!
Now, let's take a good look at that menu, shall we?
Guests can choose from options like an ice cream float made of vanilla ice cream and either coke or root beer, or a cone, where you get to choose which of the (typically) 10 different options of ice cream.  The ice cream here is of the hand scooped variety (the way I like it!) and is actually made by Edy's.  The flavors here change frequently, so make sure to look at the board when deciding on your option.  What you had the last time may not be there.
Of course, a perennial favorite is The "Plaza" Ice Cream Sundae.  This is served in a waffle bowl, with vanilla ice cream, hot fudge, whipped cream and a cherry.  This is one of those treats that I think can be shared, if you so choose.  It is quite delicious.  How can you go wrong with a classic?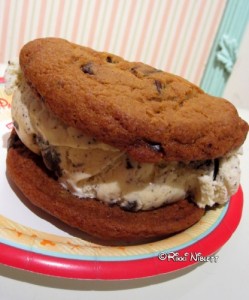 Are you looking for something a little more interesting?  Then try the ice cream sandwich cookie. Brought over from the Main Street Bakery once it closed to be converted into Starbucks, this slice of incredibleness is thankfully still available on Main Street.  (You can also get a version at Sleepy Hollow in Liberty Square.)  I talked about this delightfulness in a previous post about the best snacks at the Magic Kingdom and I stand by that.  It is hard to go wrong with two incredible chocolate chip cookies and a thick smattering of ice cream. (Your choice, by the way.)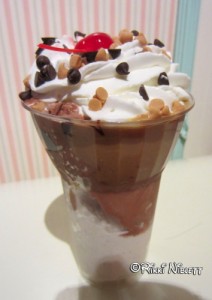 However, my new favorite that can be found at The Plaza Ice Cream Parlor was just recently introduced.  Known as the All American Sundae, this cup of ice cream is just perfect.  (Well, to me…)  Take scoops of chocolate and vanilla ice cream, add hot fudge, peanut butter, whipped cream, chocolate chips, peanut butter chips, and a cherry and you have the best treat known to man.  (Yes…this is a much smaller version of a No Way Jose…oh happy day!)  I am a HUGE peanut butter in ice cream lover and as soon as I saw that this was on the menu, I hopped on my chance to get it.  I think I got it no less than three times while I was there in July.  What I love is that it is smaller than a No Way Jose, so I don't have to share, but it's still enough ice cream that I feel satisfied when I'm done.  I am so happy they brought this treat into the shop and I really hope it stays there for a long time.
For the kiddos, they do have a special Mickey Mouse cone with vanilla ice cream and chocolate ears.
The Plaza Ice Cream Shop is certainly a must stop for me and with the addition of the All American, it looks like it will now be a multiple stop per trip place for me.  There is so much here for everyone.  There is nothing better than stopping here at the end of the night, grabbing a treat, sitting down with a view of the Castle and waiting out the crowds as they all leave the park.  It really is magical.