This post may contains affiliate links for your convenience. If you make a purchase after clicking a link we may earn a small commission but it won't cost you a penny more! Read our full disclosure policy here.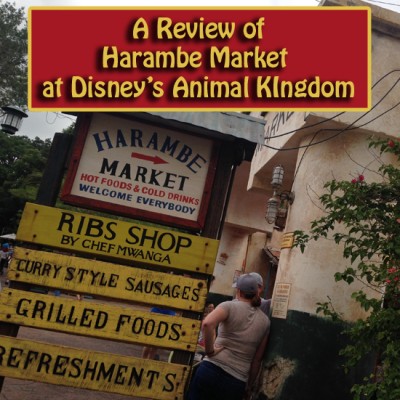 I was in Walt Disney World over Memorial Day weekend, so of course, one of the places I knew I needed to make a stop at was the recently opened (like it opened that weekend) Harambe Market at Disney's Animal Kingdom.
This new quick-service area can be found in the Africa section of the park. It is an open-air, outdoor market area, that features African-inspired street food at four different walk-up windows.  There is also shaded seating available for guests wishing to dine here.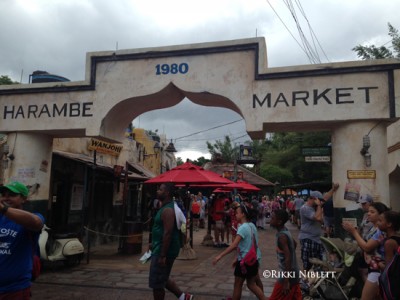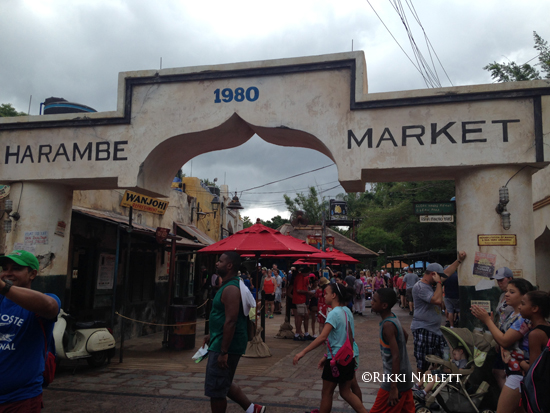 As I mentioned, there are four different areas where guests can grab a meal or a snack. They are Kitamu Grill which offers skewered chicken and a kabob flatbread sandwich. Famous Sausages features a corn dog, dipped in curry-infused corn batter. Chef Mwanga's serves a spice-rubbed karubi rib with green papaya-carrot slaw.  Finally there is Wanjohi Refreshments which serves South African wines, beers, and mixed drinks. A fifth kiosk will be opening later called Zuri's Sweets.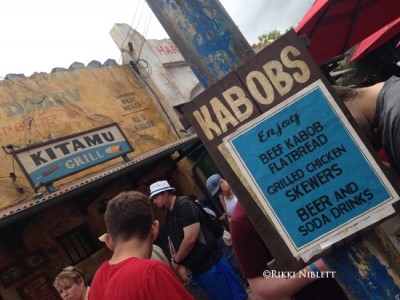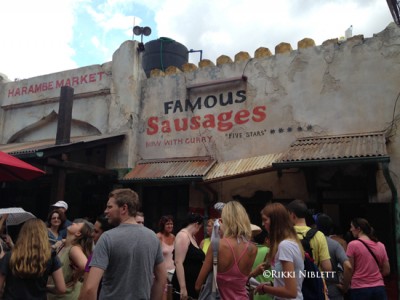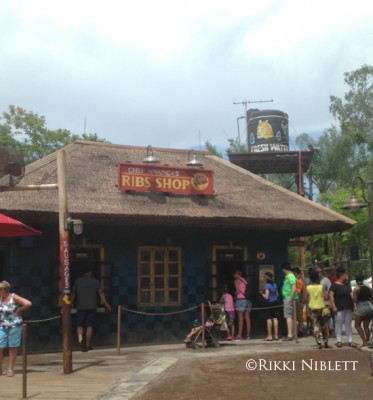 The story behind the area is that it was built around a Colonial-era train depot design complete with a 1960s water tower.  According to Disney, "the marketplace re-creates a bustling center of commerce where guests are welcomed from around the world who have come to visit the little seaside town and venture out to the reserve to observe Africa's animals."
If you know anything about Disney's Animal Kingdom, than you know that the story is clearly played out in the details and this new section is filled with details aplenty! You won't believe how many small touches and knick-knacks scatter this new area contains.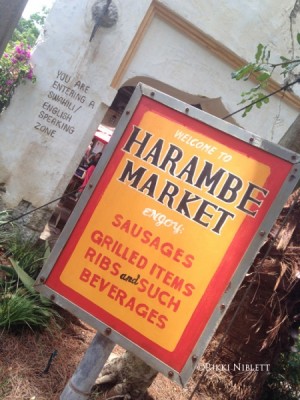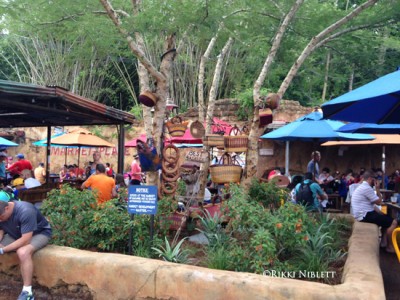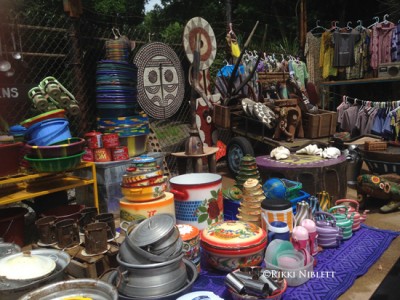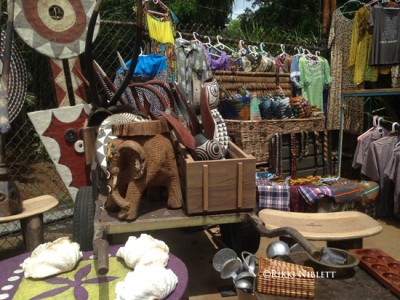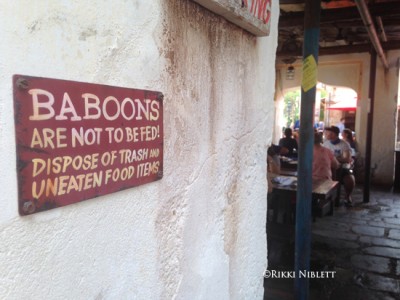 In addition, guests will be able to catch the Wildlife Express train pass by every so often. It certainly adds a sense of energy to the area!
Seating here is pretty plentiful, however when it rains, as it did during our visit, it can be difficult to find a table. (I would also guess that it's a little difficult to find tables during peak hours as well.  While there is lots of seating, the 200+ seats go quickly!)  As I mentioned before, seating is all outdoors, however, there are many areas that are shaded via awnings or umbrellas.  There are still quite a few areas that are not covered.  This is something to consider when choosing to dine here.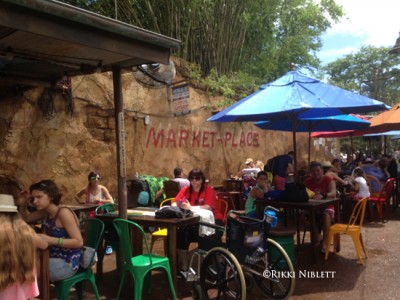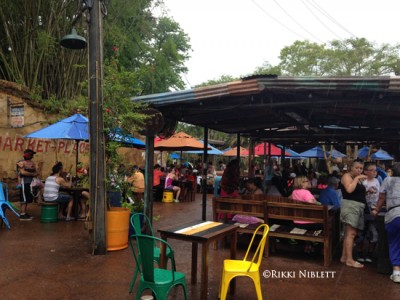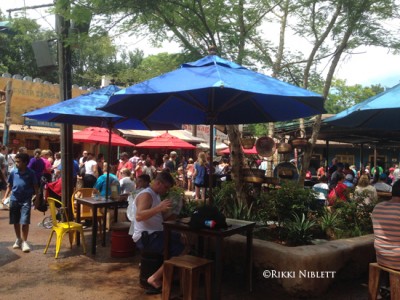 Ok…let's get to the food.  I decided to try two different items.  The first was the Chicken Skewer with a roasted broccoli and tomato salad.  This was fantastic!  I loved everything about this.  The broccoli and tomato salad had been tossed in a great vinaigrette dressing.  As far as the chicken goes, I thought it was incredible. It had a great flavor to it, with a little spice.  Not heat spice, just flavor spice.  I was expecting kind of bland chicken, but it was far from bland.  My only wish would be that Disney would offer this as an option with two skewers, because I absolutely wanted to go back up and buy another one.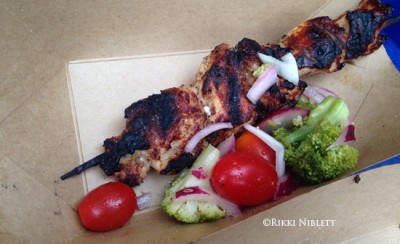 The second dish I decided to try was the kid's version of karubi ribs.  Really the only difference I noticed between this and the adult portion were the sides.  The kids portion doesn't include the Green Papaya-Carrot Slaw and a Chickpea, Cucumber, and Tomato Salad.  Instead, it includes the traditional kids side options.  (It also may be like one rib smaller…that's it, as far as I could tell.)
Again, this was fantastic. The meat was juicy and fell off the bone.  The sauce was great on top and again, added just a little flavor to the meal.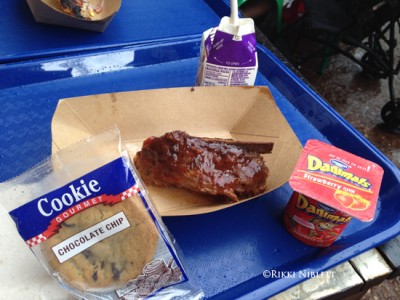 I think this is a great option for kids who like regular ribs, as it tastes the same.  I appreciate, overall, that Disney is offering kids not only smaller portions of the same adult meals (something I've been wishing for forever) but also different options besides the standards of pizza and burgers.  While I know that a lot of kids will only eat those things, there are kids who do like to branch out a bit. This helps to appeal to that group.
I will say that there is some good news and some bad news regarding these kiosks.  The bad news is that they take FOREVER to get through the line.  I am hoping that they will get faster as time goes by, but for now, be forewarned.  As far as the good news, I'm hearing that you won't need to go to each individual kiosk if someone wants the ribs and another person wants a chicken skewer.  You can get it all in one location.  While I was unable to confirm that myself, keep that in mind on your next visit.
I am a big fan of Harambe Market.  It has become another go to for me at Disney's Animal Kingdom and it gives me another option besides Flame Tree Barbeque.  Matter of fact, to me, it rivals Flame Tree as the best counter service in the park. And I'm excited to try some of the other options that can be found in Harambe Market, as well!
Are you anxious to try Harambe Market? Which kiosk most appeals to you?